Excel: the software that literally everyone totally knows how to use … according to their resumes.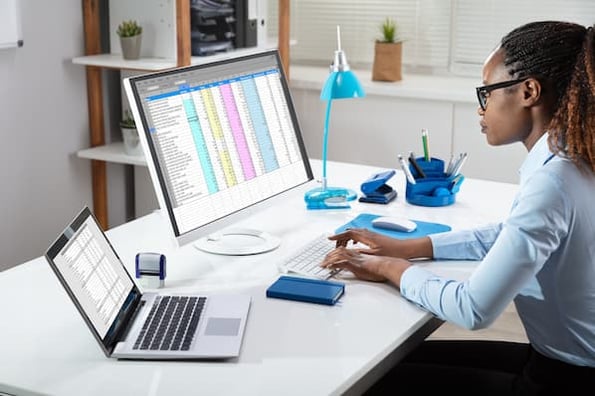 Excel is, first and foremost, a business software. But, it's hard to pin down what that actually means. How is Excel used in business? Is there a definitive, specific list of tasks and processes it's used for?
The variety of the software's potential applications is so wide that there may only be a handful of companies that use it the exact same way. Still, there are some popular uses of Excel that can suit the needs of most companies in need of the platform.
In this article, I'll discuss some of those applications and give a high-level overview of how to create a business model in Excel.
What is Excel used for in business?
Excel is one of the most prominent, versatile business applications available. It's a staple in most companies' business operations, so it's hard to pin down any sort of definitively universal ways organizations use it. The software can help with data entry and storage, accounting, data analysis and forecasting, compiling checklists, and several other administrative and business-related responsibilities and tasks.
How to use Excel for Business
1. Accounting
Virtually every accounting professional uses Excel in some capacity. In a lot of ways, accounting could be considered the main function of the entire application. Excel supports processes like creating balance sheets, preparing financial statements, and setting budgets. It can also be used for expense tracking, forecasting, and loan calculation.
2. Inventory Tracking
Inventory tracking is central to the success of any business selling a physical product. Though there are systems and applications specifically designed for and better equipped to handle inventory management, Excel is still a reliable, affordable option to facilitate the process.
Inventory management in Excel requires a lot of manual oversight and is, in turn, more prone to human error than its pricier alternatives. So, using Excel for inventory management is usually a better option for startups or smaller businesses still in the process of getting off the ground.
3. Compiling Mailing and Contact Lists
The range of Excel's applications extends well beyond number crunching; it's also a great way to store and maintain records of prospects' and customers' contact information. It has resources to manage and sort massive quantities of that kind of data for different kinds of projects, promotions, or outreach efforts.
If you're interested in conducting a personalized mass email campaign, you can use an Excel feature called a Mail Merge to tailor mass emails to address specific contacts you've listed in a spreadsheet.
4. Visualizations
Data visualizations allow you to convey the results of any data analysis you've conducted succinctly, accessibly, and compellingly. Potential investors, management, or coworkers will have an easier time understanding your data by taking a look at a dot plot or bar graph than they would by wading through a massive sheet of numbers.
Excel sports several different visualization options to make borderline incomprehensible pages of raw data visually appealing and easy to make sense of.
Source
5. HR Management
Excel is an incredibly useful resource for HR managers. HR is a wide-reaching field that covers a broad, eclectic range of responsibilities. The people behind a human resources department have a lot to stay on top of. Their day-to-day could include everything from talent acquisition to conducting training to coordinating company benefit programs.
With so much to keep track of, it's essential that HR managers remain organized. Excel can do a lot to help that process. It can provide a reliable means for HR professionals to arrange employee work schedules, keep tabs on vacation time, and more.
6. Checklists and Task Lists
These might be the simplest, most straightforward applications of Excel, but that doesn't mean they're not useful or worth mentioning. Excel can be used to track different projects' progress, list and detail specific deals, and keep tabs on individual tasks that need to be covered day-to-day.
Source
7. Time Logs
Tracking employees' hours is central to maintaining accountability at a company — for both management and employees alike. Excel can be an inexpensive, reliable way to ensure that process is carried out consistently and properly. It's an excellent way to maintain timesheets. Microsoft even offers downloadable templates specifically dedicated to that purpose.
How can a CRM help?
A CRM can produce valuable data in spreadsheet form. Several CRMs can be integrated with Excel, helping salespeople handle processes like tracking contacts, creating calendar tasks, and planning enterprise events with spreadsheets.
The automation capabilities many CRMs offer also take pressure off of sales professionals by replacing traditionally manual Excel tasks. For instance, HubSpot's CRM can automatically transfer any information from static contact lists to Excel spreadsheets and vice versa. The same goes for information about new, current, or previous deals.
How to Create a Business Model in Excel
Excel is a great resource for building out a rough model of your business. It's a solid way to help you track and understand the nitty-gritty, technical aspects of your company, including your business's legal structure, competitive strengths and weaknesses, and revenue plan.
Creating a business model presents a lot to unpack and make sense of. Luckily, Microsoft provides some helpful templates to make that process a bit easier.
You can find templates for shaping your business structure.
Constructing detailed revenue plans.
Understanding your business's strengths, weaknesses, opportunities, and threats.
And more.
Excel has a presence in virtually every industry — and for good reason. It's one of the most universally applicable, dynamic business applications available. No matter what your business does, how many people it employs, and how far along in its development it may be, it still probably has something to gain from some savvy use of the application.