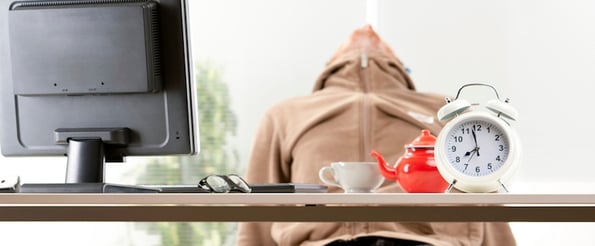 In an ideal world, every company would have an extensive sales force that could take calls, meet with clients, prospect and nurture leads, and close tons of deals every day.
However, your sales team probably consists of a few reps tasked with all of these roles -- odds are, they're stretched razor-thin. But if your team is constantly forced to make tradeoffs or struggles to properly prospect and nurture leads, you could be letting sales slip through the cracks.
How Content Can Help Your Sales Team
Fortunately, content can complement your sales force and lend a helping hand in a few key areas:
1) Nurturing leads through drip campaigns
If you create high quality content, consider incorporating it in a dynamic email drip campaign. This jumpstarts the nurturing and qualifying process so your salespeople can focus on the hottest leads. Create content that educates, engages, and provides real value to the reader -- not simply a sales sheet disguised as an email newsletter.
For example, imagine that someone comes to your website and is interested in learning more but isn't ready to buy. Instead of carving time out of your sales team's tight schedule to call an unqualified lead, encourage the lead to download one of your whitepapers to learn about common pain points and how your industry can help. Once the lead has downloaded the whitepaper, present an opportunity to opt in to your email list and receive weekly tips for making the most of a service like yours. Only after a lead has read a few emails and expressed interest should your salespeople make a call.
2) Streamlining the Q&A process
No one likes answering the same questions repeatedly -- especially an overextended sales team. Instead of posting a stale FAQ page on your site, create articles that dive deep into each of the most common questions your sales team hears. Then, when leads ask a question, you can send them a well-crafted article that answers it! This will save your small sales team time and add a veil of credibility to your company.
3) Prospecting new leads
Don't underestimate the value of content for lead attraction. By publishing articles in external publications that link back to relevant blog posts, you'll start creating natural funnels that lead prospects back to the obvious solution -- you.
Once prospects have engaged with your blog content, offer a piece of gated content -- such as a whitepaper or template -- as a seamless next step to capture their information and continue nurturing them with personalized, informative email campaigns. This content funnel will draw in the right type of leads and keep your sales team's pipeline packed with qualified leads.
How to Create Content That Attracts Qualified Leads
For my company, the content that pulls in the most leads answers questions or overcomes a common objection. So we consistently create this type of content as a sales asset and a marketing tool for our company blog.
I recently talked to a prospective customer who said he wanted to use our service to convert new business, but he didn't have a company blog. So I sent an article that explains how to shrink the sales cycle with content and told him to check out the content marketing funnel to understand how all the pieces work together to convert new business. That article was much more helpful and convincing than any long-winded email I could've drafted.
After my company generated more than 100 leads from just one piece of content, we reverse engineered our process to discover the secret to attracting new leads with content.
Here are a few strategies behind our success:
Contribute external articles to niche online publications.
Publish high-quality, timely blog content.
Offer insightful gated content, such as whitepapers, ebooks, and templates.
Deploy a drip campaign and an email newsletter to continue nurturing prospects once they've downloaded something or filled out a contact form.
Dedicate a salesperson to qualifying new inbound leads to identify the most qualified leads and get them on the phone. Adding this human touch to our content funnel has been one of the biggest differentiators in our success.
Using content to attract and nurture leads empowers them to self-educate and, when the time comes, be the best clients possible. By teaching leads about your process and how it can meet their needs and accomplish their goals through content, you can start the relationship off on a strong note -- no overtaxed salesperson required.