Though the "Girlboss" era is now behind us, female entrepreneurs blazed trails long before the term became mainstream in 2014.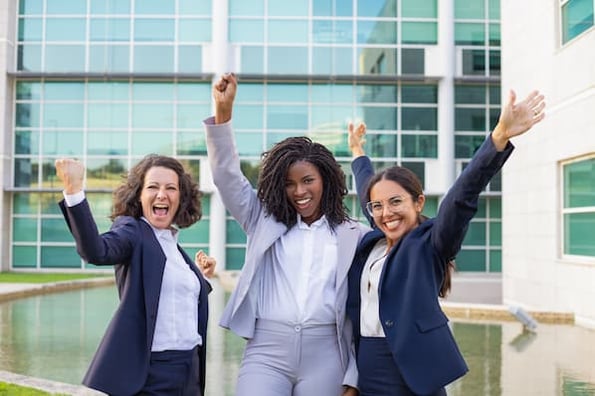 Among notable female entrepreneurs is Madam CJ Walker. The early 20th-century beauty entrepreneur is often credited as the first female self-made millionaire in America. Though Walker was a ground-breaking entrepreneur in her own right, there is speculation that the title of the first female self-made millionaire in America actually belongs to her business rival Annie Turnbo-Malone.
While the modern era of female entrepreneurship has roots in the beauty industry, today women are launching and running businesses across all industries and sectors. According to Fundera, in 2019 over 1,800 businesses were founded by women each day. There are currently 12.3 million active women-owned businesses in the U.S. generating $1.8 trillion in revenue per year.
While women are launching companies at record rates, there are large revenue disparities between women-owned businesses and all privately held companies, as the $1.8 trillion generated only represents four percent of total private sector revenue.
Per the American Express State of Women in Business Report, on average women-owned businesses earned $142,900 compared to $474,900 earned by all privately held businesses and $1.4 million earned by all firms, including publicly traded companies.
First Round Capital found that of the companies they invested in that were led by women performed 63 percent better than investments with all-male founding teams suggesting revenue disparities may have more to do with lack of funding and opportunity than ability or business acumen.
No matter your gender identity or line of work, everyone can find inspiration from female entrepreneurs who are driving innovation and creating necessary change in their industries. Here is a list of female entrepreneurs you need to know.
Female Entrepreneurs to Follow
Mandela SH Dixon
Arlan Hamilton
Sherell Dorsey
Shannan Monson
Morgan DeBaun
Rachel Rodgers
Alisha Ramos
Sage Ke'alohilani Quiamno
Robin Berzin
Tiffany Dufu
Suneera Madhani
Naj Austin
Mandela SH Dixon is a Silicon Valley startup veteran and educator who launched Founder Gym in 2018. Founder Gym is a leading online training program designed to teach underrepresented founders how to fundraise to scale their startups. To date, there are over 440 Founder Gym graduates who have raised over $51 million for their businesses.
In addition to sharing educational content for entrepreneurs, Mandela frequently shares an empowering behind-the-scenes look at her life as a founder.
Arlan Hamilton is the Founder and Managing Partner of Backstage Capital, a fund dedicated to bridging the gap between fundraising opportunities for founders who identify as people of color, women, and/or LGBTQIA. She began building the venture capital fund in 2015 while experiencing homelessness and has since raised and invested millions of dollars in business led by individuals from underrepresented groups.
In 2020 she released her first book It's About Damn Time chronicling her journey.
Sherrell Dorsey is a data journalist, strategist, and CEO and Founder of The Plug — a digital platform sharing news and data insights related to the Black innovation economy.
Sherrell launched The Plug in 2016 and has since grown the platform to now have paid members, thousands of subscribers, and has raised $500,000 in funding. Prior to founding The Plug, Sherrell held marketing roles at Uber and Google Fiber.
Shannan Monson is a serial entrepreneur whose career began as a personal trainer and Registered Dietitian. After building her own successful wellness business and advising Silicon Valley startups she switched gears to teach business growth strategies to other entrepreneurs. Now, she specializes in helping female entrepreneurs with service-based businesses build passive, scalable revenue streams.
Morgan DeBaun launched her media company Blavity, Inc. in 2014. Since then, Blavity has grown to be a leading media and entertainment platform that serves as the parent company to notable brands including AfroTech and Travel Noire.
In addition to leading Blavity, Morgan also founded skincare line M. Roze Essentials and serves as a business advisor for budding entrepreneurs through her Work Smart Program.
Rachel Rodgers is an intellectual property lawyer and business coach who helps women entrepreneurs build seven-figure businesses while maintaining work-life balance. After spending nearly a decade in law Rachel launched Hello Seven in 2017. Hello Seven offers a coaching membership community, business incubator program, and custom offerings for complex organizations.
In June 2020 alone, Hello Seven earned $1 million in revenue.
With a background in tech and product design, Alisha Ramos founded self-care brand Girls' Night In in 2017.
Girls' Night In started as a weekly newsletter of curated content related to self-care for millennial women and has since evolved to become an engaged community online and in real life. In 2020, Girls' Night In launched The Lounge, a membership platform offering programming and curated content.
Award-winning entrepreneur and speaker Sage Ke'alohilani Quiamno co-founded Future for Us in 2019. Future for Us is a community and platform that accelerates the professional advancement of women of color. Earlier this year, Sage secured $80,000 in funding to expand Future for Us' offerings.
Before co-founding Future for Us, Sage worked as a salary negotiation coach, and in prior roles helped thousands of women negotiate salary increases and promotions.
Robin Berzin is a practicing physician and the Founder and CEO of Parsley Health.
Through Parsley Health, Robin is reimagining the primary care experience, offering a membership model where patients have access to regular in-depth visits with their doctor, nutrition and lifestyle coaching, and lab testing. Last year, the company secured $26 million in Series B funding and is continuing to expand in the telemedicine space.
Tiffany Dufu is the author of the book Drop the Ball and is Founder and CEO of The Cru, a collective of women focused on mutual support and advancement. At The Cru, members are matched with like-minded women who support one another in their personal and professional growth.
Before launching The Cru, Tiffany was a founding launch team member at Lean In and served as Chief Leadership Officer at Levo.
Suneera Madhani founded Fattmerchant in 2014 to provide business owners with an affordable, easy to use payment processing system. Fattmerchant is considered the "Netflix of Payment Processing" and was as one of the Best Credit Card Payment Processing Companies of 2020 by U.S. News and World.
In addition to serving as CEO of Fattmerchant, Suneera shares inspiring content for fellow women entrepreneurs.
Naj Austin is the Founder and CEO of Somewhere Good, a family of brands focused on arts, community, and culture centering people of color. In 2019, Naj along with the Somewhere Good team launched Ethel's Club, a social and wellness membership club that provides opportunities to build community and heal.
Originally centered on the physical club in New York City, Ethel's Club pivoted to expand digital membership offerings.
Whether you are a seasoned business owner or are new to entrepreneurship, you can find inspiration from each of these women, along with many others. For more information on building a business check out The Ultimate Guide to Entrepreneurship.