Opportunities for entrepreneurship are varied -- and the sky's the limit in terms of which business idea to pursue. But if you want to start a business that comes with an established brand and business model, a franchise might be a good fit.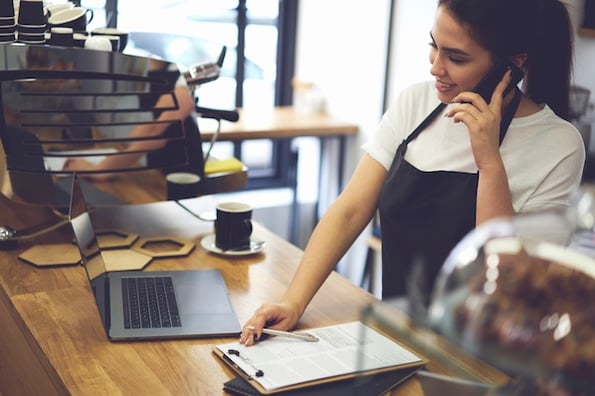 Franchises allow individuals to get their feet wet with the responsibilities that come along with owning a business. While it takes hard work, there are many success stories.
Franchise owners Algy and Kermie Irvin opened a popular franchise location, Painting with a Twist, in 2009. Not only did they provide their community with a creative event option -- they also saw a great return on investment, with projected annual growth of 19% in 2016.
Are you feeling inspired to own a franchise location of your own? Keep reading to see what it takes to get started.
Franchise Definition
When you think of the word "franchise," visions of McDonald's and Dunkin' Donuts might come to mind. A franchise is a contractual relationship between an individual (franchisee) and a business (franchisor). The contract allows the franchisee to distribute the franchisor's products and use its name and brand.
In 2017, an estimated 745,290 franchises were operating in the U.S. But which franchise should you open? And what's necessary to get started?
Franchise Opportunities
Don't forget to do your research. Your first important decision is which industry you'd like to get into. Are you passionate about food? Take a look into restaurant franchises. Are you a fitness buff? Check out gym and workout studio options.
Is there a need in your city or town? And can that need be fulfilled by the franchise you choose to open? For example, let's say your community is in need of after school programming or tutoring. Consider opening a franchise, like Mathnasium, that offers tutoring for students.
It's also a good idea to visit local franchises near you. Ask the owners what they love about their franchise -- and aspects of the business they aren't a fan of. They'll be able to speak to their experience with the franchise and you'll be well-informed when you make your final decision.
There are many franchise options, but certain franchises stand out from the rest. Check out the best of the best -- you've likely seen some of these establishments around town:
Top Franchises
McDonald's
7-Eleven Inc.
Dunkin' Donuts
The UPS Store
RE/MAX LLC
Sonic Drive-In Restaurants
Great Clips
Taco Bell
Hardee's Restaurants LLC
Sports Clips
In addition to determining which industry to pursue -- consider the initial investment required, competition in your area, the training offered by the franchisor, and ongoing costs. This information is often found on the franchisor's website (e.g., Dunkin' Donuts, Taco Bell, and Subway). With these things in mind, evaluate which franchise option is the best fit for you.
How to Start a Franchise
Now that you've explored a few franchise opportunities, it's time to get down to the nitty gritty details. Starting a franchise is a big commitment, and there are a few things to consider. Let's take a look.
1. Evaluate the costs
Just like any other small business, there are initial costs to getting your franchise off the ground. Here are some common start-up investments:
Franchise Fee - The franchise fee is the flat cost a potential franchisee pays up front to operate the franchise. Before you pursue a franchise opportunity, make sure you can cover the initial costs, which typically range between $20,000 and $50,000 and can be as much as $100,000, depending on the size of the franchise. Luckily, there are options for financial assistance, such as an SBA loan or bank loan. These can bolster your initial cash investment in the business.
Equipment and Supplies - Franchisors will provide you with an idea of what equipment will be necessary and how to obtain it. Some even offer financing options for these initial costs.
Real Estate - The franchisor often provides recommendations for location types and can advise you on what will work best for your business. For example, McDonald's has specific requirements for their locations (e.g., a building area of 4,500 square feet and on-site parking).
2. Franchisor requirements
A franchisor often has requirements of a franchisee before they can offer a franchise agreement. 7-Eleven, for example, requires new franchisees to have U.S. citizenship or permanent residency, an excellent credit score, and retail experience. Other common details a franchisor might consider include:
Net worth
Industry experience
Cash available
Other sources of income
These may vary depending on the industry you are joining. And it's best to contact the franchisor you'd like to work with to get more details and an application.
3. Franchise disclosure document
A franchisor is required to provide you with a franchise disclosure document (FDD) before any contracts are signed. It will include information regarding initial fees, estimated initial investment, and much more.
The franchise disclosure document provides the potential franchisee with all the information they need to make a decision about whether or not to enter a contract with the franchisor.
4. Review the franchise agreement
Once your application is approved, the franchisor will provide you with a franchise agreement. This is the actual contract you'll sign to become a franchisee and own and operate a business under the franchisor.
It may be helpful to hire a lawyer with franchise experience to help you carefully review and understand the agreement. When you're ready, sign to begin your journey as a franchisee.
5. Choose a location
Next, you'll need to find a place to set up shop. Depending on how much money you're willing to pay up front, buying property and leasing an existing space are both options. And, franchisor's often provide recommendations for what type of space will work best.
This is the time to work closely with your franchise to ensure the site you pick is the correct size for the store's needs -- and the traffic patterns and foot traffic of the site align with the hours your franchise will operate. Rent costs are another consideration, and it's best to work with a legal advisor to ensure the lease is the best fit for you and your franchisor.
6. Training
It's time to learn the ins and outs of the business. Franchisor's offer training sessions to teach you and your new hires all you need to know about the products or services you'll sell, their guidelines and policies, and the systems you'll use. Your franchise will often provide training on marketing, management, and business basics you'll need to operate the business.
7. Open for business
Once your franchisor sends a representative to approve your location, it's time to market your grand opening. Franchisors usually have pre-determined ads, signage, and promotion ideas for the opening. And they might even provide you with a corporate consultant to ensure opening day runs smoothly.
Congratulations! You're well-prepared and ready to open. Get set for your new life as a franchisee.
If you're inspired to start a franchise, use this blog as a toolkit to hit the ground running. And if you're interested in learning more about what it takes to become an entrepreneur, check out How to Become an Entrepreneur, 4 Key Traits of Highly Successful Entrepreneurs, How to Start a Business, and 9 Valuable Entrepreneur Training Courses.