TL;DR: There are millions of salespeople worldwide and yet there are no formal sales training curriculums offered in higher education. So how do salespeople learn the sales motion? What type of interaction they prefer? What are they spending their time on? According to our recent survey, salespeople: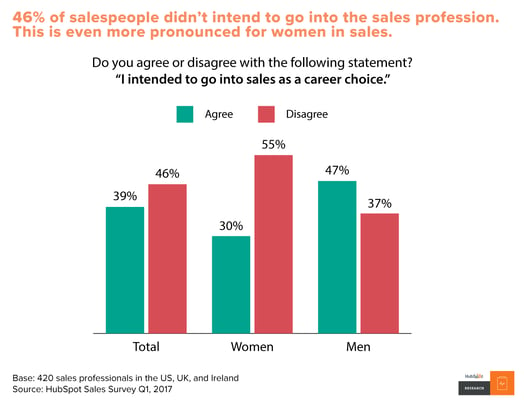 Prefer 1:1 training, which is difficult to scale.

Depend strongly on their managers and peers for support; this is especially the case for women in sales.

Are unlikely to change their habits after they've figured out what works for them.

Probably unintentionally ended up in the sales profession.
---
Table of Contents (5 minute read)
---
Most businesses grow with the help of salespeople. According to the Bureau of Labor Statistics, there are roughly 9 million people in non-retail sales roles in the United States. We can assume most who start and stay in sales learn how to sell through on the job training and trial and error, given that there are very few preparatory programs to train people for a career in sales. Overall, salespeople note peers, managers, and official training resources as the top places they go to improve.
Want this chart? Click to download.
Where Do Salespeople Come From?
Since there are no ways to 'major' in sales, we wanted to understand what most salespeople studied. From our pool of 420 sales respondents, we see a healthy mix of business majors, math and science, and liberal arts backgrounds. Additionally, 17% of respondents did not attend a four year college.
Want this chart? Click to download.
When directly asked, only 39% of our respondents said they intentionally got into sales as career. When we split the responses by gender, just 30% of female respondents intended to go into sales compared to 47% of men.
Want this chart? Click to download.
Those who found themselves unintentionally in a sales role appear less interested in pursuing training and learning outside of the workplace. To 'unintentional' salespeople, company sponsored training and 1:1 coaching are the top channels for improvement. Based on these preferences, managers and in-house training needs to be compelling and effective to ensure salespeople who aren't certain of their path are engaged and motivated.
Want this chart? Click to download.
How Salespeople Want to Receive Training
Given that many salespeople didn't study the sales motion or even intend to go into sales, how do businesses encourage their salespeople to be successful? We know once salespeople find what works for them, they rarely change.
Want this chart? Click to download.
When we asked what was the best source of training, we found that salespeople rated peers and managers as the most influential source of knowledge. Most sales people build relationships to successfully sell, they nurture similar relationships to improve themselves. Sales managers especially need to have resources and training materials to help their team grow their skillset. Women in sales particularly rely on their managers for coaching and advice; if a manager isn't in a position to mentor their teams, female sales representatives will likely feel the impact more.
Want this chart? Click to download.
For businesses looking to invest in and grow their sales team: the key is to train when a sales representative is early on in their tenure. Sales representatives with three to four years of experience spend the most time in training compared to their peers.
Want this chart? Click to download.
Likewise, they are more likely to look to their manager for tips to improve. In comparison, more tenured reps looks to peers.
Want this chart? Click to download.
In general, salespeople have a clear preference for learning through interaction, often in a one-on-one setting. As businesses grow their sales teams, scaling one-on-one training will be a difficult task.
Want this chart? Click to download.
Inefficiencies In a Typical Sales Day
420 salespeople in the US, UK, and Ireland reveal they spend a significant amount of their time tackling administrative work. Writing emails, prospecting leads, data entry, and scheduling meetings are all tasks that can be automated so that salespeople can spend more time doing what they were hired to do: sell.
Want this chart? Click to download.
Many tools that take care of administrative tasks are available today for free. They can assist salespeople with:
Email: Writing emails takes up an average of 21% of a salesperson's day. Sales enablement and marketing teams should be providing

email templates

for salespeople to leverage. Sales tools with sequencing logic can automate follow up sends as well so sales people no longer need to keep track of following up with prospects.

Prospecting and researching leads: There are many prospecting tools available today, including

Growthbot

, a free messaging tool designed to retrieve readily available information for salespeople and marketers.
Data entry: CRMs have been on the market too long for data entry to be a significant time-suck. Most can automatically record emails correspondence, calls, deals, and other customer-related activity.
Scheduling meetings: There are many free tools on the market that allow prospects to automatically book time with sales people, cutting out the back and forth involved in setting up time to connect.
Research Methodology
HubSpot Research ran an online survey leveraging a custom panel of salespeople maintained via Survey Sampling International. 420 respondents from the US, UK, and Ireland make up the sample. Respondents were screened for their primary involvement in sales. The survey was available in English and fielded in March 2017.
This report contains links for HubSpot Content, Products, and Services.