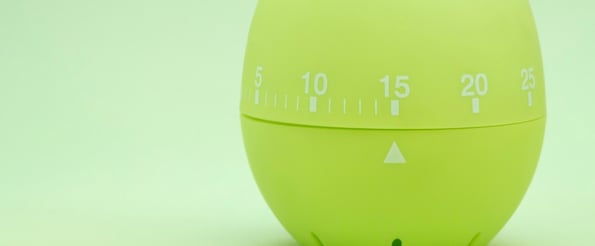 This post originally appeared on HubSpot's Marketing blog. For more content like this, subscribe to Marketing.
So you followed the step-by-step wizard to completing your LinkedIn profile. Then, maybe you even went a step further and connected your SlideShare account, claimed your vanity URL, and linked your profile to your website and blog. Congratulations, you graduated LinkedIn 101!
But you want to be so much more than that. You want to be an expert in your field.
You have ideas that you want to be seen and heard.
Good news! With LinkedIn, you can become whoever you want to be if you put in a little bit of time. For the low investment of just 15 minutes a day, you can establish and maintain a solid personal brand. Just follow these simple steps every day, then start to watch your connections grow and the requests for your expertise flood in.
First Things First: Set Yourself Up for Success
Before we get started, you need to get yourself into the habit of investing time in building your personal brand. Allocate a slot on your calendar and make it recur every day of the workweek. When that reminder pops up though, you need to take it seriously -- no snoozing!
Here's the agenda we recommend you follow (assuming you want to start at 9 a.m.):
9:00 a.m. Take Advantage of Influencer Posts
Though it seems a little counterintuitive, a crucial component to establishing your personal brand is sharing other people's amazing content. And LinkedIn is the perfect place to find that awesome content. It's become a hub for industry leaders who share their thoughts around the topics they are most passionate about, with some authors getting over 2 million views in a single article.
There are two ways you can take advantage of content in LinkedIn's Influence network:
1) Find thought-provoking articles from LinkedIn Influencers to read and share with your network.
When you log into LinkedIn, go to the "Interests" menu and click on the dropdown item named "Pulse." Then click on the "Top Posts" tab. You can filter by today, this week, or all time. As you'll be coming there every day, choose "Top Posts Today" (the default) so that you will be equipped with timely and topical information to share with your network.
Influencers are denoted by a special label to the right of their names. Once you find two or three valuable Influencer posts, schedule them to be shared with your network throughout the day. Keep in mind that the earlier you share information to your network, the more valuable you will become to them. If you share a top Influencer post a week after your connections have already read it, your value to them diminishes significantly. And if you find any particularly inspirational experts, make sure you follow them so they will appear in your tailored news section tomorrow.
2) Follow one new Influencer from the each day.
Next, click on "Follow More Influencers" and find someone to follow.
We recommend that you not only follow people in your industry but also experts in completely different roles or fields who will inspire you and your network to think in a different way. Following people who will make you think differently though original, thoughtful content will not only give you more content to share throughout the day, but also establish yourself as a quality content curator with your connections.
9:05 a.m. Read 'Your News'
In the tab called 'Your News,' you'll see the latest and greatest from the people you are already following. Be disciplined and only choose two or three articles to read each day so you don't lose an hour or more in the genius of these people -- which could be very easy to do!
Curate the articles that you want to share, but don't blast updates to your followers all in one spree. This will clog up your people's timelines and they will see you as more of a nuisance than a valuable connection. If you have social media software like HubSpot's Social Inbox in place, you can easily schedule updates to go out across the day or week.
9:08 a.m. Add a New Topic
The next call of business is to go into the "Discover" tab, scroll to the "Channels" section, and choose a topic to follow rather than a person. This should take less than a minute to set up and won't need to be updated every day -- which gives you extra reading time.
9:10 a.m. Like and Be Liked
Posting regular, thought-provoking content to your network is one thing, but on a platform where most members have anywhere from several hundred up to five thousand connections, how do you get them to notice you amongst all of that noise? We recommend spending a few minutes every day going through your news feed and liking, commenting, or sharing any valuable articles your network has shared.
It's the Golden Rule of social networking: If you engage with several of your connections every day, those same connections will start to listen to what you have to say. And if they like the content you're sharing, they will be more likely to share, comment, or like your stuff too! Mix it up and choose different connections to remark on each time, and you'll have a large -- yet engaged -- network in no time.
9:12 a.m. Become a Groupie
Be strategic about the groups you join. LinkedIn allows you to join 50 groups, so choose wisely and leave any groups you have already joined that have not been very active or beneficial. If you haven't joined a group yet, one way to get started with LinkedIn groups is by going local. Joining groups for people in specific regions will enable you to be the big fish in a small pond and your ideas will have better leverage.
And if you're looking to remove yourself from a group, go into that group and click on the gear icon in the upper right corner:
Then click the "Leave Group" button at the bottom of the page:
With just a few minutes left in your daily LinkedIn routine, take a few minutes to engage with people in one of your groups. Ask intelligent questions, poll the members, and respond to other people's posts. Remember, you don't need to be the group founder to be a standout contributor -- just pick one of your groups each day and add something of value to it.
9:15 a.m. Feel Accomplished
All of that should have taken you about 15 minutes, but the value this routine will add to your personal brand will be significant. Your name will start to become associated with the amazing skills you possess and you could be known as a go-to-expert in your field. What does that mean? It means that you will be approached for business, job opportunities, and speaking engagements. So go ahead and set a calendar invite for tomorrow's 15 minutes -- pretty soon the opportunities will be rolling in!