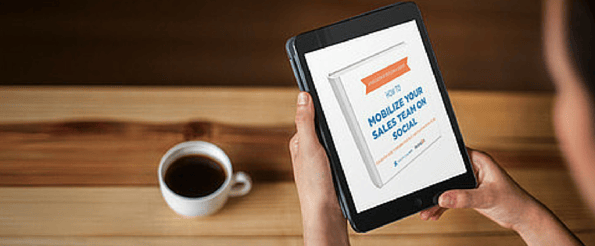 Today's technology-enabled buyers do their own research before calling a sales rep. They use blogs, discussion forums, Twitter, LinkedIn, and even Facebook to frame business issues, identify options, and evaluate solutions.
Great salespeople need to look, sound, and act like experts on social media, which can often be a challenge to streamline and scale across an entire sales force. PeopleLinx's State of Social Selling Report found that while 76% of B2B sales reps recognize the value, only 24% of B2B sales professionals feel they know how to use social media for selling. Yet when companies offer social selling training to their teams, the number of reps using social to sell skyrockets.
We've taken the process of deploying social selling and boiled it down to 10 basic steps. Our new ebook, "How to Mobilize Your Sales Team on Social," lays out the step-by-step program for introducing social selling into a sales organization. It gives practical, hands-on advice based on the PeopleLinx team's experience launching hundreds of social selling programs at the world's largest companies and professional services firms.
In this free ebook you'll learn:
How to Communicate the Value of Social Selling: Tips to Share with Your Sales Leaders
Best Practices on Building Online Profiles: What to Include, What Not to Include
How to Measure ROI of Social Selling: The Metrics That Will Impress Your Executives
10 Specific Steps to Mobilizing Your Team on Social Media
"Sales Managers: Learn how to mobilize your sales
team on #SocialSelling with this free ebook!