How do you know how much effort you should put into pursuing a specific prospect? How can you prioritize one contact over another? Those scenarios aren't always easy to navigate.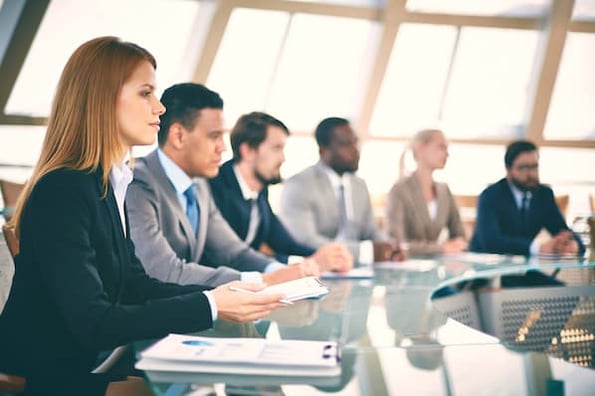 Prospecting is a spectrum. There are going to be sales opportunities worth pursuing to different degrees for different reasons. But, how can you tell what those degrees and reasons actually are?
The sales matrix is a tool you can use to make sense of different opportunities. Let's take some time to establish what a sales matrix is and how you can use one to improve your prospecting efforts.
What is a sales matrix?
A sales matrix is a tool used to help you gauge the urgency and viability of sales opportunities. In many cases — like inbound prospecting — the matrix gives you insight into potential customers' interest in your business as well as their fit for your product or service. It can be used to weigh those factors together and determine how much attention a contact deserves at a given point in time.
Sales matrices are designed to show you how receptive a prospect might be to what your business has to offer. It allows you to consider a prospect's potential fit and general interest when deciding how to allocate its resources on outreach or prospecting.
One of the key metrics to an inbound prospecting matrix is fit. It covers the more technical side of the process. It's where you consider factors like company size, annual revenue, industry, and purchasing authority.
The other side of the inbound prospecting matrix is interest. Companies can check all the conventional, practical boxes for your product, but if they aren't actually sold on you, you won't win their business. If you find a business is a great fit but lacks interest in what you offer, you should do your best to nurture that lead.
Why Make a Sales Matrix?
A sales matrix — specifically an inbound prospecting matrix — is a great way to help you prioritize your leads and coordinate your outreach more efficiently. It helps you understand which prospects will be most receptive to more involved sales efforts, which ones are going to be best to nurture, and which ones won't be worth your time.
But how do you determine both factors in a matrix? Figuring out fit is more straightforward. You should have an idea of what kinds of businesses are best suited for your product. That's where traditional prospecting tends to end.
The concept of inbound prospecting considers whether a company is actually interested in your business. It gives a more holistic view of the viability of turning a prospect into a customer.
But how do you gauge interest? What can a company do to show it's inclined to do business with you? Website visits can be a valuable reference point. Having resources that allow you to keep track of those visits can be crucial to any inbound prospecting efforts.
HubSpot's prospecting tools within Sales Hub can help you do that. They allow you to view what companies have been visiting your website. It looks like this:
Someone who's viewed 24 pages on your website is more open to hearing from you than someone who's never heard of your business. That's why it's crucial to consider interest alongside fit when prospecting.
For example, take these two prospective companies (let's call them ACME Corp vs. General Products, LLC). Which would you prioritize?
The answer is obvious: ACME Corp.
However, unless you had inbound prospecting tools, it would be impossible to know whether or not either company is interested in your business before you contact them. And without understanding someone's interest in your company, you'll waste time barking up the wrong tree time and again.
Inbound prospecting flips this problem on its head, with the easy-to-understand Inbound Prospecting Matrix:
If a prospect is a good fit and interested in your company, they should be your first priority.
Other prospects should either be nurtured or removed from your pipeline, dependent on their location on the matrix. Here's how to get started with the Inbound Prospecting Matrix.
Step 1: Find companies that are visiting your website.
To find companies that are interested in your company, you can for the free HubSpot CRM and navigate to its Prospects setting. This will show companies that have recently visited your website:
Step 2: Filter companies that are a good fit.
You'll now have a list of companies that have visited your website. At this point, you can apply filters to identify companies that are a good fit, such as:
Number of times they've visited your website
Date they were last active on your website
Company size
Location
Industry
The possibilities are endless.
To execute this, click Add filter on the left-hand side of the screen and apply whatever filters are important for your business.
Bam! You've just added companies into your Inbound Prospecting Matrix that are:
Interested in your business (i.e. viewing pages on your website)
A good fit in terms of industry, size, location, etc.
These are your hottest prospects most likely to close. As the Inbound Prospecting Matrix dictates, you should contact them immediately.
Step 3: Be notified when these prospects visit your website.
With HubSpot Sales Hub, you can receive notifications when specific prospects or those who meet predetermined criteria visit your website. You can use that information to gauge their interest and contact them accordingly.
You have the option to see which pages they're visiting as well. If a prospect is visiting a page listing case studies or pricing, chances are they're interested in purchasing your products or services sooner rather than later. This notification provides insight on when it's best to reach out.
Understanding when companies are interested in you — as opposed to when you're interested in them — helps structure the conversation in a way that is maximally helpful to the buyer.
Inbound Sales isn't about making 80 cold calls and then celebrating three answers. It's about delivering customized, relevant messages to prospects who are already interested in your business.
Stop disrupting, and start helping.
Editor's note: This post was originally published in February 2, 2016 and has been updated for comprehensiveness.