We've all done it. When we're desperate to hit quota, pining for that extra boost in our paycheck, or just completely out of ideas about how to re-connect with a prospect ...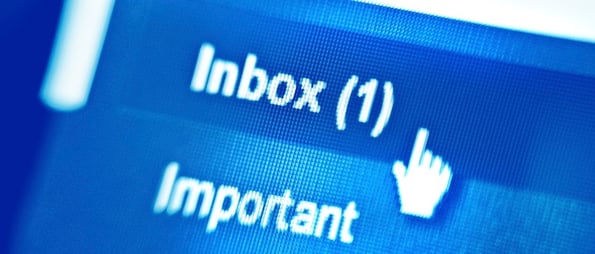 We send that dreadful "Just Checking In" email that means ... absolutely nothing.
It usually looks something like this ...
Sales reps use this "just checking in" email because we're selfish.
We don't have a call booked, and so we're trying to re-ignite the flame. Our selfish desire to get a call booked doesn't add value to the prospect. We don't know how to write a check in email that's helpful. As a result, it doesn't speak to the prospect's needs. It just focuses on what we as sales reps want.
The reality is that this email simply sucks.
Our prospects must believe that we care about them, their challenges, and their goals before they'll be interested in hearing about us.

-Pete Caputa, VP of Sales, HubSpot
Of course, every sales rep has their own strategy for making sales emails work. But from where I see it, these traditional checking-in emails should be completely re-thought.
I see three key ways to drastically improve check-in emails.
Google Alerts:

Set a custom Google Alert for your prospect's company name, competition, and industry keywords. That way, Google will search the web and instantly email alert you when new content on the web matches your search. You can then use this trigger event to customize your follow up email with a focus on the actual prospect.
LinkedIn Groups: Find a LinkedIn Group that discusses the industry your prospect is a part of. You'll find niche groups sharing niche content for your prospect's niche industry. That provides you with an actual reason to follow up with your prospect.
Email Engagement Notifications: Rather than checking-in arbitrarily, use a tool to track when your prospect is actually opening and/or clicking your email. That way, if you see a prospect you talked to three weeks ago is suddenly clicking on the resources you sent, you can follow up with additional information relevant to what they're clicking on.
If you're still not sure what to include in your email, try one of these alternatives to selfish checking in emails.
Let's take a look at a revamped "Just Checking In" email that takes the three strategies above into account.
That looks ten times better to me. Since I always share this strategy with the new folks who join our sales team, figured I'd share it here. If you give it a try, let me know how it works for you.
Editor's note: This post was originally published in June 2014 and has been updated for comprehensiveness and accuracy.