Kamala Saxton and Roz Edison got the idea for their Korean-Hawaiian fusion food truck just as you'd suspect -- from watching Ted Koppel on Nightline. To be fair, he was reporting on a Los Angeles Korean food truck, and for Boston-based educators Saxton and Edison, something just clicked.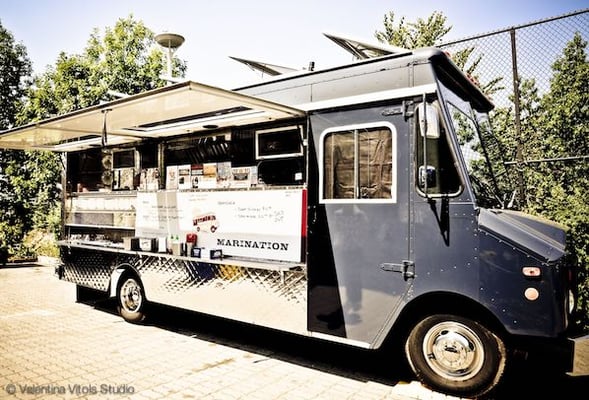 What followed, Edison remembers, was not the immediate acquisition of "Big Blue," their eventual flagship truck or immediate brand and buzz.
"It was creative spreadsheets, figuring how many tacos we'd needed to sell in the Seattle winter to stay open year-round, and research on the permits, requirements, and the logistics of running a food truck."
Edison's co-founder, Saxton, focused on menu development, early marketing, and brand development, while Edison tackled the operations side of the business, which they called Marination.
The entrepreneurs leveraged their Seattle network for early marketing efforts, teasing fans with tweets, hosting soft openings that built buzz, and stirring up community support that made their truck an early staple in the food truck craze.
Edison says timing also played an important role in their success. "Marination was in the first wave of Seattle food trucks, nine years ago. We developed devoted followers who worked at Microsoft and Amazon -- and they really kept us going that first year."
Putting Down Roots
When they opened Marination's first brick-and-mortar location, Edison says there wasn't much soul-searching behind the decision.
"It becomes evident pretty quickly that you need to even out your income stream. Food trucks have limitations. First, they're seasonal. Second, they can't serve alcohol -- and beer and tacos go together!"
They knew they wanted to open a storefront, and they knew they wanted to do it in Seattle's Capitol Hill neighborhood. "Every neighborhood has a personality," Edison explains, "Capitol Hill is historically the gay and lesbian community in Seattle, and it's filled with people who like to go out and be creative."
When a 600-square-foot building became available in their price range, they turned to more spreadsheets and risk analysis and decided it just made sense.
Marination's first brick-and-mortar was a success, and more locations followed. Amazon even asked them to be on the ground floor of one of their several Seattle locations.
Edison says these subsequent locations were as uncalculated as the first. "We always maintain a strategically opportunistic outlook," she explains, "We do our thing, and occasionally an opportunity presents itself."
Each time someone pitches a new location for the company, Edison and Saxton evaluate based on their capacity and culture. "We say no all the time. Some people are willing to get loans and extend themselves -- but we're effectively a family-owned operation. We have 150 employees and know most of them reasonably well. If our company and our people don't have the bandwidth for expansion, we have to pass."
Investing in the Community
Another key to success is Marination's connection to their city and community. Edison serves as a board member on the Greater Seattle Business Association (GSBA), the largest LGBTQ chamber of commerce in the U.S., and the company donates to many local organizations supporting girls' education, civil rights, equal rights, and immigration.
Community involvement has helped with employee retention. Edison explains, "When employees have a choice in where they work hourly kitchen jobs, they choose to work at companies where they like the culture. We have long-standing employees who've stuck with us because they appreciate the culture we've created."
It's obvious Edison and Saxton care deeply about the welfare of their employees. From helping them celebrate their children's birthdays to hiring immigration attorneys to counsel employees on what to do if they or their families are questioned or detained, they treat their staff as they'd like to be treated.
Edison says, "We have high expectations for them, and we're kind of square. We're not the kind of restaurant where everyone's having drinks every night after work. We ask everyone to work hard and be nice.
Maintaining a Sustainable Business
As the business is growing, they are relying more heavily on digital marketing -- and especially Bing ads -- to help reach new audiences and grow their business. The addition of the new luau catering business means they have a whole new audience they want to reach and engage.
They also maintain their food truck as "a giant rolling billboard." Still, much of their business comes from word-of-mouth through community work and an army of satisfied fans.
When asked what they wish they'd known when they started out, Edison laughs and says, "I wish we'd been more mechanically inclined! We didn't know anything about large truck engines or generators -- and that knowledge would have served us well." She also explains that Marination was late to add gluten-free/vegan options to their menu.
Edison had practical advice for new entrepreneurs as well: "Pick really conservative numbers and decide whether you can break even. If you don't know what those numbers are, you shouldn't do it."
She continues, "You should also know you won't be able to pay yourself for a while. Do you have savings? Are you going to barter? How deep is your network?" Setting these expectations early can save a business in the early months and years.
While Marination's success is unquestionable, Edison is clear on the toughest lessons learned. "Reliable, well-trained employees are the core of our business and we need to consistently improve our ability to hire and retain these good people, if we want to stay in business."
Finally, they recommend outsourcing marketing and community outreach from day one. "Find someone who gets your personality and the personality of your brand and have them be your voice. If a customer posts an Instagram picture of their husband eating a taco at our restaurant they want someone to respond to that post with an immediate 'thank you'." That's how you build a brand with a devoted following -- well, that and delicious tacos.
Want to expand your marketing efforts? Click here for more tips on running successful Bing Ads.