As a business owner or sales manager, a mobile CRM is essential for staying organized and connected to your team and customers. However, with so many options available, choosing the right one for your business can be overwhelming.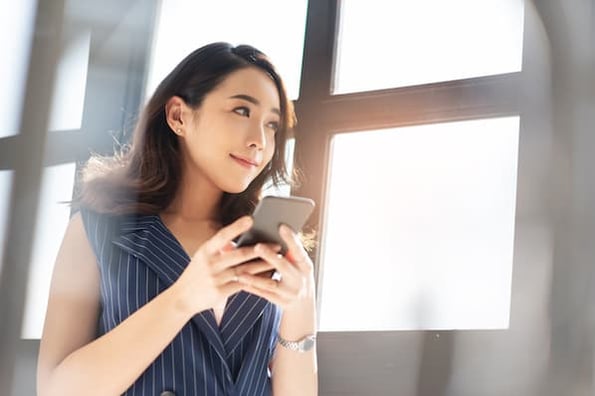 To help you decide, we've compiled a list of the top nine best mobile CRMs for 2023, along with key features, pricing, what we like, and what's missing from each option. Soon, you can take your data anywhere.
What is mobile CRM?
A mobile CRM is an app that delivers the experience and features of a desktop CRM platform on your mobile device. A mobile CRM can accomplish all the tasks they typically do from the desktop without needing to be tethered to a desk.
A mobile CRM is an essential tool for modern business people who need to stay engaged with their customers and their team at home and on the go.
Check out the video below for a demo of HubSpot mobile CRM to learn the basics of a mobile CRM and how it works.
What should you look for in a great mobile CRM?
So you're looking for a CRM with mobile capabilities, and you find so many options that your head starts to spin. To narrow your search, focus on the following elements.
1. An Optimized Interface
A great mobile CRM needs to be easy to use on your phone. Your mobile CRM should have an intuitive interface that makes it simple for you and your team to access and update information on the go.
2. Collaboration-Readiness
A mobile CRM should be optimized for collaboration among teams. Your mobile CRM should enhance team communication with features like reminders and tasks. It should sync seamlessly so updates are available to everyone, and it should generally improve the smoothness and transparency of your sales processes.
3. Easy Upload Ability
The main benefit of a mobile CRM is that you can use it from anywhere. If you meet a lead in the real world, your mobile CRM should make it a breeze to upload their contact details.
Accordingly, we love business card scanning features to support face-to-face business interactions.
Up next, we'll discuss nine mobile CRM solutions that can help you bring your business into the real world.
Mobile CRM Solutions
HubSpot
Zoho CRM
Pipedrive
Sugar CRM
Salesforce
Salesflare
Freshsales
Nutshell CRM
Insightly
Zendesk Sell
1. HubSpot
HubSpot's app consolidates the functionality of its CRM into a mobile package. It allows you to create tasks, reminders, and deals on the go — all with instant access to contacts and a detailed activity feed to track leads.
HubSpot CRM can suit the needs of businesses of every size. If your company is looking for a mobile CRM solution that reconciles power and scalability with ease of use, check out the HubSpot CRM app.
Key Features
Advanced contact and customer management
Integration with social media and marketing tools
Customizable sales and marketing pipelines
Detailed caller ID screen
Business card scanner
Pricing: Free plans are available.
What we like: You have access to robust features and integrations at no cost.
What's missing: There are automation options for sales tasks (at the free tier). To have access to more features, you'll need to select a paid plan.
The Zoho CRM app covers all the bases of its desktop counterpart, seamlessly organized in an intuitive interface.
Zoho's standard CRM is geared toward sales departments, and its features reflect that. If you're interested in a first-rate CRM primarily tailored to that aspect of your business, consider exploring Zoho CRM and its mobile CRM app.
Key Features
Automated lead capture and assignment
Real-time sales and pipeline tracking
Detailed contact and customer management
Voice notes for logging calls
Events, calls, and tasks are organized in a dashboard view
Location features to identify nearby sales opportunities
Pricing: Prices start at $14 per user/month.
What we like: Zoho offers affordable pricing and extensive integrations.
What's missing: There are limited customization options for dashboards and reports.
Pipedrive's mobile CRM is another powerful, sales-centric solution. It contains most industry-standard features, including contact notes, email application syncing, and resources for meeting prep. One of the application's most significant selling points is its emphasis on organization.
It has a solid suite of features that can keep you on top of team and individual performance, all supported by a sleek, user-friendly interface.
Key Features
Advanced sales forecasting and reporting
Automated email and SMS marketing
Advanced document scanning features for documents and handwritten notes
Integration with popular productivity apps
Multifaceted search function and visibility into deal timelines
Pricing: Prices start at $14.90 per user/month.
What we like: This app offers excellent document scanning features and 24/7 support.
What's missing: There is limited integration with social media and marketing tools. Additionally, Pipedrive only offers paid options.
Debuting in 2004, SugarCRM is one of the oldest CRMs on this list, and it is also one of the most feature-rich platforms available (similar to Salesforce). SugarCRM has since expanded to become an end-to-end customer interaction platform that you can use to manage all aspects of your business.
Sugar CRM includes all the features you expect in a mobile CRM and more. Its massive feature set can be complex and challenging to learn, but the possibilities are endless if you choose to invest.
Key Features
Built-in support for automated renewals of subscription-based accounts
AI-powered data analysis
Excellent integration with popular marketing and help desk software
Geared towards developers for advanced customization
Near endless automation opportunities for internal processes
Pricing: Sugar CRM starts at $49 per user a month with a minimum of three users.
What we like: Sugar CRM is extremely customizable with open APIs and developer access.
What's missing: The mobile UI is a little clunky, and the extensive feature set makes for a steep learning curve.
The Salesforce Mobile CRM is everything you'd expect from an industry leader. The application supports a seamless transition from desktop to mobile, letting you readily access your CRM data anywhere.
Salesforce is considered an industry pillar, and the functionality of its mobile application keeps up with its innovative, practical standards. Salesforce has a reputation for its deep feature set, expansive customization options, and resulting complexity. If you are willing to dive deep into the Salesforce ecosystem, the investment will pay off.
Key Features
AI-powered Einstein Analytics tool
Einstein Voice Assistant for conversational capture of notes, data updates, and task creation
Nearly unlimited customization options
Users can upload documents and assign tasks to specific records
Over 2,500 third-party integrations
Lightning App Designer for drag-and-drop creation of modules and CRM pages
Pricing: Plans start at $25 per user/month.
What we like: Lightning App Designer makes it simple for teams to create custom applications that support unique business needs, which can be utilized on both desktop and mobile CRM.
What's missing: In keeping with the desktop version, Salesforce's mobile UI is spartan and lacking a design-forward, modern touch.
Unlike other CRMs, Salesflare truly offers 100% of the CRM's functionality through its mobile app, so you never need to worry anymore about keeping your laptop close.
Salesflare's mobile app additionally also offers a handy business card scanner, which allows you to add leads on the go. A handy tip for conference goers: you can also automatically add these leads to an email sequence to follow them up automatically after the conference.
Key Features
Android call history integration
Google Workspace & Microsoft 365 integrations
Email and web tracking
Relationship strengths
LinkedIn sidebar
Automated reminder system
Pricing: Prices start at $29 per user/month.
What we like: This app automatically reminds you which companies you're in touch with, who you know at these companies, what you discussed, and when to follow up.
What's missing: Salesflare is only available in English. While most features are available on the Growth plan, using email sequences requires upgrading to the Pro plan.
Freshsales is a sales-centric CRM app from Freshworks that offers a solution for streamlining your sales process and gaining a 360° view of customer interactions. In addition, their mobile app features a clean and usable UI that will make managing your pipeline a joy.
Freshworks also offers marketing, HR, customer service, and IT management software solutions, among others.
Key Features
Automated lead capture and assignment
Advanced Telephony features for logging calls
Caller ID with contextual information for leads
Customizable dashboards and reports
Activity timeline for easy visibility of customer/lead interaction history
Attractive and easy-to-use interface
Pricing: Free plans are available. Paid plans start at $15 per user a month.
What we like: Freshsales' app has an easy-to-use interface and full feature set with affordable and scalable pricing.
What's missing: Freshsales integrates tightly with its proprietary suite but lacks the breadth of external integrations that other mobile CRMs on this list offer.
Nutshell is a lightweight CRM that promises a stress-free solution for both sales and marketing. Nutshell offers all the essential features you would expect from a mobile CRM, including contact and lead management, custom reports and dashboards, email sequences, and visibility into your team's productivity.
In addition, Nutshell's interface is spotless and minimal. This appeals to many users but might seem lacking to those who are used to heavy-duty software like Salesforce.
However, if you are looking for an easy-to-learn but solid CRM to support your pipeline, Nutshell might be for you.
Key Features
Minimal UI with a minimal learning curve
Attractive and customizable sales dashboards
Easily export sales charts for use in presentation decks
Automatic email sequences triggered by your custom pipeline stages
Embeddable web forms
Pricing: Basic plans cost $16 per user a month. Pro versions cost $42 monthly.
What we like: Nutshell offers an easy-to-learn UI so you can get started quickly.
What's missing: Call logging and sales automation are only available in the pro version.
Insightly is a cloud-based mobile CRM solution that can enhance the productivity of both sales and marketing teams. Insightly aims to serve small and medium-sized businesses looking to streamline business processes, eliminate data silos, and close deals faster.
With over 2,000 available integrations, Insightly can fit nicely into your existing stack. Plus, its mobile CRM app will ensure your team stays connected in and outside the office.
Key Features
Automatic lead routing to assign leads to the right team member
Automate processes with repeating tasks and workflows
Business intelligence features offer data visualization with attractive reports
Business card scanner
Ability to add voice memos to leads and opportunities
Pricing: Plans start at $29 per user a month.
What we like: Data visualization reports are vibrant and attractive, making BI a little more fun.
What's missing: You're limited to 50 custom fields and 10GB of file storage at the $29 tier.
Zendesk Sell is the CRM offering from the makers of the industry-leading support software. Zendesk Sell's mobile CRM app is fully featured and will keep your team connected to prospects and customers from anywhere.
Zendesk's geolocation supports you in finding nearby opportunities, getting directions, and verifying the addresses of your leads. Zendesk also offers a full feature set at a reasonable price that can scale as your business grows.
Key Features
Data management for contacts, leads, companies, deals, notes, and more
Manage tasks, appointments, and calendars to keep teams on track
User-friendly interface
Sell composer makes it easy to send emails, make calls, or take notes directly from contact/deal records on mobile
Reliable customer support and knowledge base
Geolocation tool to find nearby leads and verify that reps made on-site visits
Pricing: Plans start at $19 per user a month.
What we like: There are strong mobile features like geolocation and the ability to send messages to contacts within the app.
What's missing: There is no free plan and limited marketing features.
Getting Started with a Mobile CRM
All the mobile CRMs on this list have their strengths, weaknesses, and unique features. When choosing your mobile CRM, consider the nature of your business needs, which teams you need to account for, and how much you value ease of use.
Once you've hashed out those aspects, you should be able to land on an option that suits your business goals, structure, and interests.