Everyone in a company craves inspiration, and those on the lower rungs often look to leaders to provide that essential motivational boost. But leaders themselves also need to seek new insight from time to time to replenish their drive and sharpen their focus.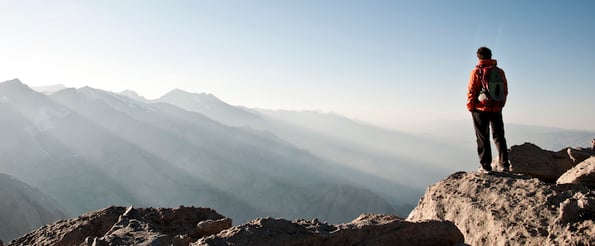 Leadership is one of the trickiest areas to get right in an organization. Companies often succeed or fail thanks to the actions of their leaders. Approach the duties of leadership incorrectly, and you could drag down everyone who relies on you for guidance. But get it right, and your example will inspire creative, hardworking, and upstanding individuals to execute on their goals at all levels of the business.
HubSpot co-founder Dharmesh Shah has spent considerable time thinking about what being a good leader truly means. Now his ruminations have been assembled in the new ebook "Lessons on Leadership." Feeling like you could use a dose of encouragement? Below are 18 of the most poignant motivational quotes from the collection.
18 Motivational Quotes For Leaders:
1) "Hire that amazing person -- even though they don't fit any of the roles you're currently recruiting for." Click To Tweet

2) "An imperfect decision today is usually better than a slightly less imperfect decision tomorrow." Click To Tweet

3) "It sends the right message for you to be trying -- and failing. Your team will be more likely to innovate." Click To Tweet

4) "How do you make a goal truly fulfilling? Show its purpose. Describe its relevance to larger business goals. Show how a goal isn't just an arbitrary target but an outcome that truly matters." Click To Tweet
5) "Praise is free -- but it means everything." Click To Tweet
6) "When you're faced with big, company-changing decisions, don't use outliers as a way to rationalize what you want to do. Dig deeper. Do some additional research." Click To Tweet

7) "Give your employees the freedom to work the way they work best." Click To Tweet

8) "Deny people the opportunity to give input, or shoot their ideas down without consideration, and you turn people into machines … and machines don't care." Click To Tweet
9) "You should be seen as of the culture, never above the culture." Click To Tweet

10) "While you should treat each employee differently, you must treat each employee fairly." Click To Tweet

11) "Truly confident people don't mind being proven wrong. They feel finding out what is right is a lot more important than being right." Click To Tweet

12) "Realize that that when you're genuine and unpretentious, people don't laugh at you. They laugh with you." Click To Tweet

13) "When you are looking to learn from great companies, be mindful that you understand the history of the strategy or tactic you are looking to learn from." Click To Tweet

14) "When a personal brand is an authentic extension of the real person and not an artificial construct, it inspires trust." Click To Tweet

15) "Every day make sure you roll up your sleeves and get your hands dirty." Click To Tweet

16) "Don't say execution is important. Show execution is important." Click To Tweet

17) "Whatever the issue, regardless of who is actually at fault, don't throw others under the bus. Throw yourself under the bus. Accept the criticism or abuse. You can handle it -- even if you don't deserve it." Click To Tweet

18) "Give people the freedom to make meaningful decisions, to operate in a way that is most effective for them, and to simply do the right thing, and they will trust you." Click To Tweet