Have you ever thought of turning your passion into a business? Many businesses offer a wide range of products or services but struggle to become the market leader for each of their offerings. Instead of targeting a broad population, your idea could focus on a small portion of potential customers. Narrowing your scope provides the opportunity to be the best at what you do.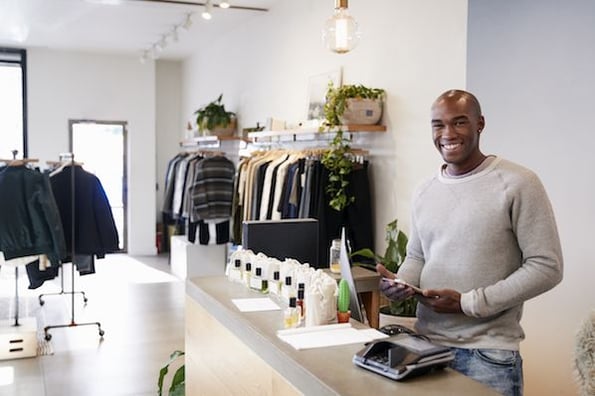 For example, you might combine your passion for knitting with your love of cats and start your own cat sweater business. More broadly, your customers are pet owners but they have a specialized interest (or need) — cat sweaters.
In this case, the consumers you're targeting are members of a niche market.
What is a niche market?
A niche market is a focused set of people or businesses who are in the market to purchase a product or service you sell. This group of individuals has a specific set of needs that can be met by a targeted product or service that addresses those needs.
Niche marketing is a byproduct of specialization. When a company offers a specific set of products and services rather than selling a wide variety of offerings, they benefit by saving money, becoming more productive, and providing a comparative advantage that can be marketed to a niche set of customers.
Companies benefit from putting a stake in the ground and one way to see that benefit in action is through sales and marketing. Selling to a niche market is a way to stand out from competitors, and it helps your brand establish positive recognition within the market. Your business can become an authority in your industry for that niche audience — ultimately attracting more customers to your product or service.
Benefits of a Niche Market
Whether you're starting a new business or scaling an existing one, niche marketing is an effective way to establish your brand's positioning. By focusing on a small audience, your business will be able to stretch its resources further and bring in customers who are closely aligned with your offerings. Those are the people who need your product most and are therefore most likely to convert and remain loyal customers.
Let's say your business sells printers and scanners. A niche market approach would entail identifying and reaching out to your business' target accounts — through market research, these are the people you've determined would benefit most from your product (and therefore, would be most likely to convert).
To further improve chances of conversion and customer loyalty, you may get even more granular and specifically reach out to the departments within those target businesses who would benefit most from your printers and scanners, such as marketing or admin.These are the people who understand the benefits of your product and the challenges it resolves.
Starting small is how you establish yourself in your market. Then, as your business scales, it's natural for your niche market to grow. In fact, Harvard Business Review says large markets can evolve from niche ones. By aligning your products or services perfectly with a small group of current and potential customers, you encourage word of mouth and positive reviews which can carry your business into a larger, potentially more profitable market.
Now that we have a better idea of what a niche market is and the benefits of having one, let's take a look at the steps to finding one.
How to Find a Niche Market
Reflect on your passions and interests.
Identify customers' problems and needs.
Research the competition.
Define your niche and its profitability.
Test your product or service.
1. Reflect on your passions and interests.
Is there a hobby or skill you're particularly passionate about or good at? Take some time to reflect on those areas of interest as potential niche market ideas. Below are a few questions to spark your brainstorming:
What skills come naturally to you?
How do you enjoy spending your free time?
Do friends, family, and colleagues ask for your advice on a specific topic?
How do you approach problem-solving?
What topics do you enjoy learning about?
Write down your answers to these questions and begin a list of ideas to consider for your business's niche market.
2. Identify customers' problems and needs.
Now that you have some business ideas, think of the problems faced by your target market and how your passion or interest can become a product or service that meets their needs. What's their motive to buy?
Research your potential customers to determine their buying behaviors and the challenges they face. There are a variety of tools (including free ones) you can use as you explore your customer persona. This will give you a better idea of how your business can provide value to your niche market.
3. Research the competition.
Before devoting your time and energy to developing a brand new business, you'll want to research your potential competitors. You might have a viable product idea, but how many other businesses will you be competing with?
Below are a few websites that can help you with your competitive research.
Use these tools to explore the best-selling products consumers are researching and see if your new business can meet their needs.
4. Define your niche and its profitability.
If you're dedicating your resources and time to a new business, it should have the ability to become profitable. Here are a few factors to consider when finalizing the niche you'll be catering to:
Customer demographics
Customer values and interests
Customer location
Product quality
Price
Your idea could be profitable if you research the market and discover similar products but not many companies selling them. Take a look at the price points of your competitors' products so you can price your own competitively. Resources like Amazon (for products), G2 (for software), agency directories (for services), and PRICEFY.IO (for price monitoring) are helpful in the process of evaluating your competitors' pricing, and determining prices for your own products and services.
5. Test your product or service.
Create a simple website or landing page for your business so customers can find you. Offer a trial period of the product or give out free samples to your target customers. This initial test period should not cost a large amount of money, but you can certainly use paid ads to drive traffic to your website.
See if people want to put money towards your product with crowdfunding sites. Not only can you gain funding but you'll also get your product in front of potential customers.
If the test is not as successful as you hoped it would be, don't scrap your idea entirely. Go back to the drawing board to find key areas where your product or marketing could be improved.
Still not sure what a niche business looks like in practice? Below are a few examples of businesses that cater to niche markets.
Niche Market Examples
Georgetown Cupcake
The Container Store
Drybar
SoulCycle
Ties.com
1.Georgetown Cupcake
: A bakery that only bakes cupcakes.
After leaving their corporate jobs, sisters Katherine Kallinis Berman and Sophie Kallinis LaMontagne decided to pursue their passion for baking and opened up Georgetown Cupcake. Unlike other bakeries that create cakes and other sweets, their sole product is cupcakes and they were able to perfect their recipes by focusing on one product type.
2.The Container Store
: A store that only sells containers.
Instead of offering a variety of home products such as furniture, textiles, and artwork The Container Store focuses on selling compartments — large and small enclosed storage containers for consumers to store their stuff. Sure, customers could go to a convenience store to buy containers, but there's a good chance they won't find the exact size and color that fits the space and aesthetic of their cupboard. The Container Store fills that void (literally) and the business has turned a healthy profit within this market.

Rather than catering to a large population of people in need of home cleaning, Dorm Mom's niche market is college students. Its offerings include dorm cleaning and laundry services.
3. Drybar: A hair salon that offers blowouts, no cuts or color.
Instead of giving haircuts, Drybar's services are limited to blow-drying and styling. To give customers some variety, the salon offers a few hair-styling options. What sets Drybar apart is this: "[We're] based on the simple concept of focusing on one thing and being the best at it: Blowouts."
4. SoulCycle: A workout studio that only offers indoor cycling classes.
SoulCycle is a 45-minute indoor cycling class that sets itself apart from competitors by only offering one specialized spin class. Other fitness studios don't compare to the community of dedicated cyclers who spend hours working out and connecting with one another each week.
5. Ties.com: A clothing store that sells men's accessories.

In the broader market of menswear, Ties.com stands out by only selling accessories like ties, socks, pocket squares, and wallets. Since their products make up a small portion of the menswear industry, they stand out from the competition by creating unique, high-quality accessories.
Find Your Lane in a Niche Market
By specializing your products and services in a narrow market, you'll better utilize your resources, produce products faster, and develop a loyal customer base who can champion your brand to the mass market. Selling to a niche market can be a short or long-term strategy — the key is finding your audience and tailoring everything you do just for them.
Editor's note: This post was originally published in October 2018 and has been updated for comprehensiveness.