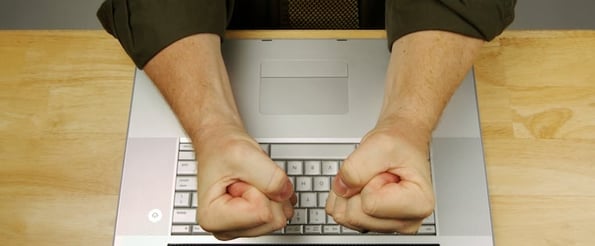 With the advent of LinkedIn, salespeople have an additional channel through which to contact prospects. And more channels means more chances to grab your buyer's attention.
However, before you hit the "send" button on that message, you might want to take a look at the following two charts.
New data from HubSpot's Is Social Selling Creepy? survey report shows that one small detail can dramatically impact the way prospects perceive LinkedIn messages from salespeople.
What a difference a shared connection or two can make!
In light of this data, it behooves salespeople to forge a common connection before sending a LinkedIn message to a prospect. To determine if you share any connections, scroll down to the "connections" section of the prospect's profile and click "shared:"
How do you create a common connection if none exists? It's tricky, but doable.
Full profiles of third degree connections are only visible to LinkedIn premium subscribers. Oh, and LinkedIn members privy to this hack.
If you're able to view the full profile of your third degree connection one way or another, scroll down to the "recommendations" section and click on a person who either wrote or received a recommendation from your prospect. You can then send this person a request, and forge a common connection. Alternatively, you could send requests to the prospect's coworkers by searching for their company.
If all else fails, you could send the prospect an invitation to connect directly. Just make sure to do it the right way -- with a personalized message.
For the full report on social selling's creepy dark side, click the button below.