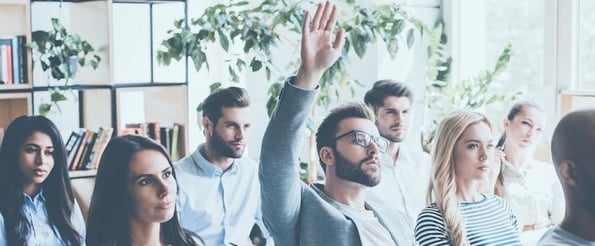 In any other context, asking about someone's personal goals, fears, desires, and obstacles shortly after meeting them would probably earn you some strange looks -- if they didn't walk away, that is.
But in sales, we regularly reach out to prospects, introduce ourselves, and then start delving into sensitive information about our prospects' lives.
The discovery and qualification process will lead to better insights and more accurate information if the buyer trusts you. However, depending on the length of your sales cycle, you may not have much time to establish trust and build rapport.
I've learned to frame my questions a specific way to get the information I need without making buyers uncomfortable. Read on to learn my techniques.
Rather than asking, "What results are you seeing from X?", ask, "How's it going?"
This is a powerful formula for getting prospects to open up. First, make an objective observation about the business area, campaign, or project related to your product, such as, "I see on your Careers page that you're currently looking to hire five customer support representatives."
Whether they say yes or no, respond, "How's it going?"
Unlike "What results are you seeing?" -- which puts the buyer on the spot and pressures them to paint a rosy picture -- this casual question makes them more comfortable. You'll typically receive an honest, unfiltered summary of what's going well and what's not.
Rather than asking, "What keeps you up at night?", ask, "Many of my customers are focused on X, Y, and Z. Are you tackling any of those?"
It's not just clichéd to ask what's keeping your prospect up -- it's also ineffective. What if they name a challenge your product can't solve? What if they can't think of anything off the top of their head? What if they're doing well, and your biggest opportunity is helping them be even more successful?
The second version works for all these scenarios. First, if the buyer is experiencing a specific challenge or launching a specific initiative, this question shows them they're not alone. Second, it subtly establishes your expertise. Third, if their answer is "No, I'm not dealing with any of those," you can respond, "That's excellent -- the best time to solve a problem is before you actually have it."
Rather than asking, "Why haven't you addressed this issue already?", ask, "Have you tried to solve this before?"
Although normally I wouldn't ask a close-ended question, it's helpful in this situation for probing into your prospect's potential inaction.
For instance, maybe they came very close to building an in-house solution a few months ago -- but ultimately decided it would be too expensive. You might blow past this detail if you assume talking to you is the first thing they've done about the situation.
Rather than asking, "What's your budget for this?", ask,
"To make sure we're a good fit for you, can you give me a sense of your general price point?"

Immediately demanding your prospect's budget can come across too aggressively. In addition, they might not have decided yet what they'd like to spend. You don't want to ignore the budget question entirely; after all, it's a waste of everyone's time if your product is way out of reach. Help the buyer understand why you're asking with this more diplomatic version.
Rather than asking, "When do you need this up and running?", ask, "When do you need to see [desired results]?"
For every purchase, there are three main milestones: When your prospect actually buys, when the product is installed or delivered, and when they'll start seeing results.
Identifying that third date is key. The buyer probably isn't thinking about the gap between implementation and impact, and if you don't remind them, they'll feel less urgency. Plus, you want to work on their schedule -- not yours.
Once you know their timeline for results, work backward to figure out when you need to sign the agreement.
Rather than asking, "Who's the decision maker?", ask, "If I prepare a sample proposal, whose name should I put on it?"
Junior employees aren't always eager to introduce you to the budget authority. There are several potential reasons: They're worried you'll criticize their work or make them look bad, they don't want to bother their boss, they want to stay in control of the process, or they're not confident about your solution yet.
So if you want to learn who the true decision maker is, try an indirect question.
After your prospect has given you a name, follow up with:
"Would you be open to a meeting with the three of us so I can get [decision maker's] perspective on [pain point]?"
"I've found [job title] often wants to be involved at [X stage]. Do you think we should bring in [decision maker] if we reach that point?"
"Are you comfortable introducing me to [decision maker] so I can get their thoughts on X and Y?"
Since making these swaps, I've found it much easier to uncover key details about my prospect's pain points, needs, and financial situation. I hope you find them helpful as well.