Sales is, in large part, the art of capturing and keeping attention. You can't convert leads or land deals if prospects don't notice you, and once they do, you need to keep them interested. You need to be able to convey the benefits of your product concisely, compellingly, and convincingly to really keep them on board.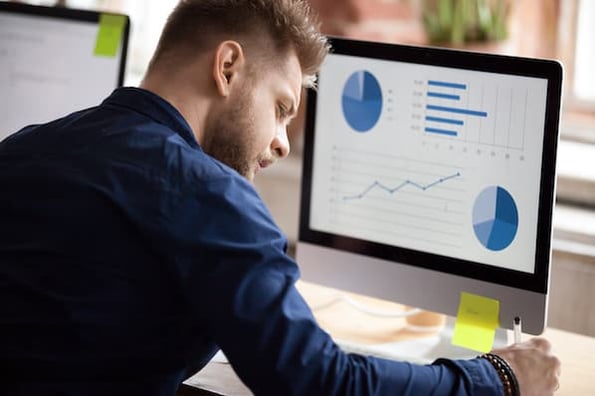 Any resource that can help with that process could be huge, and there's one you might not have heard of — depending on your industry. I'm talking about sales aids.
What are sales aids?
Sales aids are resources sales reps distribute to prospects to offer product information or enhance sales presentations. Sales aids are visual in nature, generally supported by concise copy, and often presented in face-to-face meetings. Some are as simple as individual slides, while others are more interactive.
Sales aids are most commonly associated with healthcare and pharmaceutical sales, but the concept isn't necessarily specific to those industries. Any sales representative looking for a succinct but comprehensive way to inform prospects about the nature and benefits of a product stands to gain a lot from understanding sales aids.
Whether it be by complementing a sales presentation or connecting with a perfectly new prospect, sales aids can be excellent assets for any salesperson looking to capture and keep potential customers' attention.
Let's take a look at how to create them thoughtfully and effectively.
How to Create Sales Aids
When creating sales aids, there are some best practices to abide by.
1. Understand your product and the world around it.
That statement might appear obvious, but there are some layers to it. Understanding your product isn't just a matter of knowing how it works. You have to know its context. Where does it stand relative to your competition? What are you doing better than them? What can you offer that they can't?
Know the answer to those questions. Understand what sets you apart, and make sure your sales aids reflect that — above all else. If your sales aids mull over the same perks all your competitors are touting, why would your product mean anything to prospects? Once you understand your product, your brand, and where you stand, move on to step two.
2. Zero in on a primary problem or benefit.
There will always be one consequence or concern your product addresses more than any other. Lead with that in your sales aid. Identify the single most important point you want prospects to take away from your presentation.
Structure your sales aid to put that concept or pain point front and center. Present it succinctly and supplement it with some mission-critical information. Take a look at this sales aid from Zyrtec for inspiration.
The first, most striking image in the sales aid speaks directly to the major pain points Zyrtec addresses without getting lost in providing excessive information. The second page compliments the first with another engaging image and just enough supporting information to educate prospects without being imposing.
This sales aid from lawn maintenance company, Scotts, takes an even blunter approach.
Here, Scotts explicitly calls out the problem at hand. It grabs prospects' attention and supports its bold first page with information in the ones that follow it.
3. Tell a story.
You don't have to write a novel here. There's no need to launch into a full-on case study. Instead, try to put some kind of unspoken narrative behind the imagery you're using. Take this aid from chronic obstructive pulmonary disease medication, Brovana, as an example.
Brovana's sales aid presents a compelling visual narrative. It illustrates that this woman may have tried the other inhalers in the background to no avail — that the alternatives were ineffective or uncomfortable.
It shows that the woman in the picture has finally found an option that suits her well and lets her live the way she wants, and that option is Brovana. It's able to convey all that information without explicitly saying anything.
In all likelihood, you won't have time to spell out some full, robust anecdote about your product and how it helps prospects on a personal level. You're much better suited conveying that information through vivid, compelling imagery in your sales aids.
4. Make any hard data aesthetically pleasing.
Sales aids are often used to convey hard data, and that can be tricky territory. Impressive figures can be a massive asset to a convincing sales aid, but if they're presented too imposingly, they won't register. That's why hard data should be presented simply or graphically.
Here's an example from a sales aid used by Nabisco.
Nabisco used this sales aid to highlight three of its healthiest products. When you pulled the tabs to the right, panels containing the nutritional facts about each product slid out.
Sales reps using sales aids to convey more intricate data, like information from clinical trials should do so graphically. Here's an example from a sales aid for Latuda — a medication used to treat schizophrenia.
Here, Latuda has a straightforward graph that's easy to make sense of with the fundamental takeaway of the information outlined on top.
5. Consider getting creative with your medium.
There's no rigid definition of what a sales aid has to look like. Some come in the form of physical pamphlets, brochures, or books. Others are digital — presented on tablets or computers.
Careful creativity can be an asset here. If your presentation is too outlandish or extreme, you might undermine your pitch. But if you can convey your messaging through compelling aesthetics, it can pay off in spades.
Check out this example from Carestream Ultrasound.
The company included a miniature paper replica of its Touch Prime Ultrasound System to accompany the machine's sales aid. The award-winning model generated tremendous buzz on social media and achieved company record lead and opportunity conversion rates.
Another company that took a bold approach to the construction of a sales aid was Essilor, the leading manufacturer and wholesale distributor of optical lenses in the United States. It used a sleek sales aid with an included video overview to distribute information about its Varilux lens series.
Ultimately, a well-crafted sales aid can be an invaluable resource for any kind of salesperson. Being able to concisely and compellingly get your fundamental message across will help your sales efforts in any context — from direct mail to in-person.
Though sales aids are most closely associated with healthcare and pharmaceuticals, businesses across every industry stand to gain a lot by doing them right.