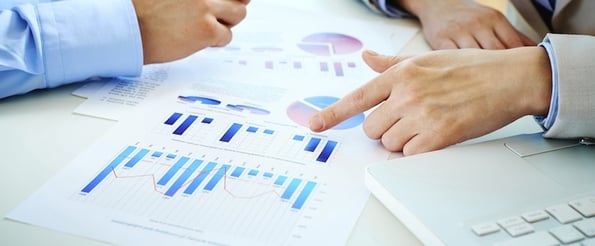 Few B2B sales leaders are likely to boast that every single promise ever made from every sales effectiveness technology solution they purchased has magically come true. But, as any savvy sales operations practitioner who has consumed Aberdeen Group's research knows, investing in even one efficiency tool can yield measurable business results that create multiples of value on the product spend. The trick, of course, is to both deploy and measure effectively.
Aberdeen research has long explored content's role in high-performing sales organizations, most recently in No Longer a Luxury: Why the Best-in-Class View Sales Enablement as a Must-Have.
This research tells us that when marketing and sales leaders collaborate more often around giving sales better access to better marketing content, everybody wins. Marketers measured by pipeline and revenue contribution enjoy more champions and improved results among the sales team; quota-carrying reps are better enabled by putting the right message in front of the right buyer at the right time in the sales cycle.
By creating content-driven selling, moreover, Best-in-Class companies within this research lead under-performing sales organizations by an average margin of 25% in sponsoring the following two crucial tenets of effective sales enablement deployments:
Centralized repository of best sales tactics/activities/messages, supported or determined by analytics on historical wins and losses.
Sales team has access to tools that help them understand how customers are engaging with content , to determine the best individuals or accounts to pursue.
So, let's combine adopters of these two competencies, and look at the year-over-year performance of this cohort in comparison to non-deployers.
Figure 1:
While growing revenue 100% faster is plenty of validation for the cost of entry, the equivalent doubling of growth in average deal size may actually stand out as the most exciting datum from Figure 1. This is because while many non-sales factors can influence revenue, improving everyone's lot via larger contracts is a KPI almost wholly unique to the work of sales teams. From an administrative standpoint, too, faster growth in CRM adoption is a win, and the marketing/sales relationship benefits from an improvement in how often sales converts marketing-provided opportunities.
In addition, Figure 1 teaches us that sales enablement initiatives require a commitment to leveraging three crucial aspects of the solutions available on the market:
Aggregating marketing-provided content that is designed for a wide variety of selling situations: by industry, by buyer persona, by product, and even by stage in the sales cycle. The more often sellers find just what they need for a particular pipelined deal in the sales enablement library, the more successful all parties will be.
Engaging with how buyers actually interact with said content. Seriously, folks, there really is no longer any need to wonder if prospects and customers open your email, check out your content, or pass it along to fellow decision-makers and champions.
Analyzing this data to continuously adjust the sails (pun intended) around messaging to buyers. The Best-in-Class are 33% more competent than All Others at utilizing predictive analytics to "better understand what content to use, when to use it, who to use it with (e.g. aligning content to buyers and stages of the marketing / sales funnel), and how to present it."
What Great Sales Enablement Looks Like
In addition to the performance advantages of content-driven sales enablement, another series of competencies — summarized in Figure 2 — accrues more often to fully sales-enabled firms, in comparison to the under-supported:
Figure 2: What Great Sales Enablement Looks Like
Indeed, on average, Best-in-Class organizations are 28% more competent at these high-level management abilities than under-performers, and for good reason.
In any competitive market, especially when it's safest to assume your competitors are highly skilled at pipeline management (and using predictive analytics to support these skills), the value of maximizing the people and opportunities most likely to beat team quota cannot be understated.
Certainly any sales manager trying to decide which deals to sponsor at month end, using discounts or bundling or executive involvement, for example, can benefit from clarity around which prospects did or didn't consume the content presented to them by reps. And coaching their team members based on this vital, objective intelligence falls into the "give a man a fish, teach a man to fish" mindset, turning content-driven selling into content-inspired winning.
Read the full Knowledge Brief here.