If you're struggling as the year comes to a close, you're not alone. Ask any salesperson if they've had a tough 2020, and you'll get a resounding "Yes."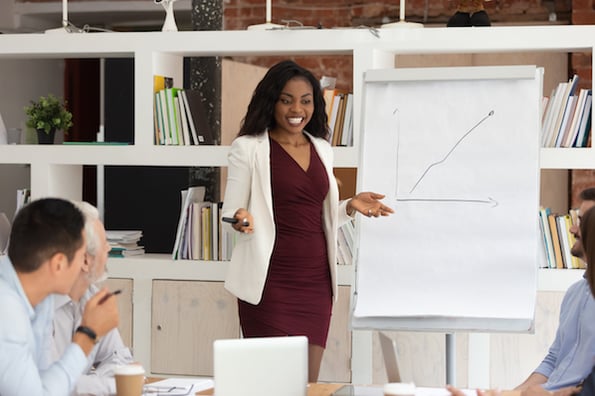 From the sales floor to the makeshift home office set up, salespeople of all kinds in all industries have faced a myriad of challenges and roadblocks this year.
I interviewed seven sales leaders from across the country to better understand how they overcame the challenges of 2020, what challenges they expect to encounter in 2021, and how they recommend readers combat both.
1. Mintis Hankerson on balancing empathy with achievement
Mintis Hankerson is a Senior Sales Manager at HubSpot.
For Mintis, 2020 has been all about balancing empathy with sales achievement. "Every sales leader feels the weight of this year, yet we're at a place where companies need us to perform financially," she shared. "There are multiple layers of this, the first being, 'How do I balance achievement with being empathetic to my people?'"
Sales reps are experiencing more depression and burnout than ever, but sales leaders also need them to achieve. "So, we're asking ourselves, 'How we work with each other as human beings and survive financially at the same time?'" Mintis questioned.
The second layer is encouraging reps to balance empathy with prospects. "[To do this,] I encourage my team to avoid selling to people to whom it doesn't make sense to sell," Mintis explained. "Instead, focus on the value, so your sales process is rooted in what's good for [the prospect]."
As for next year, Mintis believes the challenge of 2020 has become the status quo of 2021. "Next year, it's about embracing what's now normal and iterating off whatever that means for you," she said. She encourages sales teams to set realistic, SMART goals and remain even-keeled in their expectations of the new year.
"'Focus on the controllables and let those controllables fill your cup' is what I always say to my reps," Mintis shared. "Make your goals measurable and attainable and tie them back to controllables — because we are not in the 'new normal,' we are at normal."
2. Zach Rego on maintaining high morale and retention on an all-remote sales team
Zach Rego is the VP of Sales and Marketing at Unstack, a marketing platform software.
In 2020, Zach (like many other sales leaders) faced the challenge of transitioning to a remote sales team while maintaining high team performance and morale. When asked how he combated this challenge, Zach shared, "Consistency is key."
Sure, it would have been easier for his team to reduce the amount of training, but that would have led to lower team morale and poor performance. "[This year,] it was important to maintain as much normalcy as possible, which meant continuing with scheduled training and finding new and creative ways to do so remotely."
Zach shared a few of his favorite tools for remote training:
Slack.

"Leverage Slack video to mimic the quick strategy chats that used to happen at a colleague's desk, but don't overuse Slack messaging."

Zoom.

"Use Zoom Whiteboards during training to leverage visual learning."

MIRO

. "Use tools like MIRO to create virtual decision trees that allow everyone to contribute and provide a framework for new conversation flows and objections."
Post-training materials. "Provide a takeaway checklist, decision tree, script, or worksheet for reps to reference post-training."

Gong.

"Always follow up to check that reps are applying new strategies; Gong is a helpful tool for this."
As for 2021, Zach expects to face the challenge of maintaining high employee retention and career advancement in a remote work environment.
"As sales leaders, it's our job to ensure a solid culture and career growth, both of which are challenging in a remote work environment," said Zach.
To combat this challenge, Zach plans to incorporate more peer-to-peer training and expand manager communication training. He also intends to identify projects in which reps can participate (outside of Sales) to ensure they feel part of Unstack's strategic priorities.
"I've found that exposure to higher-level strategic projects allows reps to be more invested in the business while providing them more career growth," he said.
3. Phil Sofia on establishing new lead generation opportunities
Phil Sofia is the VP of Sales at SquareFoot, a tech-enabled real estate firm with a substantial presence in Manhattan.
"The pandemic had a chilling effect on real estate transactions in the city," Phil shared. "You can make a good argument that NYC real estate was the industry most affected by COVID-19."
It's a strong argument — the lockdown prevented people from going into their offices, which had a downstream effect on all real estate transactions during the spring and summer.
With real estate transactions on pause, Phil and his team spent most of 2020 finding new ways to drive leads for when the real estate market began to thaw. "We provided complimentary audits of real estate positions to benchmark companies against the market," said Phil. "We ended up building some strong relationships that have already generated business for us now that the market is becoming more active."
The pandemic has also had a lasting impact on the length of sales cycles. The SquareFoot team has booked meetings with executives, but progressing them through the sales process is now taking longer than before.
Learn how to create a robust, buyer-centric sales process in our free HubSpot Academy lesson on how to map a sales process.
"Driving urgency is a perennial challenge, but it will be acute across the initial months of 2021," predicted Phil. "The pandemic has caused massive dislocation that has resulted in some truly historic opportunities for smart companies, especially in distressed sectors like real estate."
For those in similar sectors, Phil encourages companies to identify and communicate those opportunities and begin acting on them.
4. Natan Edelsburg on transitioning away from in-person events
Natan Edelsburg is the COO at Muck Rack, which helps public relations professionals connect with journalists.
In a typical year, the Muck Rack sales team would attend monthly events to expand their networks. "A significant challenge for us this year has been finding quality leads without in-person events," said Natan. However, Natan's team quickly adapted to make the most of the 'new normal.'
Watch our free webinar on how to shift to a virtual event strategy.
For those businesses who rely heavily on in-person events, Natan recommends the following strategies:
Investing in virtual events. "We weren't sure their effectiveness compared to in-person events, but our marketing team devoted budget to trying them out. Some were better than others, and ultimately they were a good thing for visibility."
Building a customer community. "In a pre-COVID world, some of our competitors would outspend us at in-person events. Since we no longer faced that disadvantage, we created a community of communications professionals and provided them with valuable opportunities to learn, network, and collaborate. This allowed us to create more content than ever before by tapping into our community to participate in blog posts and events."
Adjusting Sales priorities. "We initially planned to have our SDR team focus elsewhere in 2020 but noticed that segment was still performing well. So we had the team focus on the Enterprise segment. With a hyper-customized approach to emailing and calling, we were able to generate a significant pipeline for the team."
Muck Rack saw an increase in hiring in 2020, which has presented its own set of challenges for 2021. "We plan to give managers more ownership to help their team, including resolving pricing and contract issues, identifying the right prospects to go after, and more," Natan said.
Natan and his team are investing in more sales management training and rethinking how to help them effectively support and coach their teams.
5. Chantele Gibson on poor sales forecasting due to an unpredictable sales pipeline
Chantele Gibson is VP of Sales and Partnerships at Searchspring, an e-commerce software tool.
In 2020, Chantele and her team faced the challenge of an unpredictable sales pipeline, which led to poor sales forecasting.
"2020 was a strange year because prospects were all over the place in terms of the buying cycle," Chantele explained. "Customers we were certain would buy Searchspring didn't, and others who we thought were lost opportunities ended up buying."
Understanding where the prospect is at in the buying cycle is vital to deliver an accurate sales forecast, which proved to be a significant challenge this year. Not being able to have a precise forecast led to not only inaccurate forecasting but, to some degree, also inhibited growth.
A good sales forecast is a crucial part of growing your business. Take the free HubSpot Academy lesson on how to forecast your sales in six steps.

"We were able to overcome this challenge by making some minor changes to the overall sales process, specifically the stages in our CRM and how we tackled sales calls with potential prospects," Chantele said.
It became vital for her team to discover what prospects needed to buy and identify any risks that would prevent them from buying. "We had to get creative in how we structured our billing terms when timelines were pushed, to be more flexible with contract terms, and to listen to our customer's needs," Chantele shared.
As a result, the team held almost-daily forecast reviews and had more transparent conversations with customers; these largely helped combat some of these challenges.
Unfortunately, Chantele doesn't see much change coming around the corner. "[Next year,] customers might not be as unpredictable as 2020, but being proactive versus reactive can help you prepare," she said. "Sales leaders need to be the coach and player. Helping your team grow their network, holding your sales force accountable, and cultivating value and innovation are key in 2021!"
6. Tiki Biswal on managing a fully remote sales team
Tiki Biswal is a Principal Sales Manager at HubSpot.
"The biggest challenge I faced was managing a fully remote sales team," Tiki reported. "I'd always managed a local sales team in Boston, with maybe one remote representative at a time."
Fast forward to 2020, and Tiki's team of nine Account Executives was fully remote and scattered across the country. "The first hurdle was making sure to be inclusive to every single time zone, meaning no team meetings too early for PST or too late for EST," Tiki said. "The other challenge was planning team events and bonding time. This year, we've done virtual poker nights, a video game tournament, and more. It hasn't been an easy year, but we're making it work!"
According to Tiki, his team's biggest challenge in 2021 will be whether budgets will be controlled by the prospect's CFO versus their CMO or CSO. "Organizations are paying a lot more attention to their expenditures, which is already causing more CFOs to get involved in major software purchase decisions," he said. "I believe this will add another layer to the sales process, which is focused solely on ROI."
In response, Tiki encourages sales reps to upskill their business acumen and their ROI analysis skills to get CFO-sign-off in 2021. Moreover, software purchasing could go beyond the CFO and require board approval. "The best way to combat this is to understand how your prospect makes money, how many new customers you need to bring on for [your software] to pay for itself, and what existing tools could be replaced by [your software]."
7. Marlon De Assis-Fernandez on exploring vulnerabilities and asking for help
Marlon De Assis-Fernandez is a Principal Account Executive at HubSpot.
The biggest sales challenge Marlon faced in 2020 has been exploring vulnerability and finding a balance between work and personal obligations. "This has been a year of compelling issues that pulled our attention away from Sales on a day-to-day basis. I felt the pressure of having a lot on my plate, from striving to hit goals to navigating personal and health issues to helping coworkers," he shared.
These responsibilities and pressures made otherwise easy work (like prospect follow-ups) much harder for Marlon. It left him with a sense of analysis paralysis.
"My attention was in a lot of different places, and I needed help," he explained. "The first step [to combating this] was identifying my emotions. This was scary because I needed to be completely honest with myself about what I was feeling: fear, anxiety, paralysis, and overwhelmingness."
Marlon was then able to better articulate what he needed — help. "Asking for help was by far the biggest step that helped me succeed in 2020," he said. "I partnered with my manager and another sales coach. I also leveraged external resources like an executive coach, literature, and videos."
These resources helped Marlon create an action plan and take inventory of his attention and energy, giving him the power to reset his priorities. "By asking for help, these resources become my teammates and partners," Marlon explained. "By establishing goals and an action plan, I found myself attacking the day rather than the day attacking me."
Looking ahead, Marlon expects 2021 to bring a sense of complacency. "2020 has been a tough year, and the burnout can lead to complacency and not challenging ourselves to grow better."
Take our free Sales Coaching Training for Managers to learn how to coach individual salespeople and help them hit their goals.
As we normalize the intensity of 2020, Marlon expects we may find ourselves in a rut, sticking to the routine we've established and not pressing for new opportunities or results (as that would require new energy we may not have).
"I think a strong network of partners and management is the key to avoiding this trap," he explained. Folks like this can add a sense of accountability and open those vulnerable conversations when you need to rebalance your priorities or adjust your goals.
"Continuing to explore vulnerability and asking for help will be a winning strategy for 2021."
What are your winning strategies for 2020 and 2021? Take a moment to reflect on this past year and rest before jumping into the new one — and don't forget to celebrate the challenges you've overcome in the process.