You might sell a product that genuinely makes conducting business easier, but this doesn't grant you a simple sales process.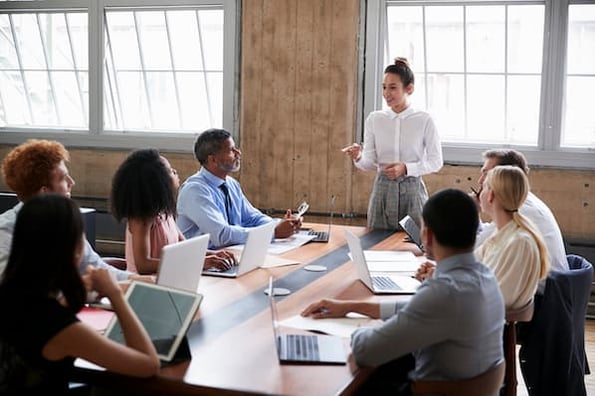 The sales process can be long, tedious, and frustrating, no matter how innovative your product may be. Selling to businesses often means proving to multiple decision makers that your product can make their jobs more efficient, provide a significant return on investment ,and outdo competitors in functionality and price.
This is no easy task and I've experienced these challenges first-hand after developing project management software for the finance industry. I worked hard to create a software that makes complex financial transactions more cost efficient, productive, and collaborative. However, I still have to defend these facts to numerous stakeholders in order to gain each sale.
Luckily, over the years I've uncovered a few strategies that makes selling to businesses with multiple decision makers effective for all involved.
1. Make it Easy to Share Information
When multiple stakeholders are involved, it's important to provide pricing and information regarding your platform in a clear, transparent, and digestible way that can be easily shared among decision makers.
Giving your potential customers the ability to quickly share your pricing model and platform details with their colleagues will make it simpler for them to come to a final determination.
In order to do so, create clear and transparent pricing models with no hidden fees or complex up-charges. When being compared to competitors, be the product that stands out for clear, honest pricing.
It's also helpful to provide attractive one-pagers which visualize the pricing structure and key benefits of your platform. DealRoom's marketing collateral and one-pagers clearly outline how the platform will benefit our customer's process and how our pricing compares with our competitors'.
This shareable content provides clear visualization of why to select our platform and can greatly assist in the decision-making process when multiple stakeholders are involved.
At the end of the day, businesses want to make quick and informed decisions about which software to implement. Make this process easier for them by being transparent, genuine, and straightforward.
2. Verbalize Key Differentiators and Benefits
Continuously verbalizing the benefits and key differentiators of your platform with prospective clients will enable them to effectively describe your solution to other stakeholders.
You should be able to explain what makes your product unique in a concise way that can be easily repeated. What is your elevator pitch and can you easily work it into your demos and conversations with potential customers in a straightforward way?
The software I developed allows teams to close complex financial transactions faster because we provide project management solutions. The ability to clearly verbalize how our software does so in a digestible way will usually determine whether or not our product is selected.
For example, when my team is conducting demos or corresponding with potential clients, they clearly state that we, unlike other virtual data rooms, have project management capabilities to help close deals faster. "Close deals faster" is a phrase we use repeatedly because that's our software's mission and that's what we want our customers to walk away with from each conversation understanding.
So, decide what you want your key takeaways to be from each conversation and continuously verbalize them in a concise and repeatable way.
3. Be Willing to Conduct Multiple Demos
When multiple decision makers are involved in the sales process, you must conduct as many demos as is necessary to close. However frustrating this may be, allowing all stakeholders the chance to view your product will greatly increase the likelihood they'll choose your service.
Express willingness and availability to demo the product even if it's not asked of you. This presents openness and approachability that your competitors may not offer. Providing your potential customers with content about your platform, such as pre-recorded demo videos, is also extremely beneficial.
Recording such demo videos also gives decision makers the ability to view the product -- even if they don't have time to schedule a call or go through the entire service.
If decision makers feel comfortable with your product and believe implementation will be easy, they'll feel more confident your service is right for them.
4. Answer questions effectively and directly
Actively listen and pay attention to your potential clients during conversations and demos in order to answer their questions in a direct and helpful manner.
I'm sure we have all been in the situation of looking to buy a product, asking questions regarding its functionality and then not receiving adequate or direct answers. This can be incredibly frustrating and lead you to pursue other options. It also confuses and delays the decision-making process.
After conducting a demo, your goal should be to leave your prospects with no lingering questions or concerns. Be an active and perceptive listener, and genuinely prioritize their questions over preconceived agendas.
For example, if your prospect(s) have a lot of questions surrounding a certain area of your product, make sure you revisit that subject before ending the conversation by simply asking if they have any further questions. This demonstrates that you don't mind answering questions again or providing further detail. It also gives your prospect(s) the chance to bring up any unresolved doubts or concerns.
Noticing and analyzing frequently asked questions also helps you target questions they may not even know they have. In practice, it's great to keep a log of questions asked during product demos. It's likely, many of the same questions will be asked again and again. Providing a page with frequently asked questions can create easier decision-making processes and help you sell your product.
5. Have Empathy and Be Patient
The greatest tool I've used during my career is, by far, empathy. Empathizing with your prospective clients and understanding their motivations, pain points, and hesitations will make the sales process better and more equitable for everyone involved.
Practicing empathy allows you to address the concerns of your prospects before an issue or roadblock arises. Most often, decision makers worry about selecting a product that will produce a return on investment, make their business more efficient, and provide proven and positive results. Leveling with potential users around these uncertainties will garner trust and close more successful sales.
My team recently closed a deal that highlighted the importance of empathy. We were working with a man trying to sell his large, multi-regional organization without the help of bankers. He was clearly overwhelmed and needed direction regarding the best ways to approach his deal and close it successfully.
After listening to him and understanding his situation -- instead of simply trying to sell him a data room -- my team and I provided him with free resources and project management tips to ease the pressure of his upcoming deal. This helped us sell our product by standing out against competing data rooms, but also enabled him to sell his company so he could retire.
At the end of the day, we all want to be successful and progress in our chosen fields.
These techniques have worked exceedingly well for me as I continue to grow my business. If you're selling a product you truly believe in, these five tips on selling to organizations with multiple decision makers will improve your sales process and enable stakeholders to make better, more informed decisions regarding which products to buy.