Let's say you have a prospect ready to buy. You're bound to be excited and ready to close the deal and collect that commission, but before you get this deal moving, there are a few things to consider.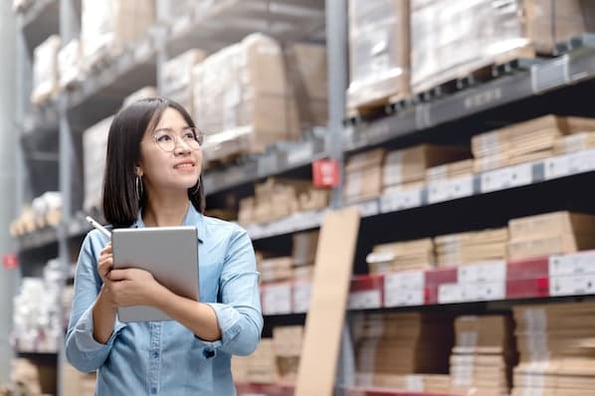 First, ask yourself, "How can I set expectations for myself and my prospect around how the remainder of the sales process will run? And how can I ensure this final stage of the sales process maintains momentum and is properly documented?"
Well, you can't answer those questions unless you understand a crucial sales document known as "the sales order."
So, what's a sales order, how is it different from other key sales documents, how does it fit into your sales process? I'm glad you asked, because I answer those questions, and a few more, below.
What Is a Sales Order?
A sales order is a commercial document -- prepared by a seller and issued to a customer -- confirming the sale of goods or services involved in a given transaction. The document contains details about the sale, including the quantity, quality, and price of any goods or services exchanged.
It should also cover things like delivery date, delivery address, payment method, and any other information relevant to the terms and logistics of the sale itself. A sales order is an internal document -- generated by the vendor and kept on record. This allows companies to keep track of the orders they fulfill.
Sales orders are most commonly used by manufacturers, retailers, wholesalers, and suppliers.
How Are Sales Orders Different from Quotes?
Though sales orders and quotes are both vendor-generated and discuss a potential sale, the two are very different documents that serve very different purposes. But that's not to say they're not interrelated. You can think of a sales order as the byproduct of a process that a quote can set in motion.
A vendor usually generates a quote at the request of a prospective buyer. The document contains an itemized list of products and services along with their respective prices and terms of sale. Once a buyer accepts a quote, they move to the next step in the process by sending a vendor something called a purchase order.
Sales Order vs. Purchase Order
A purchase order is an official confirmation of a buyer's intent to purchase from a vendor. It's a buyer-issued document that confirms certain aspects of a transaction, including details like prices and requested quantities. Once a vendor receives and accepts the terms of a purchase order, they create a sales order based on its details.
Sales orders and purchase orders are inherently interconnected. The key difference between the two boils down to who generates the document and who receives it.
A purchase order comes from a customer, is issued to a vendor, and lays out the terms of a potential sale. A sales order comes from a vendor, is issued to a customer, and confirms the vendor's acceptance of the terms set in a given purchase order before delivery.
Once accepted by a vendor, a purchase order often constitutes a legally binding contract. If a vendor doesn't deliver on the agreed terms of a purchase order, in certain circumstances, a buyer may take legal action against the seller, and vice versa.
Sales Order vs. Invoice
Once the vendor has received a purchase order and processed a sales order, they generally send the buyer an invoice. An invoice specifies the amount of money a buyer owes a vendor for the exchange of goods and services agreed upon in the sales and purchase orders. It can be easy to confuse sales orders with invoices. Both are vendor-generated and list the details of a specific sale.
The main distinctions between the two are highlighted in each document's respective purpose and timing. A sales order confirms a sale. It prompts a vendor to start assembling, packaging, or preparing the goods and services requested in a purchase order.
Invoices come in after this step. Using the details specified in a sales order, invoices tell buyers how, when, and how much to pay for the goods and services they've purchased.
Why Are Invoices Important?
Invoices definitively settle deals for vendors and set official timelines for payment. 30 days is a standard timeframe, but that figure can vary from business to business.
Invoices are extremely important for record-keeping purposes. An invoice is the most concrete evidence both buyers and vendors have for a sale. Keeping track of invoices allows a company to stay on top of how much it's spending or earning, which employees are responsible for any sales or purchases, and any outstanding debt the company may have.
It's also considered proper practice for businesses to track invoices for tax purposes. The IRS suggests that businesses maintain a running summary of all business transactions. Keeping detailed records of invoices can be a critical part of that process.
Invoices help businesses from a legal perspective as well. They provide documentation of how and when a customer bought any goods or services from a vendor. A signed invoice shows that there was a mutual understanding between a buyer and a vendor over a specific purchase, reducing the risk of any legal action over pricing.
Why Are Sales Orders Important?
If you're a vendor, sales orders are crucial to keeping track of your inventory. They allow you and your business to stay on top of what you have in stock, what you have on backorder, and what you may need to purchase from your distributors.
Remember -- agreeing to the terms of a purchase order usually makes a deal legally binding. If you have questions about a purchase order you have pending, seek legal council before signing. Maintaining detailed records of your sales orders will help ensure you can deliver on those agreements.
Sales orders are also central to reducing the risk of material misstatement in your company's financial reporting. Material misstatement is any kind of inaccuracy in a financial statement that may significantly impact the financial decisions of anyone relying on that statement's information.
Material misstatements in reporting inventory balances can have some very real consequences.
For instance, misstating ending inventory can inflate or reduce your company's profits, and as you can assume, neither of those outcomes looks good if you're being audited. That's why it's absolutely crucial to maintain accurate records of your sales orders to catch any potential material misstatement during an internal audit.
Sales Order Format
Typically, a sales order should contain the following:
Company name and contact information
Customer name and contact information
Customer billing information
Customer shipping information
Product or service information
Price before taxes
Tax, delivery, and shipping charges
Total price after taxes
Any previous deposit
Current balance
Terms and conditions as defined by your company
Signatures
Any other relevant information as needed
Sales Order Process
Generally speaking, the sales order process looks something like this:
A customer sends a request for quote (RFQ) from a vendor.
After receiving the RFQ, the vendor sends back a quote.
The customer considers the quote reasonable and sends back a purchase order.
The vendor receives the purchase order and uses its details to generate a sales order.
The vendor sends the sales order to the customer to confirm the terms of the sale.
Thloading="lazy"e vendor assembles, packages, or prepares the goods and services requested.
The vendor delivers those goods or services.
Using the details of the sales order, the vendor generates an invoice and sends it to the customer.
Ideally, the customer pays the amount specified on the invoice within the allotted time frame.
Sales orders play a central role in making sure a sale is well-documented, properly conducted, and reflective of what both sides are expecting.
It's important that anyone consistently involved in sales -- such as a vendor or a customer -- has an understanding of these kinds of documents and the implications they may have on a company's inventory, finances, and legal standing.