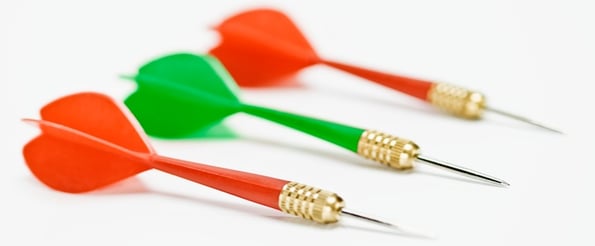 According to Salesforce, 71% of salespeople believe that their role will be radically different in five years. Are you one of them? You should be. When you know what's coming, you can use it to stay ahead of your competition.
In my opinion, the greatest change our profession has seen -- and probably will ever see -- is the evolution of sales enablement tools to help hack the standard sales cycle.
Your friends in Marketing went through a similar transition several years ago as their jobs shifted and became data-driven. Rather than being dominated by creative types, marketers have had to become half data scientist to take full advantage of the insights now coming their way. Now, the new sales tools under development promise to bring analytics to the customer development and sales processes -- a change that will help every rep maximize pipelines and close more deals.
With marketing automation and CMS platforms, companies can see what prospects have downloaded, if it was read, and what they did next. Marketers take this data and use it to personalize communications, target content, and present offers to move prospects along their individual paths to conversion. Trying to optimize marketing efforts without all of this readily available data now seems like flying blind.
Unfortunately, Sales hasn't taken advantage of these shiny new toys the same way Marketing has.
There can be no doubt that CRMs provides key data on sales productivity, customer segments, and closing rates. But do these insights really help you move customers through the sales cycle? Because most of the work done at the sales level is conducted outside of automation systems, individual salespeople have little visibility into how successful their work actually is. When you send a quote, you rarely get feedback on what happens next -- whether or not it was read by the lead decision maker, passed around for review or simply left unopened by the underling tasked with vetting vendor responses.
Thankfully, things won't be this way forever.
Companies are taking their CRM solutions to the next level, integrating CPQ sales quoting solutions, price optimization tools, content management, playbooks, and other applications for more robust functionality. Finally, you're starting to see the value in moving more of your sales activities online.
As this trend continues, let's take a look at how the new generation of sales rep works and the tools they need.
Sales Decisioning Tools: More Effective Pipeline Management
One of the hardest things you have to do as a salesperson is manage the multiple communications and contacts required to effectively move someone through the sales pipeline. Without any insights into your prospects' activity, you are left to "feel them out" over the phone. When do they really need that nudge or next piece of information? Which is the right piece of content that will help move them to the next stage?
With sales decisioning tools, you can leverage analytics to effectively respond to prospect triggers. Instead of setting arbitrary follow up reminders, reps can see when prospects visit the pricing page, download data sheets, or open the emailed specification information. These sales decisioning tools will not only tell you when to contact a prospect, they will even suggest what content to offer them at each specific stage to keep the sales process moving.
According to Gartner, companies with automated lead management see a 10% or greater increase in revenue after six to nine months. Imagine the gains if you could manage your own sales funnel in a similar way.
Web Analytics and Proposal Journey Mapping: Higher Closing Rates
After you send a proposal, the visibility into who is reading it and who they're forwarding it to is limited. According to the Harvard Business Review, there are now an average of 5.4 decision makers involved in B2B purchasing decisions. Knowing that the one person you sent it to has opened your sales proposal doesn't cut it anymore.
With web analytics and mapping tools, reps can track vital information on a proposal's journey within the prospect's organization and take steps in real time to ensure it progresses quickly through the review cycle. These tools provide data on who's reading your proposals and when. They track who read which parts and whether or not they accessed additional company information in the process.
Knowing that the proposal review is progressing "on schedule" is one thing. Knowing when things have stalled is even more important. Being able to identify which decision maker was the last to view the proposal -- and where they left off -- can also help you proactively address objections you would not have otherwise known about.
Predictive Analytics: Increased Upselling/Cross-selling Opportunities
Upselling and cross-selling existing customers is low-hanging fruit to higher revenues. Repeat customers spend an average of 67% more than new ones. But short of the regular touches a sales rep gives their clients, how are you to know when a customer wants more? How can you effectively grow the lifetime value of your current customer?
Predictive analytics tools monitor customer activity and use historical data from your entire sales process to suggest new selling opportunities. Whether a customer read a blog post or looked at a datasheet, you'll know when and how to best engage with that customer to capitalize on their burgeoning interest. Knowing when a customer will be receptive to your call will ensure the effectiveness of every communication you make.
The leaders in marketing automation, CRM, proposal management, and other areas are already working to provide sales with better tools and increased insights. Last year, HubSpot released Sidekick to give sales reps insights into their prospect's email activity. While the ability to track opens and clicks has been used on the marketing side for years, it has only recently been put into use to monitor sales engagement. At Valooto, our sales engagement-based CPQ solution will soon allow reps to track the proposal's journey as it makes its way through the end customer. By providing insight on reviewer behavior, we help sales reps engage more intelligently and close more deals.
Today, customers are more self-directed as they move through the sales cycle. Gartner estimates that by 2020, only 15% of the customer relationship will involve human interaction. Does this mean the sales rep is being slowly phased out of the process? Far from it. It means you now need tools and insights to make all your connections high value ones.
With real-time triggers and actionable insights, the sales tools of the future will help reps be more productive and efficient in every communication and interaction. The sale will no longer go to the loudest or most personable rep -- it will go to the one best able respond to customer interest.
What sales automation tools do you use today, and more importantly, which of them add real value to your sales processes? Reach out in the comments and let us know.