Approaching a task armed with the tools, systems, and knowledge you need just feels better than walking in unprepared.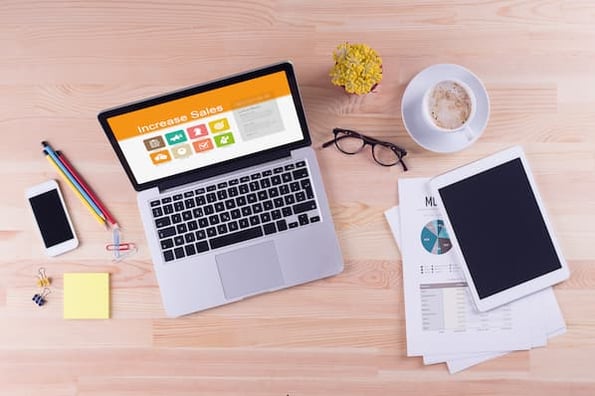 This is especially important for sales professionals — and sales organizations are making greater strides to ensure their reps are successful on the job.
In a field where turnover is high, giving sales reps access to resources needed to effectively and efficiently close more deals can have a major impact on your company's bottom line. Research found organizations that use sales enablement tools experience 25% less turnover than those who don't.
This is why sales enablement is a top priority for companies looking to drive growth. In fact, companies with structured sales enablement efforts report having 35% higher sales quota attainment than those that don't.
However, choosing which tools will help your team — instead of weighing them down with processes — can be a daunting task. Here are 70 of the best sales enablement tools that will help your team perform at the highest level.
Best Sales Enablement Tools
HubSpot CRM
Accent Technologies
Acquire
Albacross
Allbound
Aritic PinPoint
Attach
Bigtincan
Bloomfire
Brainshark
Chorus
Clearbit
Clearslide
ClientPoint
CloudApp
Concensus
Conga
Costello
Crescendo
Customshow
Dealhub
DocSend
Dooly
Enablix
ExecVision
FileBoard
FlipDeck
Frontline Selling
GetAccept
Groove
Growbots
Guru
HighSpot
Hoopla
Jimminy
Kiite
Lattice
LeadFuze
Lemlist
Level Eleven
LevelJump
LinkedIn Sales Navigator
Mailshake
MediaFly
MindMatrix
MindTickle
NerdyData
Outreach
Paperflite
PandaDoc
PlayBoox
Prezentor
Prezi
Process Street
Proposify
SAP CallidusCloud Sales Enablement Tool
Sales Hood
Sales Hub
Seismic
SellHack
ShareDemos
ShowPad
Slack
SoloFire
Spotio Lead Machine
Tact.ai
Typeform
Veelo
vPlaybook
Yesware
Gong
Price: Free
Best for: Building relationships with customers
HubSpot CRM automates the nagging tasks that distract sales reps from selling. It is the ultimate customer relationship building tool, allowing reps to get an up-to-the-minute view of their entire sales funnel on a clean, visual interface.
Image Source: Accent Technologies
Accent's sales enablement software brings visibility to potential leaky spots in your sales funnel and provides recommendations for where sales reps should prioritize based on robust data.
Best for: Integrating sales and customer support
Image Source: Acquire
The Acquire interface makes customer service data readily available to sales teams driving better customer satisfaction.
Best for: B2B lead generation

Image Source: Albacross
Albacross helps B2B sales reps identify potential customers who have visited their website and automates directly to your CRM for easy outreach.
Best for: Partner relationship management
Image Source: Allbound
Allbound has all of your partner relationship management needs taken care of in one platform. The tool acts as a sales enablement coach creating automatic playbooks that help your reps easily share deal-making information.
Best for: Full-stack automation
Image Source: SaaS Genius
Aritic helps sales teams build automation campaigns for seamless integration with their marketing colleagues. This tool's automation capabilities allow companies of all sizes to support sales enablement through simple workflows.
Best for: Collateral tracking
Image Source: Attach
Ever wonder what happens to your emails after you press send? Attach helps you track how prospects engage with materials you send them, empowering you to make relevant follow ups.
Best for: AI-backed sales enablement automation
Image Source: Bigtincan
Bigtincan automates those small but important tasks within the sales process. By providing content automation services and AI-powered sales strategy recommendations throughout the sales cycle, sales reps feel empowered and supported to spend less time digging for content or wondering what next step to take and more time selling.
Best for: Centralizing company information
Image Source: Bloomfire
Bloomfire provides a secure, easy-to-navigate platform that stores any information your sales reps may need in a central location. You can use Bloomfire to store training documents, company policies, sales collateral, and more. Bloomfire also uses AI to tag and recommend content to reps based on their actions to streamline the learning process.
Image Source: Brainshark
This sales enablement software provides a comprehensive interface that allows your sales reps to do what they do best — sell. With Brainshark, reps are able to access sales documents, training content, and coaching modules, from anywhere.
Price: Contact Chorus
Best for: Building robust sales enablement programs
Image Source:
G2
Chorus accelerates the success of your sales team through an easy-to-use platform that allows you to build a sales enablement curriculum targeting the knowledge areas your team has the most opportunities to improve in. The platform also allows managers to track sales rep progress to training programs and provide personalized feedback.
Image Source: Clearbit
Clearbit's prospecting tool allows sales reps to instantly build their pipelines. With a database of over 200 million contacts, reps can set specific parameters to find their prospects, saving time and increasing productivity.
Best for: Onboarding new sales reps
Image Source: ClearSlide
ClearSlide's sales enablement platform puts content, communication capability, and detailed analytics front and center for busy sales teams. With ClearSlide, sales teams are able to onboard new reps faster by providing an accessible training platform with skill-building engagement tactics.
Image Source: G2
ClientPoint offers sales enablement tools that make it easier for reps to create, distribute, track, and analyze collateral such as proposals, presentations, flyers, and more. Their easy-to-use template feature helps reps build and send important documents to prospects in no time, with the ability to track each document's performance.
Best for: Using video to connect with prospects
Image Source: CloudApp
Using CloudApp, sales reps can easily create screen recording videos, GIFs, and other visual content to deliver messages quickly and close deals faster. The platform is also helpful for team communication, enabling best practice sharing among peers through visual content sharing.
Image Source: Consensus
With Consensus, sales teams can create interactive video demos to sell their products. The tool allows reps to easily create a personalized demo experience to connect with prospects on a deeper level in less time.
Image Source: Conga
Conga was designed to simplify your sales team's digital footprint by streamlining how you manage your documents, contracts, and eSignatures. Their digital document transformation suite makes it easy for you to send important files to prospects without back and forth or searching for the right document.
Image Source: Costello
Costello takes the intimidation out of cold calling, for sales reps. Designed to be a co-pilot software, Costello stores your team's sales playbooks in one central location and serves as a guide during sales calls to ensure your reps are asking the right questions to close the sale. Bonus: it integrates with your CRM to automatically log call activity.
Best for: Creating and delivering sales presentations
Image Source: Crescendo
Crescendo is a customizable mobile sales tool that makes sharing content with your prospects a breeze — no matter where you are. Easily create beautiful, on-brand presentations and collateral that can be accessed anytime, anywhere. In addition to making sales pitches, you can use Crescendo as a compliance document repository and training tool.
Image Source: CustomShow
If beautiful design is a priority for your sales team, CustomShow is a tool you want to check out. Their template library helps reps save hours each week presentation-building, allowing reps to share the right content, at the right time.
Image Source: DealHub
Ready to make a great first impression for your buyers? DealHub is here to help you do just that. This platform enables you to build a personalized buying experience for your prospect through an easy-to-use communication interface, content that's relevant for the buyer, and engaging calls to action.
Best for: Secure document sharing
Image Source: DocSend
DocSend offers easy document sharing and analytics, specifically for sales reps. Never lose another attachment again — quickly deliver the right files to the right people.
Image Source: Dooly
Dooly offers real-time sales playbook capability to help sales reps close deals effortlessly. Reps can use this tool to capture important notes and actions which can be integrated with your CRM via automation to move along the sales process. Dooly also delivers relevant talking points during live sales calls to guide reps through closed-won opportunities.
Best for: Easy content sharing between marketing and sales teams
Image Source: Enablix
Enablix provides simple content delivery to improve sales efficiency. Never waste hours looking for collateral (or recreating your own) again. With Enablix, reps can find the content they need when they need it.
Image Source: ExecVision
ExecVision's call intelligence platform turns every rep into a top performer by giving managers tools to onboard, coach, and retain sales talent. ExecVision also lets sales teams create best practices libraries, making knowledge sharing a seamless experience.
Best for: Reducing sales cycles
Image Source: FileBoard
The Fileboard sales engagement platform offers reps tools to increase the number of prospecting meetings and qualified leads. Reduce your sales cycle by knowing when to reach out to a prospect, and who to connect with to get results.
Image Source: Flipdeck
Flipdeck gives sales teams a place to organize sales collateral into easy-to-consume cards and decks, making it even easier to share pertinent information with prospects. Using Flipdeck, reps can create digital cards for content such as price sheets, testimonials, brochures, and more.
Image Source: G2
Your sales reps can master the art of prospecting with Frontline Selling's Staccato Sales Training. Using a combination of technology and hands-on training, your reps will master prospecting skills helping your team grow the sales pipeline.
Best for: B2B sales enablement
GetAccept's all-in-one sales enablement platform supports B2B sales reps. Notable features include central document management, sales tracking software for collateral management, prospect communication tools including chat, video, and SMS capabilities, and real-time document editing, allowing reps to make changes to files even after they've been sent.
Image Source: Groove
Groove is designed to support account-based sales teams as they scale and grow. With centralized communication and data analysis tools, Groove aims to help sales teams achieve greater reach and revenue in less time.
Price: Contact GrowBots
Best for: Prospect searching and outreach in one platform
Image Source: GrowBots
GrowBots simplifies the outbound sales process. Sales reps can create prospect lists inspired by customer profiles and can set up automated campaigns to streamline outreach.
Best for: Sales knowledge sharing
Image Source: Guru
Guru supports sales enablement through its knowledge network that brings sales reps the right content in the right format and at the right moments — all in real time. Sales reps can peruse everything from product FAQs and competitive analysis to security questions and marketing content.
Image Source: Highspot
Highspot provides a robust sales enablement solution for sales teams by combining content management, playbook support, training modules, and buyer engagement features in one modern interface.
Image Source: Hoopla
Hoopla offers fun interactive tools to motivate your sales reps to perform at their highest level. Hoopla can help you celebrate wins among your team, track progress to major milestones, and recognize team members through leader boards and gamification for a job well done.
Image source: G2
Jiminny provides sales rep coaching through video conference, telephone, and SMS. Teams can find and stream all sales calls made through the platform for easy reference and training materials.
Best for: AI-enriched sales playbooks
Image Source: Kiite
Kiite is a knowledge-sharing platform designed to help new and seasoned sales reps successfully prepare for every step of the sales process. The sales playbook templates are easy to use and replicate, saving sales teams precious time documenting processes and best practices.
Best for: Performance management software
Image Source: Lattice
Lattice is a performance management software that streamlines employee reviews, one-on-ones, and employee goal-setting. With a robust performance management system in place, you are able to work with your reps to develop their skills and help them reach goals that will serve both the employee and the company.
Best for: Lead generation
Image Source: SchemeFolio
LeadFuze offers lead generation software reps can use to search for leads in specific roles, industries, locations, and more. The tool works like an automated sales assistant to help generate valuable lists quickly, eliminating the need for time-consuming data entry.
Image Source: Lemlist
Lemlist helps sales reps craft emails that get replies. With guided workflows and tutorials, Lemlist automates the follow-up email process without losing personalization.
Image Source: Level Eleven
Level Eleven empowers frontline sales managers to develop their teams faster. The easy-to-use interface unlocks your team's selling potential through effective coaching modules.
Best for: Accelerating your sales ramp
Image Source: LevelJump
LevelJump helps teams implement consistent, scalable sales enablement processes at the click of a button. The tool also offers program engagement and completion reporting capabilities so managers can track their sales rep's progress.
Best for: Personalized outreach
Image Source: LinkedIn
LinkedIn Sales Navigator provides targeted lead recommendations to make personalized outreach a breeze. The tool also integrates with your CRM to log all Sales Navigator activities seamlessly.
Best for: Streamlining cold emails
Image Source: Cospot
Sending cold emails is a time-consuming task for sales reps with no guaranteed return. Mailshake provides a simple solution by integrating seamlessly with your Google email account to build an automated prospect outreach process that generates results.
Price: Contact Mediafly
Best for: Easily managing and distributing sales collateral
Image Source: G2
Mediafly's sales enablement platform serves as a home base for sales reps to create compelling collateral to close the deal. The tool makes it easy for reps to find and personalize the latest content to support the sale, all integrated through the CRM.
Image Source: Mindmatrix
Mindmatrix provides a full suite sales enablement solution that encompasses sales asset management, automation, sales operations enablement, and marketing automation in one place. With all of these functions working together, sales reps can follow repeatable, scaleable sales processes to drive efficiency and increase sales.
Image Source: G2
MindTickle is a trusted sales-readiness platform that helps sales teams scale their unique workflows. Leaders can create structured training plans for sales reps using webinars and online modules. Additionally, the tool offers a robust content management system.
Best for: SaaS competitive analysis
Image Source: Mass Challenge
Use NerdyData to find your competitor's customers. This source code engine can tell you what websites are running competitor's software, helping SaaS sales reps pinpoint leads using competitor software.
Image Source: Outreach
Outreach's sales engagement platform offers workflow governance to help sales reps prioritize the right tasks at the right time. The tool also has targeted reporting capability sales managers can easily customize to measure the metrics that matter most.
Best for: Sharing, tracking, and organizing content
Image Source: Paperflite
Paperflite offers a tool that allows teams to find the right content for communication across the organization and potential customers. The tool notifies users when a customer engages with their content, arming reps with the right information for follow-up conversations.
Best for: Creating and sending sales documents that close
Image Source: PandaDoc
PandaDoc helps sales teams quickly create and distribute electronic documents designed to close deals. The tool allows reps to create visually appealing and on-brand files that integrate directly with their CRM for easy sending and tracking.
Image Source:
PlayBoox
This tool provides everything you need to improve sales rep effectiveness and accelerate the onboarding process. PlayBoox offers helpful features including a guided playbook builder, guided call planning, guided selling, and hands-on coaching.
Best for: Customer engagement
Image Source: Outreach Plus
Prezentor empowers marketing teams to create engaging content and equips sales teams with all the resources they need to successfully engage with customers. With Prezentor, reps can feel prepared and in control when driving conversations with customers.
Best for: Creating presentations
Image Source: Prezi
Prezi is a collaborative presentation building tool that allows sales teams to create engaging sales pitches. Even without design experience, teams can create visually stunning presentations, and Prezi's analytics feature can help guide informed prospect follow up.
Best for: Process management
Image Source: Process Street
Process Street's simple interface lets you create checklists, process documents, and training templates in seconds. Processes can be managed as collaborative workflows, and the tool integrates smoothly with the rest of your sales stack for easy automation.
Best for: Dedicated proposal software
Image Source: Proposify
Proposify helps sales teams easily create beautiful online proposals that are interactive and mobile device-ready. In addition to being able to create engaging proposals quickly, reps can track proposal performance to know when their documents have been viewed and signed.
Price: Contact SAP
Best for: Single source for sales enablement
Image Source: SAP CallidusCloud
SAP CallidusCloud's sales enablement software gives your sales reps the content, training, and coaching to close the sale every time. The tool's content organization structure makes collateral easy to find, giving reps hours back each week, and the mobile sales advisor is like having a sales coach in reps' pockets at all times.
Image Source:
SalesHood
SalesHood's platform offers a modern approach to sales enablement. Through facilitating micro-coaching and micro-content that's easy for reps to understand and apply, teams can quickly improve productivity and realize fast revenue.
Best for: All-in-one sales system
Sales Hub offers time-saving sales tools that add more time to you and your reps' day. With Sales Hub, you can eliminate manual data entry by easily automating time-consuming tasks.
Image Source: Seismic
Seismic equips your sales reps with the knowledge and information they need to engage buyers and land the sale. Through sales training and coaching offered on their platform, reps can train smarter, not harder, to learn exactly what skills they need to improve to be more effective.
Best for: Building the sales pipeline through email
Image Source: SellHack
SellHack automates the pipeline creation process through easy-to-use tools. Bulk email verification and data validation capabilities ensure reps are emailing the right prospects, without having to dig or search for contact information.
Image Source:
ShareDemos
ShareDemos has everything you need to build a high-performing sales team. The platform offers a playbook platform that is easy to search for reps in need of information, a clean mobile interface that can be accessed on any device, and advanced analytics so you can see exactly how your sales reps are progressing.
Image Source: ShowPad
ShowPad unifies sales content management and enablement coaching in a single platform. ShowPad combines interactive sales training experiences with effective sales coaching to develop top sellers.
Best for: Team communication
Image Source:
Slack
Let's be honest, everyone's email inbox is overflowing. When email is your main form of communication, it is really easy for messages to get lost and to waste precious time sifting through inboxes to find pertinent information. Slack is an easy-to-use communication tool that allows teams to quickly and easily communicate and collaborate — perfect for answering quick questions and keeping your inbox clear.
Price: Contact SoloFire
Best for: Securely managing and delivering branded content
Image Source: SoloFire
SoloFire provides a sleek customer-facing interface that teams can use to educate customers about their products. Simply upload your customer-focused training materials and your company's own branding, and you have an interactive platform your customers can use to get familiar with your products.
Image Source: Spotio
Spotio provides territory management and customer mapping support for field sales teams. With this tool, all customer data, territory planning, sales metrics, and document management are stored in one place.
Image Source: Tact.ai
Using Tact is like having a personal assistant in your pocket. This AI-based tool automates admin sales tasks and provides productivity features including a priority inbox, content analysis and tracking, business card scanning, and route mapping.
Best for: Customer feedback and lead generation forms
Image Source: Typeform
Typeform has a clean interface for administering surveys, quizzes, and lead generation forms. Sales teams can quickly and easily survey customers or gather information from beautiful forms.
Best for: Improving sales team performance
Image Source: Veelo
Veelo's sales enablement platform is designed to help sales reps hone their skills and perform at their very best. This software offers a robust training interface, sales asset management tools, prospect engagement insights, and business analytics that are easy to customize for your company.
Image Source: vPlaybook
vPlaybook was created with visual learners in mind. Teams can create video-based sales playbooks to equip their sales reps with applicable insights and training to help them land the sale.
Best for: Inbox optimization
Image Source: Yesware
Yesware serves as an inbox assistant to streamline your email communications. With features including email tracking, templates, automated campaigns, CRM and LinkedIn Sales Navigator integration, managing your inbox just got a whole lot easier.
71. Gong
Image Source: Gong
Using artificial intelligence, Gong analyzes all your sales conversations (like phone calls, emails, and web conferences) to determine what factors lead to closing deals. Your team can then use this information to train reps more efficiently and build more effective sales processes.
Choosing the right sales enablement tools can be a game-changer for your team. What are your favorites?