Want to make your salespeople more effective and efficient at closing deals -- all while decreasing time in meetings and the emails in your inbox? Your sales team needs Slack.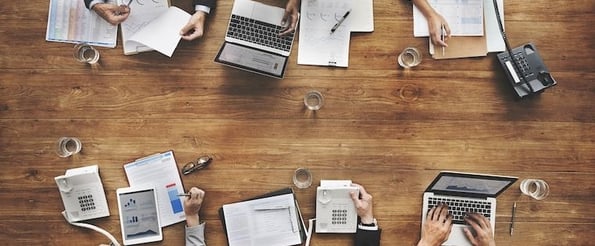 The messaging app (available for desktop and mobile) is an intuitive way to receive automated updates on prospects. It also streamlines your sales team's ability to share and access helpful tips and strategies with each other.
Ultimately, Slack gives your team more time to prospect, speak with potential clients, and close bigger deals. Here are eight ways your team can win with Slack.
How Sales Can Use Slack
1) Answer Client Questions Immediately
How many times have you been on a call and received a question you didn't know the answer to? Slack gives you easy access to the answers you need -- fast.
If you're meeting with your prospect in-person, say something like, "Hmm. I don't have an answer to that question. Would you mind if I send a quick message to a colleague who might be able to help?" More than likely, your prospect will agree.
Pop your answer in a group Slack room, and you'll have an answer within minutes.
Your coworker then has the opportunity to answer your question -- or find someone who can -- getting you a quick response. You can answer your prospect's question while it's still on their mind -- not to mention, shown how your team would work together to resolve any questions or issues that might arise if your prospect chooses to go with your company.
If you're on the phone, it can be tempting to try to Slack a colleague without cluing the prospective client in. Don't do it. Awkward pauses and distracted typing sounds will do more to harm than help your situation. Be honest and repeat the script provided above.
2) Integrate Your CRM for Instant Updates
Receive a Slack notification any time a contact is added to or updated in your CRM. This will ensure you always reach out to them in a timely manner, making the most of each action they take during the sales process.
By integrating your CRM with Slack, you'll also be able to receive in-app calendar notifications so you never miss a meeting, and real-time notifications when new contacts fill out lead-qualifying forms on your website.
Keep tabs on specific accounts, and never miss a touchpoint or opportunity to engage your prospect in a unique and timely way. You'll forge a stronger relationship, gain credibility, and position your company as being organized and professional -- all important factors prospects consider when on the verge of closing a deal.
Looking for a CRM that fits the bill? HubSpot's free CRM is a good place to start.
3) Engage with Inbound Leads Directly
Have Slack notify you the instant someone comes to your website and completes a series of actions (like downloading a case study or viewing a pricing page) that qualify them for outreach from a sales rep.
When you receive that notification, send them a chat message to ask if they're interested in learning more about your product while they're still on your site, or follow up immediately via email.
It might seem a little invasive, but a study conducted by Harvard Business Review found, "Firms that tried to contact potential customers within an hour of receiving a query were nearly seven times as likely to qualify the lead … as those that tried to contact the customer even an hour later -- and more than 60 times as likely as companies that wait 24 hours or longer."
4) Increase Knowledge Sharing
Losing or gaining critical members of your sales team can have a big effect on revenue. When employee turnover does happen, ramp-up time, missing documents or signatures, and lost historical knowledge threaten your team's overall number. In these cases, knowledge sharing through Slack is a sales goal saver.
Don't allow valuable account information to be locked away. And never worry about previously signed documents slipping away forever. Instead, mandate that your salespeople use specific team, project, or individual Slack channels to share important account information and documents.
Storing important information on Slack ensures documents and account insights are always easily accessible and sharable. In turn, this makes meeting your quarterly numbers and onboarding new team members a less overwhelming task.
5) Collaborate Better
If several of your teammates are working on a single account or RFP, create a new Slack channel just for them. This allows collaborators to stay organized. It also prevents redundancies and makes it easy for project contributors to share updates with everyone.
Never worry about your BDR being left off of an email chain. And never wonder if your marketer missed the memo about that new slide you need. Everything is historically tracked and shared with everyone in your project Slack channel, so you can spend less time following up and more time closing the deal.
6) Save Time
Increased productivity might be the biggest reason to bring Slack to your sales team. With open Slack channels, and a few with specific purposes, you'll eliminate redundant or ineffective communication.
Skip your Monday-morning stand-up meeting in favor of a Slack channel of the same name. Have everyone drop in their updates, and you'll ensure the information sticks while everyone walks away with more time.
Instead of traditional emails between colleagues, which tends to clutter inboxes and eat up time, encourage everyone to communicate directly through Slack. Response time will be faster and inboxes stay clean and ready to receive prospect emails.
Integrations like DataFox even send Slack updates when companies in your vertical or pipeline experience trigger events. This removes the need for those Google Alerts you may have filtering into an unopened inbox file. It also frees up more time for your team to spend proactively communicating with prospects, instead of scouring the internet for updates about their business.
7) Unify Sales and Marketing
Set up a #sales-marketing channel to open the lines of communication. Your salespeople will love having one designated location for requesting new marketing slides or content for prospect demos. They can also ask quick questions about marketing campaigns, share feedback on lead criteria, and give the heads up when they've flagged website or collateral issues.
By giving both departments a direct mouthpiece to each other, you'll see an increase in collaboration, revenue-driving content, and successful closed-won deals.
8) Ring the Sales Gong of the Future
Celebrate closed-won business, big or small, on Slack. Have a specific Slack channel automatically alerted when new business closes. And encourage everyone to celebrate accordingly.
Share your best GIFs, prove how strong your emoji game is, or add a team-favorite video to the mix. Celebrating these victories is a boost to team morale. It also stokes the competitive fire in your salespeople and lets remote or traveling salespeople stay in on the action.
Slack is a great way to keep your sales team effective, organized, and efficient. Get everyone talking to each other and get ready to close more deals. Once Slack is implemented on your team, you'll probably find yourself wondering what you ever did without it.