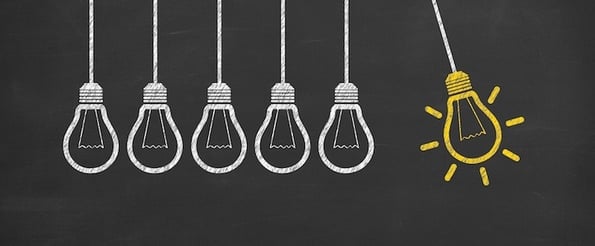 When you're prospecting, most buyers you encounter are in the Awareness stage of their buying journey. Therefore, your goal is not to sell them on your product. Your goal is not to get them to see a demo of your product. Instead, your goal is to educate them enough to bring them to the Consideration stage of the buyer's journey or disqualify them as a bad fit.
You'll see that the Awareness stage of the buyer's journey shown below matches the same point that salespeople move from identifying good fit leads to connecting with them.
During an initial connect call or email conversation, your goal is to listen to your prospect's goal or challenge they are exploring. You want to build up your credibility with the buyer so they trust your advice and want to spend more time with you. Highlight particularly effective and relevant content that addresses the unique perspectives of each buyer persona for your business.
If you notice you have gaps in the content, take note and inform your marketing team -- this will serve as a content roadmap for the future. For example, you may find that you have lots of content for a particular industry, but other important segments don't have any tailored content content. Or maybe you have a lot of content, but it's too generic and not specific enough to different personas. In the future, you (or your marketing team) can target content development to fill those gaps.
Here are seven best practices for initial email or phone conversations with prospects:
Take an inventory of your existing content -- both marketing collateral and email templates. Review any blog articles, ebooks, webinars, presentations, or case studies your company has developed. Check your "Sent Items" in your email and you'll find previous emails to prospects that will serve as excellent templates.
Keep your outreaches short. Initial voicemails should be shorter than 15 seconds, and first-touch emails should be fewer than 200 words.
Be sure you reference the buyer at least twice as much as you mention yourself. This feedback applies to company mentions, personal mentions, the word "I", and the word "you."
End all emails with one question. The question should be short and a separate line. It should be focused on identifying a challenge or a goal. For example, if you mention you've heard great things about their sales team, you should ask, "How do you find such great salespeople?" If you are asking for time, be explicit about how much you are looking for: "When do you have 15 minutes to speak?" It's important to note that initial emails should only include one question to keep your prospect focused on the most important takeaway.
Sound human. Sound helpful. Avoid sounding like a legacy salesperson.
The subject line is the most important element of your emails. Personalize the subject line to the persona's perspective.
The content you uncover in your inventory is just a guideline for what you could send to prospects. Salespeople should always be flexible enough to adapt available content to their style and to further personalize the content to the buyer's context.
How do you make your prospecting outreach incredibly effective? Let us know in the comments below.