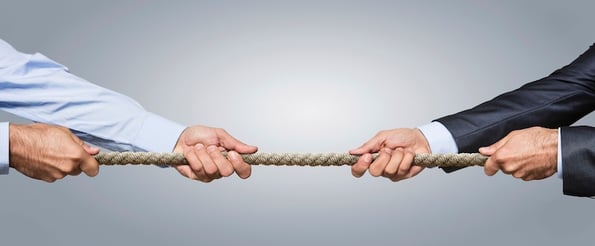 The way salespeople react to competitors is important. It shows your true colors as a company and as a person.
In sales, the winners are the ones who help their prospects. Good sales reps don't lie. They don't make things up about their competitors. They learn from the market and use that first-hand knowledge to educate their prospects on the competition, honestly.
And this brings me to one of my cardinal sales rules: Never talk poorly about a competitor to a prospect.
Why?
It's not worth it. It shows the prospect you're not focused on the right things. Frankly, I think speaking poorly about a competitor is plain old bad selling. It is not attractive and makes you look bad. Do you want to be that kind of sales rep? Do you want that negative stigma to be attached to your sales team? I doubt it.
Prospects don't want to sit there and listen to how much you hate X company, but they do want to hear your honest thoughts on the differences between products. It is okay to talk about your competition, but make sure you do it in a factual way. Never say anything that you don't know is 100% true.
I tell my customers that I think of myself as a doctor of marketing (I sell marketing software). If at any time I don't think we are a fit, I tell them. If at any time I think they are a better fit for a competitor, I will also tell them that -- and why.
I don't want kind of happy customers. I want and seek customers that will be very happy. If I think a buyer would be a kind of happy customer of mine but a very happy customer of a competitor, I will refer them to my competition with a smile.
However, if you're referring a large percentage of your prospects to the competition, you are probably not qualifying strictly enough. If and when a company is well qualified for your product or service, the sale should come naturally. Set yourself up for greater success by targeting the right kinds of people in the first place. If you are prospecting companies that are a better fit for your competitor than for your product, you are wasting your time.
Think about your personal book of business and what characteristics these customers have in common. Why do they love being a customer? How do they see success? Look for trends in your customer base and get really, really good at selling to those companies. Don't go after companies that lack these characteristics, or only sort of have them. You might have a fuller pipeline initially, but you will not be as successful in the end as a rep who qualifies religiously and is unreasonably selective about who they pursue.
At the end of the day it is up to the customer to make the decision. But, we as sales reps don't need to make that process harder by slinging mud. I pride myself on teaching myself as much as I can about my competitors so I know how to respond to prospects' questions. However, make no mistake: I do not rely on opinions, I only offer facts. Make your competitive selling fact-based -- always.
To be good at selling these days you must be technical, ethical, helpful, and truly knowledgeable about your market and your competitors. You must enjoy learning, and not just about your own product, but also about your competitors'.
Are you spending enough time understanding your competitors? How do you make sure that you sell competitively in a fair and factual way? I would love to hear your thoughts on how your company's sales team does this.
Editor's note: Ali Powell is an inbound marketing specialist at HubSpot. She originally published this article on The Womenpreneurs, and it is reprinted here with permission. Join the Women in Sales Slack channel to connect with like-minded ladies in sales here.