The days where I feel most productive all have something in common: I budgeted my time well. When I'm at my most productive, I start the day with a plan and stay focused on my to-do list, which means that not only do I get more done in a shorter amount of time, I also produce higher-quality work.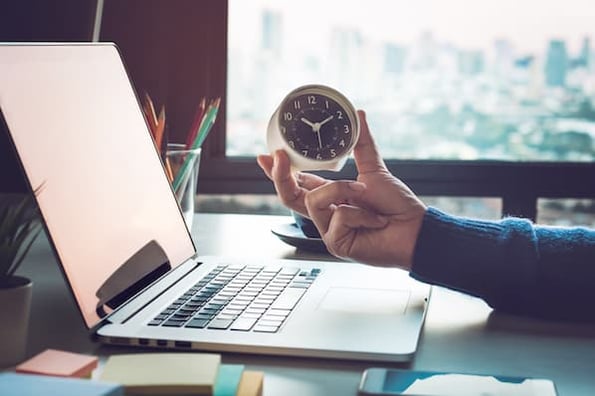 No matter your profession, time management matters. But it's all too easy to form bad habits that, once ingrained, are hard to break. Sometimes, you just need a little extra outside help to get yourself on track.
The apps below will help you organize and utilize your time in a more effective and productive way.
Price:
Free (Todoist Free), $4/month billed annually (Todoist Premium), $5/user/month billed annually (Todoist Business)
Available On: iOS
|
Android
(Desktop and web apps also available)
Todoist is a task management app that allows you to assign to-do items due dates, as well as tag them with different project labels. You can add tasks from your desktop or phone. As a fun added bonus, you can rack up "Karma points" by completing tasks consistently.
Source: Doist
Price:
Free (Basic), $10/month billed (Pro), $12/user/month (Business), and Enterprise plan (Contact for free estimate)
Available On:
iOS | Android (coming soon on Android)
Calendar is an AI-enabled digital calendar, scheduling, and time management solution for individuals and teams. It brings together your Google Calendar, iCal (Apple Calendar), and Outlook Calendar into one dashboard view that you can customize and share.
The digital calendar syncs across devices as well as offers a virtual assistant that can learn your schedule and begin taking over meeting planning, invitations, and scheduling changes.
The paid versions also add meeting transcriptions and a wide range of analytics so you can see how you spend your time in meetings and with people.
Source: Calendar.com
Price: $45 per month (Essential), $89 per month (Ultimate Control)
Available On: iOS | Android | Web
ProofHub is an all-in-one project management and team collaboration tool that helps you save a substantial amount of time on your projects. ProofHub offers a comprehensive suite of best-in-class features that lets you manage multiple projects in a centralized place. Using this tool, you can manage time, assign tasks, generate project reports, proof files, and much more.
Using ProofHub, you can add timesheets to record data and set time estimates to see how much time it should take to get work done. The time tracking feature allows you to track time manually or use timers. Furthermore, you can export timesheets, archive them, create time reports and bring all your data to one central place.
Price: Free (Free Forever), $5/month (Unlimited), $9/month (Business), and Enterprise plan (Contact Sales)
Available On: iOS | Android | Chrome
ClickUp is an all-in-one productivity platform that helps you manage your time effectively and stay on top of your goals. Built for teams of all sizes, as well as personal productivity, it allows for seamless cross-collaboration and complex project management.
ClickUp's global and manual time tracking tools give you the option to allocate time from your desktop, mobile, or browser. You can start and stop time, jump between tasks, and add details on how time was spent. Set clear expectations with time estimates at the task and subtask level, as well as split time between team members.
With Calendar, Gantt, Workload, and Timeline views, manage your projects' time resources effortlessly and keep track of data around team contributions and completion status. ClickUp's Free Forever Plan comes with all of ClickUp's primary features, absolutely free with no add-ons or plugins required. Additionally, ClickUp integrates with all major calendar and time-tracking apps.
Price:
Free (*Available Via Basic Plan), $3.99 Premium Plan Per User/ Per Month, $11.99 Business Solution Per User/ Per Month
Although nTask was designed as a project and task management software, the latest update introduced a revamped time tracking module. This was done as part of an effort to help core users focus on their time management skills as per the requirements of any ongoing number of projects.
Apart from offering an inbuilt message notification system with specific user handlers, nTask also integrates Slack for 3rd party collaboration. In that order, stakeholders, team members, and managers can not only schedule meetings but also send out invitations to concerned people who wish to monitor a project's progress at any point in time.
In the basic free version of the tool, you can add unlimited members to your workspace without any additional cost. Aside from being able to see the time spent on each individual task, members can also send their status reports to team owners or project managers to approve afterward.
Price:
Free
Available On: iOS
|
Mac
This timer provides a handy way to track blocks of work and allows you to track your past work history. Manage your tasks, track your goals, and customize work interval duration to maximize your productivity.
Source: Xwavesoft
Focus Booster also uses the Pomodoro Technique model for tracking work, but provides a deeper dive into exactly where your time is going. You can link revenue, meetings, and projects to your Pomodoros so you gain a birds-eye view of the impact of your work.
Source: Focus Booster
Price:
$7.99
Available On: iOS
Kiwake is an alarm clock app that infuses your daily alarm with a bit more meaning -- and removes the temptation to snooze. Users have to physically get out of bed, play a brain game, and review their custom goals to shut off the alarm.

Source: Kiwake
Price:
Free
Many of us find ourselves being unproductive at work because we just can't shake our bad habits. This app makes it easier to form productive rituals in and out of work -- just set a goal in the app and access dozens of preset "recipes" of behaviors you must repeat on a daily basis. Over time, these behaviors will become second nature.
Source: Loop - Habit Tracker
Developed by three neuroscientists, Focus@Will hosts a proprietary collection of music that's been mixed and edited to serve a specific neurological purpose. You can choose from different genres and customize energy level, and Focus@Will serves up a collection of tracks specifically designed to help you concentrate and achieve flow.

Source: Focus@Will
Sometimes you just need to go cold turkey. Freedom blocks websites and apps that pull you away from what you're supposed to be doing -- for example, social media and news sites.
You can customize recurring "work sessions" that'll start automatically and cut off access to distracting content so you can focus.
Source: Freedom
Price:
Free on desktop, $1.99 for app
Noisli provides ambient background noise that blocks out outside distraction and helps you focus only on your task at hand. You can choose from one of their preset combos, or adjust categories like nature sounds or ocean waves to create your own custom mix of noise.
Source: Noisli
Available On: iOS
|
Mac
See your work in a variety of ways, view your calendar, add new tasks, customize review intervals and more. Plus, sync your data between multiple Macs -- and even iOS apps using OmniFocus.
Source: Omni Group
Price:
$1.99
Want to put down your phone and focus? Plant a seed in Forest. As time goes by, the seed grows into a tree. Give in to temptation and leave the app? Your tree will wither. And Forest partners with real tree-planting organization, Trees for the Future, to plant real trees.
Source: Forest
Asana is a task manager you can use to keep track of your day-to-day activities. It also allows sales reps to manage leads and customers, and collaborate with their sales team.
Source: Asana
Toggl is a time tracker that will help you boost your productivity. Keep track the tasks or areas of your role that are taking the most time. And evaluate where your daily processes and habits could be improved.
Source: Toggl
This app allows you to create to-do lists and get reminders via email, text message, and more. Plus, you can connect it to your favorite apps like Gmail, Outlook, and Google Calendar.
Need a reminder to send a resource to a prospect? With this app, you can even attach documents to your tasks so you don't forget them.
Source: Remember The Milk
Trello allows you to keep track of tasks, collaborate with colleagues, and assign due dates. Customize boards, create cards, and drag them to follow your progress.
You can even add "Power-Ups" like Calendar views or Map view to adjust your to-do list based on how you focus best. Turn on notifications, so you never miss a deadline, and use their web-based app, desktop variations, or their mobile apps.
Source: Trello
Time management is crucial for salespeople. Make the most of each of your daily hours with these helpful apps, and feel a greater sense of accomplishment at the end of your day. To learn more, check out these time management hacks for sales reps next.