The days where I feel most productive all have something in common: I budgeted my time well. When I'm at my most productive, I start the day with a plan and am able to stay focused on my to-do list, which means that not only do I get more done in a shorter amount of time, I also produce higher-quality work.
No matter your profession, time management matters. But it's all too easy to form bad habits that, once ingrained, are hard to break. Sometimes, you just need a little extra outside help to get yourself on track.
The eight apps below will help you organize and utilize your time in a more effective and productive way.
8 Time Management Apps That Will Increase Your Productivity
Price: Free (Todoist Free) or $28.99/year (Todoist Premium or Business)
Todoist is a task management app that allows you to assign to-do items due dates, as well as tag them with different project labels. You can add tasks from your desktop or phone. As a fun added bonus, you can rack up "Karma points" by completing tasks consistently.
The famed Pomodoro Technique calls on you to work in 25-minute blocks, then take a short break. Pomodoro Timer provides a handy way to track blocks of work and allows you to track your past work history.
Focus Booster also uses the Pomodoro Technique model for tracking work, but provides a deeper dive into exactly where your time is going. You can link revenue, meetings, and projects to your Pomodoros so you gain a birds-eye view of the impact of your work.
Price: $2.99
Available on: iOS
Kiwake is an alarm clock app that infuses your daily alarm with a bit more meaning -- and removes the temptation to snooze. Users have to physically get out of bed, play a brain game, and review their custom goals to shut off the alarm. I've been using Kiwake for a few weeks now, and it's incredibly effective -- I've gotten up when I intended to every day.
Price: Free
Available on: iOS
Many of us find ourselves being unproductive at work because we just can't shake our bad habits. Habitloop makes it easier to form productive rituals in and out of work -- just set a goal in the app and access dozens of preset "recipes" of behaviors you must repeat on a daily basis. Over time, the thining goes, these behaviors will become second nature.
Developed by three neuroscientists, Focus@Will hosts a proprietary collection of music that's been mixed and edited to serve a specific neurological purpose. You can choose from different genres and customize energy level, and Focus@Will serves up a collection of tracks specifically designed to help you concentrate and achieve flow.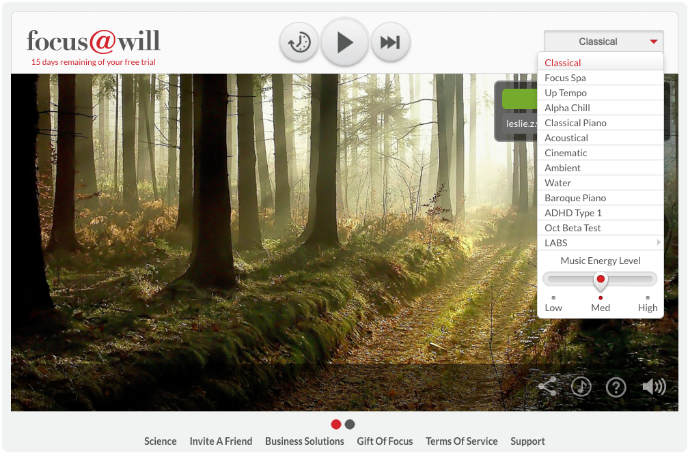 Sometimes you just need to go cold turkey. Freedom blocks websites and apps that pull you away from what you're supposed to be doing -- for example, social media and news sites. You can customize recurring "work sessions" that'll start automatically and cut off access to distracting content so you can focus.
Noisli provides ambient background noise that block out outside distraction and help you focus only on your task at hand. You can choose from one of their preset combos, or adjust categories like nature sounds or ocean waves to create your own custom mix of noise.
What are your favorite time management apps? Let us know in the comments below.
Originally published April 11 2016, updated July 28 2017