In the recent months, sellers who were used to high-touch, in-person customer meetings have had to pivot to remote sales meetings virtually overnight.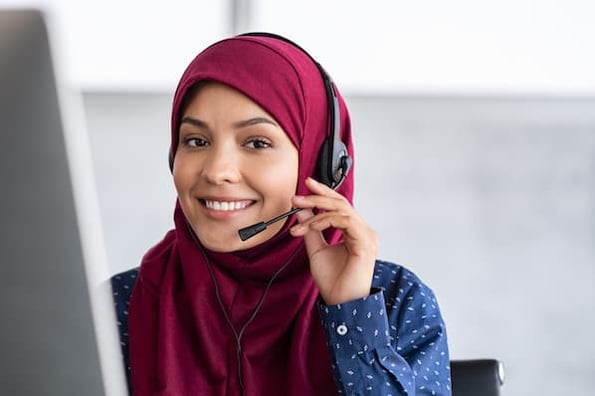 This new normal has left many sales organizations across the globe scrambling to provide their sellers the resources they need to operate successfully and efficiently from home and drive remote selling.
How do companies ensure sellers are as effective as if they were engaging with customers, prospects and colleagues face to face?
Let's dive in.
5 Tips to Smoothly Transition to Remote Selling
Shifting your sales approach, deploying technology to support sellers, and doing it all in a timely manner are all ways you can assist your employees.
For an additional overview of these remote selling tips, check out the video, below:
With that, here are my top tips for smoothly transitioning to remote selling.
1. Embrace interactive presentations.
When moving to virtual sales meetings, most would argue that video conferencing is the go-to. But is this enough? While video conferencing through platforms like Zoom are intended to make meetings feel more personal, studies show this isn't necessarily the case. Video conferencing does not deter people from multitasking or completely zoning out. Only 12% of people feel as comfortable on video conferencing calls as they do phone calls. This leads to potentially low levels of engagement.
Utilizing interactive and engaging presentations can go a long way in exciting your prospective buyer about the conversation and maintaining participation. Drag and drop capabilities using interactive presentation tools allow companies to create animated PowerPoint presentations from traditional files to present in a new and more appealing format.
If competitors are putting buyers to sleep with run-of-the-mill, static PowerPoint presentations of awkward video conferencing calls, your animated approach will differentiate you and make your product or service outshine competitors in the purchase decision process.
2. Increase the impact of sales through value selling.
According to CEB, 57% of the buyer's decision is made before they even pick up the phone to speak with you or your competitors. This means when they do engage with you, they already know about your business, products, and services.
Before a decision is made, customers look to you to share something they don't already know. In times of economic crisis or hardship, especially now more than ever, that something needs to be financial justification.
Quantifying your product or service's return on investment or comparable total cost of ownership will both give your buyer the information they need to sell your solution internally, and build confidence and credibility in your solution.
Interactive value selling tools, like ROI and TCO calculators, allow team members to capture personalized data in real-time from buyers. Utilizing these tools is proven to improve win rates with 74% of buyers purchasing from the first seller to provide this value.
3. Rely on remote learning.
Currently, most business events have been either canceled or postponed for the foreseeable future. This includes many sales kick-off events.
This does not mean you can't ensure your sales reps have the knowledge they need to sell and meet quotas successfully. Microlearning, the use of video modules meant to educate sellers "just-in-time" vs. "just-in-case", has been proven to be more effective than traditional, classroom-style learning.
Relying on modern learning management systems (LMS) allows your sales organization to go beyond one-time training and onboarding by using incremental education created to better prepare sellers for sales interactions. Not only do organizations get sales knowledge out to teams quicker, but companies that leverage LMS for sales training can also track completion, who needs additional training, release new content upon completion of each module, and ramp sellers faster.
4. Use your marketing budget to the fullest.
During an economic downturn, marketing budgets are often the first on the chopping block. That means, more than ever, it is imperative to understand what content works and doesn't.
According to a study conducted by The Whole Brain Group, 95% of buyers purchase from sellers who offer relevant content at each step of the buying process. However, according to Forrester, 65% of market-produced content goes unused by a company's sales team.
If your organization is wasting a limited budget on sales collateral that isn't going to be utilized by sales reps, you are hindering your ability to close deals. How do you identify what content will bring your business the highest ROI, and when?
Using AI-powered sales enablement platforms integrated with CRM can empower you to connect content directly to revenue. This system eliminates guesswork by offering data insights showing what has led to closed opportunities in the past. AI-powered sales enablement platforms also provide automatic recommendations for what assets to utilize, archive, promote, and more. This provides marketers confidence that their assets and budget are having a positive impact on business and sales to produce results.
5. Recognize the cost of "doing nothing".
The general consensus is that the transition to remote selling has been unexpected and complicated. This shift can create concerns surrounding budgeting, business impact, and more. If your organization is weighing the benefits and risks, the cost of doing nothing will be much more detrimental to your business than shifting around budgets in order to deploy key sales tools and systems to sustain sales revenue.
To reduce overall cost, and decrease risk, consider incorporating a sales enablement platform that utilizes all of the strategies outlined above. In a time such as now, filled with stressors and unknowns, utilizing these tools and tips will save your organization both time and money. Make sure to steer clear of complicated deployment processes and overpriced solutions that offer unnecessary bells and whistles.
Rather, find a sales enablement platform that your organization can get up and running as quickly as possible to meet your employees' needs at home. Many companies are offering free trials or discounts on their tools for a limited time only.
Now is the time to provide your sales reps the tools and support they truly need to excel while working remotely. For more insight on successfully managing a remote sales team, check out this post.
Editor's note: This post was originally published in June 2020 and has been updated for comprehensiveness.