In a crowded marketplace, it may seem that price wars are inevitable. But slashing prices to beat the competition will hurt your credibility, brand image, and margin more than it helps.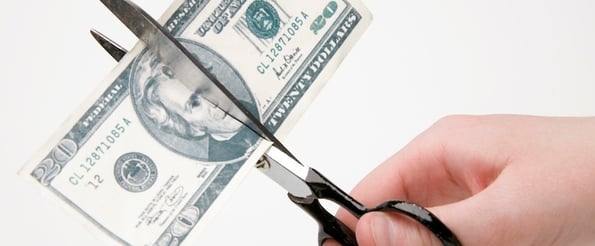 We get what we pay for. Even if your buyers try to convince you otherwise, they understand this principle. So instead of racing your price-cutting competitors to the bottom, leverage your product's strongest assets to create value that outweighs a lower price. Using the following four factors, you can build a strong competitive advantage.
1) Stand by your premium pricing.
It may seem contradictory, but charging a premium price -- and sticking to it -- can actually be used as a competitive advantage. It's common to assume that all buyers will be making a purchasing decision based largely on cost, but it's rarely the primary reason a person buys.
A prospect may lead you to believe price is the deciding factor, but buyers actually tend to be leery of prices that seem too low -- it sends a message about your product's quality. Instead, standing by your premium pricing and acknowledge that your product is more expensive -- it makes a strong statement about your credibility as a solutions provider.
2) Sell value, not price.
Value, not price, is almost always the most critical factor in a purchasing decision. Having a valuable product is one thing, but having the ability to sell value is what will set you apart in a sea of cheaper competitors.
In order to create value for your buyers, you must understand the unique standards and expectations of your prospect. For example, what makes a valuable tire? To determine that, you'd have to answer these questions:
What are you going to use the car for?
Does the tire need to get the driver through the Indy 500?
Do you need a racing slick? An off-road tire?
Using value as a competitive advantage requires customizing your solution to best meet your buyers' needs.
3) Master product delivery.
Delivery is a part of your business you absolutely must excel at if you want to sell at a higher price than your competitor. In competitive industries, a company's ability (or failure) to deliver a product or service in a timely, agreed-upon manner can make or break a customer relationship.
When prospects tell you they can "get the same thing somewhere else for less money," silently ask yourself this essential question: "Then why are they even talking to me?" Because if they really can get the same thing down the street, right now, for less money, why are they still engaging with you? Whether it's implementation support or superior customer service, delivering a timely and better onboarding experience than your competitors will help you justify a higher price point.
4) Practice helpful selling.
The ability to reach out to prospects in a professional way, on their own terms, is the currency of sales success in today's competitive marketplace. Today's buyers are more in control of the sale than ever before, and with that added control comes a decreased willingness to talk with salespeople who only care about getting the deal.
Elevating your product or service from an interchangeable, turnkey fix to a solution to critical business pain means you'll have to add value in a way that goes beyond price. And focusing on value over price is better for you, too. Buyers who understand value, and the higher price tag that accompanies it, will be better long-term customers than those with a transactional mindset.
How do you differentiate yourself on factors other than price? Let us know in the comments below.