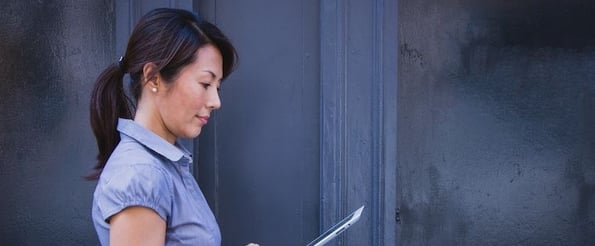 Sales has traditionally been a male-dominated environment, but over the last few decades, more and more women have entered this career and thrived.
As we celebrate International Women's Day events at our offices across the world, we wanted to take a moment to shine a light on the amazing, smart, savvy women in sales.
Together with WOMEN Sales Pros, we invited some of the most successful salespeople to help us celebrate this day by answering: "Which woman in sales do you admire the most?"
Watch Lori Richardson, Anthony Iannarino, Jill Rowley, and many others share their stories.
Curious for more?
These interviews surfaced really inspirational stories. Stories of women who beat all odds. Women who give back to the community. Women who shaped careers and continue to work tirelessly to promote other women in sales.
You can find their full stories below. We hope you enjoy them and find inspiration for your own sales journey.
The world needs more #WomenInSales
1) "There are a lot of women who I admire in sales, but there aren't enough women. When I was preparing for this interview, I went on LinkedIn and I typed 'VP of Sales,' searched my first-degree network, and (looked through) page after page after page after page. I could only find men. There aren't enough women in sales. There aren't enough women in sales leadership roles. So let's change the numbers." -Jill Rowley, startup advisor, speaker, and social selling evangelist, jillrowley.com
2) "You see most women in sales are either individual contributors or managers. A lot of them don't get to the level of VP or Director level. The more women we see in these positions, the more young women will start to see sales as a real career they could be very good at." -Ali Powell, Principal 3 Sales Rep at HubSpot, enabling women in sales at womenintechsales.com
#WomenInSales who defied all odds
3) "Deanna Renda is a salesperson I admire because she's funny, she's passionate, and she's committed to getting her product out there. She founded the Naples Soap Company back in 2009. When she started out, she was a nurse; she didn't have sales skills or training. She started because she wanted to cure her daughter's skin condition. Deanna went to all the doctors but couldn't find a solution that worked. She educated herself about the causes of the disease and ended up formulating her own bar of soap especially designed for her daughter's problem. The product worked so well she started selling it at farmer's markets. In time, she had her own radio show, and in 2009 she opened her first store in Florida. She has grown that to roughly eight stores. After all these years, she is still passionate about her business. I appreciate her passion. She is living proof that anybody can sell, as long as they are passionate about their product or service. If you're in sales and you're not passionate, then you should probably find something else or have a conversation with somebody and try to find that passion. Go out there and try to find something you're passionate about, like Deanna and you can build a business, or a career, like you never thought possible." -Bob Phibbs, CEO of The Retail Doctor
4) "The woman I admire most in sales has to be my mother. My father left my mom when I was seven and, at that time, she had four kids between the ages of seven and one. She had never had a job since she got married and when she did restart her career, she got a job as a recruiter. Back then, recruiters were practically head-hunters, calling passive candidates and pulling them out of their companies. Over time, she understood that selling was about developing relationships with other people and helping them with the outcomes that they needed and she became a tremendous salesperson. When the branch she was working for closed down, she decided to go out on her own with her colleague because both of them were either number one or number two in sales every single month. They started out with very little money, literally pulling herself by the bootstraps, and now she's running a $45 million business. She still has relationships from when she started the business in 1980 and some are still clients today. I think the kind of salesperson that can create and maintain relationships for over three and a half decades is a person worth emulating." -Anthony Iannarino, sales kickoff speaker, bestselling author, thesalesblog.com
5) "There are a lot of women I admire in sales: Lori Richardson, Jill Konrath, Trish Bertuzzi. However, the one I want to talk about now is my wife: She's always been in sales even though she hasn't taken a traditional approach to sales, she sold in a very male-dominated world, and I think she has one of the things you need if you want to be successful in sales, which is passion. My wife is an environmental scientist. She didn't go to school for sales -- like no one goes to school for sales -- but in every single position she had as an environmental scientist, she had to sell. She had many roadblocks she had to face, and she fought through all of them. Now she's an entrepreneur who runs her own business. I think sales is a great pathway for women. It opens up a lot of opportunities, including starting their own business." -John Barrows, sales trainer, jbarrows.com
#WomenInSales who helped start careers
6) "The person that I really admire most is my very first sales manager at Xerox, Cindy Thompson Martin. She was clear on the results that needed to be accomplished, but she was also great at recognition and feedback. That was an environment I thrived in and set me up for my career." -Lisa Magnuson, corporate sales strategist at Top Line Sales
7) "My first sales job was at a women's retail store. One day, I wanted to rearrange a display, so I spoke to the women who'd been there a long time. They said, 'Joanne, that's never been done before.' I went to my manager and told her what I wanted to do. When I told her about the feedback I'd gotten, she said, 'That's the best reason I know for doing it!' I have never forgotten that. I was 22 years old, and that became my mantra: The best reason for doing something is because it's never been done before. If we follow the same path everybody else follows, we're going to be one of the pack." -Joanne Black, lead generation and referral selling expert at NoMoreColdCalling.com
8) "The woman that I admire most in sales is Donna Kalajian Lagani, the Senior VP and Publishing Director of Cosmopolitan Magazine. I worked with Donna at Cosmopolitan years ago and she showed me how to be passionate about sales, how to be metrics-driven, customer-focused, and agile in a changing industry. She's used her passion in sales to lead Cosmopolitan to record-breaking earnings. She is fearless, persistent, and wicked smart, which is critical to being successful in sales. Donna has shown me, and a lot of other women, what it means to work hard and achieve your goals. She started on Wall Street and set her sights on becoming the publisher of a major magazine and she achieved her goal. Today she consistently leads her team to success with a positive attitude, and makes it fun along the way." -Haley Katsman, director of account development at Highspot
#WomenInSales who give back to the community
9) "There are so many women I admire that it's hard to pick only one. Women sales leaders worldwide, and just in our WOMEN Sales Pros community, there are at least 50 women I could speak about and admire. If I have to limit to naming just one, this time I'll mention a woman who works tirelessly to promote women in business. Her name is Afi Ofori. Her company produces the Women in Sales Awards. I've seen women gaining a lot of visibility in their company by being nominated for these awards so, thank you, Afi, for shining a light on women in sales." -Lori Richardson, founder and CEO of Score More Sales, president at WOMEN Sales Pros
10) "Laura Madison is a person I admire. She earned the nickname 'Toyota Laura' after her success in the automotive sales industry. Now she made it her mission to help other women really understand how to leverage themselves effectively in sales. I really like that strategy." -Mark Hunter, keynote speaker and bestselling author, The Sales Hunter
11) "The woman in sales I admire the most has to be Lori Richardson. There are a lot of women today who are powerful sales leaders and successful salespeople, but Lori is the type of leader who doesn't seek to be a leader. She influencers others and helps raise them up. There's plenty of room on the stage when Lori is (there) because she's willing not only to share the spotlight, but point it towards others. I think that's what we really need today to start to bridge the gap for women in sales and technology." -Carole Mahoney, sales change agent, trainer, and coach at Unbound Growth
12) "There are so many women in sales that I admire, but the one I have to point out has to be Jill Konrath. I've learned so much from her, her book, listening to her speak, and her blog posts. She's got such a strong voice and has such a pragmatic approach to selling. I don't even consider her a 'woman in sales,' to me, she's one of the most important, most influential people I learned from and had a an enormous impact on many, many sales professionals today." -Matt Heinz, president at Heinz Marketing
13) "Maria Margenot is the woman in sales I admire most. She's the Senior Vice President of Sales Development, Recruiting and Training at Wyndham Vacation Ownership. One of the things Maria always says is that her greatest achievements are also her greatest challenges. She's mentored thousands of people, she's taught herself public speaking -- and she was terrified of that. But the thing I admire most is her sense of balance: She's got a child and she gives back to the community. She does it all!" -Shari Levitin, sales expert, author, and speaker, ShariLevitin.com
There are so many creative, passionate, smart #WomenInSales out there who are changing the industry every day. Today we celebrate them all
14) "Deborah Esayian is now the CRO of Marketron. I've known Deb for probably 25 years, and what I admire most about her is her creative problem solving abilities. If there's a sale that's stuck, she is going to find the most creative way to get that sales unstuck and actually close. I've seen her do it multiple times -- and increase the size of the sale while she's doing it. I learned a lot from her about sales when it comes to that ." -Caryn Kopp, chief door opener, Kopp Consulting
15) "The person I admire is Amanda Faillo, who's an account executive at Terminus. She has this ability on the phone with prospects to be magnetic and engaging -- and still move a sales forward. Ultimately, prospects enjoy working with her and don't feel like they've been 'sold' to." -Tonni Bennett, VP of Sales at Terminus
16) "There isn't just one woman in sales that I admire and I have learned from -- there have been many women throughout my past 20 years in sales. When I joined Salesforce.com with zero sales experience, Shelly Davenport took me under her wing and helped counsel, nurture, and develop me. At Eloqua, there were a number of women. Diane Updyke, whom I worked for, was an incredible mentor. I also watched a number of women develop into incredible sales leaders while at Eloqua, including Katie Azuma and Susan Lorkovic. Today, there are women in the analyst world who are evangelizing the future of sales: Mary Shea at Forrester, and Tiffani Bova, who was a VP at Gartner for 10 years before she joined Salesforce.com as Leading Innovation Evangelist. There are also VPs of sales whom I admire, like Emmanuelle Skala and Jen Spencer. Ali Powell started a WomenInSales Slack community -- which is a great resource for both for women who have been in sales for a while and who are just getting into this career. Tonni Bennett is blazing trails in the ABM (Account-Based Marketing) space at Terminus. Finally, I want to mention Cate Gutowski. She is driving digital sales transformation on a global basis across all GE's business units." -Jill Rowley, startup advisor, speaker, and social selling evangelist, jillrowley.com
It's your turn
Is there a woman in sales you admire? Let her know how her work has helped you grow. Use the #WomenInSales hashtag to share your story with us on Twitter.
Happy International Women's Day!