The entrepreneurial spirit isn't ageist. Anyone who has the passion, business acumen, creativity, and critical thinking skills necessary to found and operate a business of their own can take on the challenges and responsibilities that come with entrepreneurship.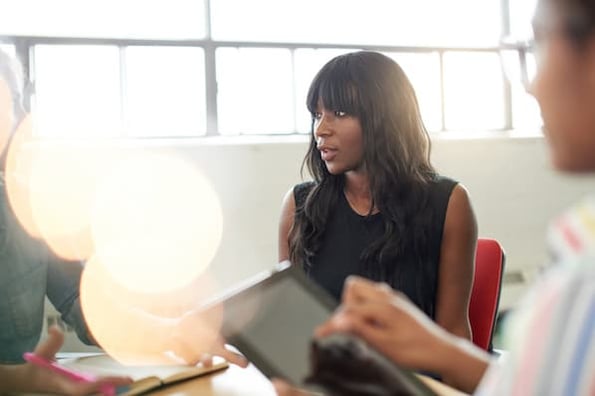 It has no minimum age. There are plenty of successful inventors, innovators, and businesspeople operating their own companies before they turn 30. And despite their lack of grey hair and ability to say "back in my day" before starting a story about how people used to read newspapers at diners, they still have some sage wisdom to impart and meaningful lessons to teach through their examples.
To share some of that insight, we've put together profiles on some young entrepreneurs behind three successful businesses.
Sargun Kaur and Nicole Hardson-Hurley — Bryteboard
The founders of Bryteboard, Sargun Kaur and Nicole Hardson Hurley, founded their business after recognizing fundamental flaws in the tech recruiting process — specifically when it came to technical interviews for software engineers.
As Kaur put it in an interview with Accelerate with Google, "The present format of technical interviews is inadequate assessments of technical ability." By her account, the content and standards of most technical interviews are more or less specific to the interviews themselves — they don't necessarily reflect the functions and responsibilities of the roles they feed into.
Certain schools, like Stanford, even offer entire courses dedicated to the technical interview process — unfortunately, access to that kind of preparation is limited. And women, people of color, and other underrepresented talent tend to have more negative experiences with the interview process than others.
According to Bryteboard's website, "Research shows that nearly everyone has poor interview experiences, yet women are seven times more likely than men to stop interviewing after a poor performance."
Kaur and Hurley looked to level the playing field, so together, they founded their business — a coding interview platform that evaluates for ability as opposed to access and privilege.
And though the startup is still currently being incubated within Google's Area 120 accelerator, it's already brought on customers like Lyft, Betterment, and Robinhood.
Kaur and Hurley provide a prime example of how entrepreneurship can be an instrument of industry change. Through firsthand experience and observation, they identified deep-seated, systemic problems with the tech recruiting process and took it upon themselves to remedy those issues and ensure that success in technical interviews would be based on merit as opposed to privilege.
Daniel Kane is the founder and CEO of The Ridge — a brand of lightweight, minimalist, metal front-pocket wallets. Kane invented his product with his father Paul during his tenure at the University of California, Santa Barbara.
Leveraging previous ecommerce experience from his eyewear brand, Enclave, Kane forewent venture capital for his new wallet design in favor of a series of Kickstarters between 2013 and 2014. Over that stretch, Daniel was able to pre-sell over 7,000 units, raising over $200k.
From there, Daniel got to work with his father and best friend. They personally drudged through the more foundational, less glamorous side of a growing business's operations. According to an interview with VoyageLA, he actually packed, labeled, and mailed the first 150,000 Ridge Wallets he sold by himself.
The Ridge scaled as quickly as it took off. According to an interview with business consultant Terry Rice, Kane's revenue run rate was over eight figures by 2016 — while only employing a staff of five. Now, Kane has sold over 500,000 units and has expanded The Ridge brand to cover backpacks, phone cases, mobile power, and apparel.
Kane's inspiration for The Ridge didn't come out of nowhere. By his account, it was born out of frustration. In his interview with Terry Rice, he said, "I always hated carrying around a big, leather wallet in my back pocket...It got to the point that when I was in college, I began using a rubber band to carry around only the most essential cards and cash I needed for that day.
"However, a rubber band looks pretty bad and doesn't make the sharpest impression, so I started shopping around for a solution that would be more minimal than the traditional leather bi-fold while offering more style than a rubber band. When I couldn't find anything on the market, I realized that there was an opportunity and that there were many other people looking for the same kind of product. That's when the idea for the Ridge Wallet was born."
So what can you learn from Kane's story? For one, be mindful of the problems and hiccups you experience on a day-to-day basis. Maintaining an entrepreneurial spirit is a full-time gig.
Practical new products and services are often born out of mundane issues. So keep an eye on any trouble you're constantly running into — there might be a business opportunity in it for you.
AllHere Education founder Joanna Smith — a former district attorney and family engagement coordinator — witnessed the struggles, burdens, and lapses in communication that complicated the work and effectiveness of attendance and truancy professionals.
Chronic absenteeism is a grave yet often-overlooked issue that impacts typically at-risk students and schools alike. And while there have been concentrated efforts to better understand and address the issue, those interventions haven't made the kind of impact students and schools need. That's where Joanna Smith came in.
In 2015, Smith released AllHere — an AI-powered attendance intervention software for K-12 school districts. According to the company's website, AllHere "combines evidence-based strategies with automation, analytics, and engagement capabilities, in an easy, all-in-one platform for mitigating chronic absenteeism and improving overall student engagement and outcomes at scale."
In an interview with EdSurge, Smith discussed her endgame and motivations. She says, "My hope for the future of attendance is that we deal with the deeper barriers and challenges that are root causes, and which have been often explained away as simply a lack of student motivation."
Smith is a model social entrepreneur — someone who meaningfully impacts social change through ingenuity, business acumen, life experience, and innovation.
She works with earnest intentions and a commitment to progress before a commitment to profit. And young entrepreneurs stand to gain a lot from knowing her story. Her success speaks to the merit and business potential of doing good.
Entrepreneurship isn't an amusement park ride. There's no sign saying "You must be this old to innovate." If you have the resolve, business savvy, and creativity to build a business of your own, you should be willing to give it a shot. As the three examples above illustrate, there are plenty of angles to take, lots of strategies to employ, and a lot of good to be done through your work.