Whoever closely follows new research on contemporary business-to-business (B2B) sales practices will know that the modern B2B buyer wants greater control over her purchasing journey. This emerging trend shouldn't come as a surprise.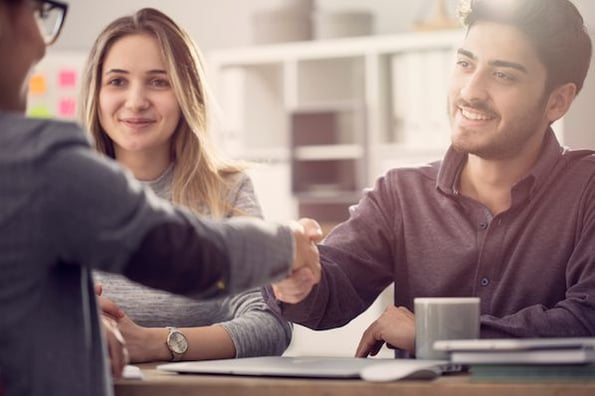 After all, the way we purchase goods and services in a traditional consumer context has become predicated entirely on personalization and convenience. Our desire to get what we want, when we want it and how we want it -- a luxury afforded through nearly every B2C platform in the market today -- has begun to influence B2B business in very prominent ways.
It doesn't take much to catch a glimpse of modern B2B buyers broadcasting their desire for greater control over the purchasing journey. A quick look at your LinkedIn feed will likely reveal senior executives at various organizations publicly asking their peers questions such as: Which vendors have you procured from? What were your experiences like with the supplier? How much are you paying for the solution?
Seeing that B2B commerce -- especially as it relates to non-commodities -- is conducted largely through conversations between professionals, control over the purchasing journey effectively comes from controlling the narrative in the market about a particular product or service.
In the pre-digital business landscape, vendors and their army of sales representatives were mostly in control of this narrative. But with the emergence of professional, transparency-driven platforms such as LinkedIn, and review sites such as G2 Crowd and Capterra, B2B buyers are now seeking to control this narrative by interacting with one another more openly and freely.
According to an analysis in the Harvard Business Review, 84% of B2B buyers now kick off their buying process with a referral and 90% of B2B buying decisions are ultimately made with peer recommendations.
Since B2B buyers are increasingly relying on their peers for guidance on major purchasing decisions, it should come as no surprise that B2B companies need to have strong customer reference and advocacy programs in place. Much has been written about how to implement a successful customer advocacy program -- it requires a concerted effort between the marketing, sales and customer success departments within an enterprise. But there are many obstacles that need to be addressed before even contemplating the introduction of such a program.
An independent study conducted by Repshift -- which involved interviews with over 100 enterprise B2B sales and customer success leaders across North America -- revealed five key barriers currently preventing the successful implementation of customer advocacy programs across the enterprise. They can be summarized as follows:
5 Obstacles to Avoid When Building a B2B Customer Advocacy Program
1. Customer success professionals of hoarding customer relationships
There can be a tribal mentality within B2B sales and customer success teams that prevent sharing of customer contacts internally to accelerate revenue. Given the typical compensation structure of these teams, employees are seldom incentivized to share information that helps other people close deals. One intuitive way of addressing this challenge is by tying compensation to an employee's ability to generate profitable customer advocates. This can represent a win-win situation for all parties involved.
2. A team culture that guards references, or permits use of the same irrelevant contacts repeatedly
This is not a buyer-friendly practice and if a vendor feels the need to do this, then there are underlying product concerns at play. If existing customers aren't ready to act as advocates, or references are being recycled from a small pool of legacy customer contacts, then a vendor must contemplate changes to the core product offering before exploring a formal customer advocacy program.
3. An excessive reliance on static case studies
Although case studies are useful, they are not always conducive to a transparent B2B buying culture since they tend to be heavily manicured and scripted. Case studies are indeed popular, with 82% of B2B organizations using them. But only 65% of buyers find them useful, suggesting that the use of the medium is currently over-indexed.
4. Limited communication between sales, marketing and customer success teams that impedes cross-team collaboration
Cross-functional friction is the easiest issue to overcome, as it alludes to a lack of organization or proper tools to facilitate an effective flow of information between departments. There are a variety of advocacy enablement tools in the market to help address these workflow challenges, as highlighted in this list.
5. High turnover among employees that own customer relationships
The average tenure of sales professionals at any particular organization is now just two years. When your sales or customer success employees leave, customer relationships can leave with them. The right advocacy tools will allow your business to develop a direct relationship with your customers so that any changes in the employee base don't directly affect the overall rate of customer engagement.
In addition to considering the points above, it's important to come up with the right incentive strategy to get customers talking on a vendor's behalf. Fewer advocacy programs now rely on explicit financial incentives -- businesses are instead choosing to leverage networking opportunities between industry professionals as the currency to entice action among their customer advocates. The right incentive strategy depends greatly on the industry the business is operating in, the volume of sales being done and the profile of the professionals being sold to.
Given the growing emphasis on trust and transparency in B2B sales, explicit financial incentive structures can backfire if they become publicly apparent. An analysis in the Harvard Business Review highlighted that facilitating conversations between prospective buyers and existing customers under the context of networking is empirically a more effective approach. Vendors that use this strategy can see deal win rates increase and cycle times fall materially.
There is considerable revenue and productivity at stake if a B2B organization fails to appreciate the extent to which its existing customers can influence future success. A comprehensive research report by Forrester Research revealed the potential cost of not having a formal customer reference management process in place to facilitate the B2B sales process at scale:
"Consider the scenario for a sales team with 100 reps each fielding three reference requests monthly (assume 1.5 hours each of unnecessary time working on each request): That equals 450 wasted hours a month. The average quota is $2,500,000 per rep. The value of one working hour for each rep equals $2,500,000 divided by 2,000 annual working hours, or $1,197. Multiplied by 450 hours, this equals $538,793 annually, or a $6,465.517 opportunity cost to the organization of sales reps managing their own references."
To effectively pursue customer advocacy, use our customer service email templates.