I'll be honest with you. Introductions are tough. They're the hardest part of the blog post to write and I always spend the most time editing this section of the piece.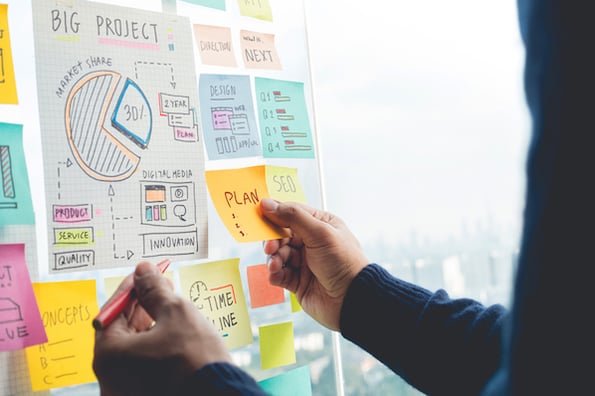 But, I always begin with the introduction because it's so difficult. Once I get it out of the way I know it's pretty much smooth sailing from there. I can plan out the rest of the post and have a good idea for how long it will take to complete it.
This approach simplifies my workflow and sets consistent expectations for management. But, I'm no revolutionary. I'm using the critical path method to manage my day-to-day activities.
In this post, let's review CPM project management and how it can benefit your team. Then, we'll wrap things up with an example of this in action.
CPM Project Management
The critical path method outlines the most time-consuming tasks in a project. It assesses the project's entire scope, including what has to be done, the resources needed, and who's responsible for each task, then orders activities based on the longest potential timeline. This gives the development team a clear roadmap for when the project will be completed.
The critical path method is used for both small and large projects. Businesses of all sizes and industries prefer this approach because of the consistency it provides to project management.
Project managers use critical path analysis to create realistic timelines for their teams. They're not only mapping every task that needs to be completed but also labeling each one with a "worst-case scenario" completion date. This sets accurate expectations for their stakeholders and gives the development team ample time to perfect the project.
These are only a few benefits that CPM project management can provide. Let's read on to learn about some more advantages of this approach.
Benefits of CPM Project Management
Aside from creating a realistic project roadmap, critical path analyses help project management teams in a variety of ways. Below are a few of the most common benefits.
Stakeholder Expectations
Arguably the most important advantage of CPM project management is its ability to set clear expectations for your stakeholders. Executives and upper-management typically are the ones who envision the project. Then, they assign the project management team to bring their vision to life.
However, they're not always closely connected to the project team. They may not be aware of potential roadblocks that could steer the project off-course.
Since they're expecting accurate results, a critical path analysis gives them a straightforward timeline for when they can expect a final product. If they have questions or concerns, they can address them before the project begins, creating fewer headaches for the project manager. This ensures the critical path is consistent and that team members know exactly what they should be working on.
Cross-Department Collaboration
When other departments have access to an accurate project timeline, they can launch complementary campaigns that align with your delivery date. For example, if your project is a marketing event, your customer service team can plan an initiative to support it. Or, your sales team can create an email workflow that sends a follow-up message to attendees. By removing data silos and making information available to your entire company, you'll identify more opportunities to attract, retain, and delight customers.
Buffer Zones
Since the critical path method anticipates that tasks will take longer to complete, this increases your chances to complete projects early. When that happens, you'll have more opportunities to fine-tune your project before its deadline. You'll have time to gather feedback, run A/B tests, and tweak minor flaws that you may have missed during development.
Additional Fail-Safes
If you do run into a roadblock, those buffer zones act as fail-safes that ensure tasks are completed on time. CPM project management anticipates these problems and allows extra time to fix them. So, instead of panicking, you can find a fix and apply it before the deadline.
Now that we've made our case for the critical path method, let's explain how you can conduct a critical path analysis.
Critical Path Analysis
1. Outline tasks.
Before you can prioritize actions, you need to define the scope of your project. Come up with a clear goal and outline every task that will need to be completed to achieve it.
It's important to be specific here. If you're too vague, you may miscalculate how long it takes to complete a step. And, if it's a sequential step, that can throw off the timing of your entire project.
The best tool to use here is an excel sheet. It's flexible and creates a graphing format that sets you up perfectly for the next steps in the analysis.
2. Identify dependencies.
Once you've laid out each task for the project, you'll need to identify the steps that are dependent on one another. These tasks are important because they take the most time to complete.
For example, if I'm going to the mall, the steps may be getting in the car, driving to the mall, parking, and going inside. The last three steps are fully dependent on the ones before them. I can't go inside the mall before I drive to it and I can't park before I get inside the car. These steps need to be completed in order and, therefore, are part of the critical path.
Now, let's say I get inside the car, but the car won't start. That roadblock prevents me from completing the next steps which inevitably delays my overall timeline. The same goes for your team's project. If a dependent step is delayed by a week, that prolongs the rest of the project by the same time.
3. Chart activity sequences.
The next step is to determine how long each step will take to complete. This is where it helps to chart the steps and segment them based on dependencies. Here's an example of what this could look like.
Source: Wrike
With this example, we can see that this person is planning a party. So, they listed out every step as well as how long they expect each one will take. They also included "predecessors," or dependencies that map the relationship between tasks. We can see that "make the ultimate playlist" and "set up the sound system" have been identified as sequential steps.
From this chart, we know that setting up the music will take about two days and planning the rest of the party will take about a week.
4. Evaluate your resources.
Before you settle on the exact timing of your plan, it's important to consider your resources. Now that you know long it takes to complete tasks, can anything be delegated? Can tasks be completed simultaneously? Finding these opportunities is essential to creating an efficient and organized plan.
5. Determine the total float.
Float is the amount of a time a task can be delayed before the project's completion date is changed. This acts as a health score for project managers and alerts them if their project is off-schedule.
Total float evaluates the progress of your project. Positive float means that the task's completion date is earlier or on track with your original estimate and negative float means that the task is prolonging the project's overall completion date. Having this information readily available can help you adjust your critical path analysis and meet your initial deadlines.
6. Map the critical path.
Once you've calculated your sequences, optimized efficiency, and determined total float, it's time to map your critical path. Order tasks by the sequences that will take the longest to complete and are most important to your project. If sequences can be completed simultaneously, set up parallel tasks to make your plan more efficient. Finally, place tasks that are less-critical and nonsequential towards the end of your timeline.
After you've completed all of these steps, share your critical path analysis with your team. Field questions and be open to suggestions made by your employees. It's much easier to correct your plan before it's put into place rather than after.
If you're curious to see how this works in action, let's review an example below.
Example of Critical Path Analysis
To give you an idea of how CPM management works, let's pretend we're planning a networking event. The first step we would be to outline the tasks we are going to take to plan this event. I went ahead and organized those below.
Now, we need to determine which tasks are dependent on each other. We can't do much of anything without knowing if there are people willing to participate in our panel. After that, we'll need to book a venue which will mean we'll need to set an event date simultaneously.
When the venue is set, we can create a guest list. Once we know who's coming, we can book a catering company, plan networking events, and, finally, host the event.
Let's simplify that in the graph below.
With that settled, the next step is to estimate the time it will take to complete each step. Here's the timeline I came up with.
You may have noticed that "plan networking activities" and "book a catering company" have the same start and end date. That's because I considered my resources and decided that these two tasks could be performed simultaneously for the sake of efficiency.
The last step that we'll include in this example is float. Here's how we can incorporate float in this chart.
This chart gives us an accurate timeline for planning our networking event. We can see which tasks we need to complete, the order they should be done in, and how long we can expect the project take.
If you're looking for more project management tips, learn how to create a product roadmap.