Whether it's a salesperson, a marketing rep, or a customer support agent, if a customer crosses paths with an employee, that employee represents your brand, and their behavior impacts how people perceive your company's approach to customer service.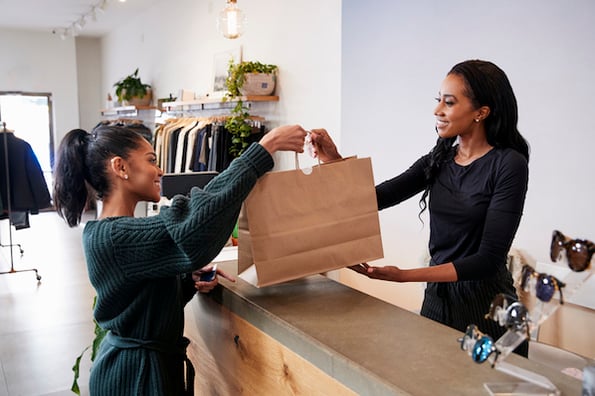 If a customer has a negative interaction with an employee, it doesn't matter which department that employee works in. They've still added friction to the customer's journey and possibly damaged your company's relationship with that buyer.
This is the nature of customer-facing jobs. When you work directly with customers, you're being evaluated constantly by both upper management and your customers. Not only do you have to meet the expectations outlined in your job description, but you also have to manage customer needs and prioritize their success over personal convenience. This can become a tricky balancing act that requires the right set of skills if you want to be successful in this role.
In this post, we'll explain everything you need to know about customer-facing jobs, including what they are, what skills they require, and what technology you'll use when working in this type of position.
Customer Facing
Customer-facing jobs deal directly with customers, whether that's in-person, over the phone, or through text-based mediums like chat and email. In these roles, it doesn't matter if your goal is to close a deal or solve a tricky support case, how you treat the customer makes a profound impact on their experience with your company.
Customer-facing positions are sometimes referred to as "frontline" roles since you're working in real-time with the customer. You're one of the first people to interact with a customer who's interested in your brand, and you'll set the tone for their experience moving forward with your business. Especially when you're working with potential leads or new customers, customer-facing roles play a crucial part in your company's ability to acquire and retain buyers.
Not sure if a customer-facing job is right for you? Let's review a few skills you'll need to be successful in one of these roles.
Customer Facing Skills
Emotional Intelligence
Active Listening
Problem Solving
Clear Communication
Persuasive Presentation
Self Awareness
Receptiveness to Feedback
1. Emotional Intelligence
When you're working directly with customers, you'll need to know how to read and react to emotions, The faster and more accurately you can diagnose how a customer is feeling the more effective your response will be.
2. Active Listening
Active listening is traditionally thought of as a sales skill, but it can be applied to any customer-facing situation. When someone is providing feedback or telling you about their problem, it's important to practice active listening and show them that you're genuinely invested in what they have to say. With active listening, you're not just telling the customer that you hear them, you're working throughout the conversation to show that you're engaged.
3. Problem Solving
In marketing, you never know when there's going to be a timely opportunity to promote your brand. For sales reps, you'll need to explain to customers why they need your product to accomplish their goals. And, for customer service personnel, it could just be that impromptu workaround that solves a recurring issue for a user. In the end, it doesn't matter if you're selling the product or supporting it, you need to be an effective problem-solver if you're working with customers.
4. Clear Communication
Another common element found within all customer-facing interactions is the exchange of information. Whether you're working in marketing, sales, or customer service, you'll need to explain something to a customer at some point in your career. If your explanation isn't clear, the customer is going to have follow-up questions, and if you can't answer these questions clearly, then it's probably going to lead to a friction-filled experience.
5. Persuasive Presentation
Not only does your communication need to be clear, but it needs to be confident and persuasive as well. Some customers don't trust businesses to begin with and will be dubious of your explanation if you don't make it convincing enough. The better you can present your information, the more likely that the customer will listen to your advice.
6. Self Awareness
One important skill you'll need in a customer-facing role is the ability to be self-aware. You need to know how the customer perceives your service and whether they think positively of their experience or not. If you think everything is going well when it really isn't, you'll have no clue why a customer left your business for a competitor after interacting with you.
7. Receptive to Feedback
When you do figure out why customers are unhappy, it's important to listen to their feedback and make changes based on their recommendations. As a customer-facing employee, you communicate on the company's behalf and need to be open to advice if a customer voices their opinion. Even if you don't think they're offering the best advice, giving them the courtesy and respect of hearing them out is key to succeeding in these types of roles.
If you think a customer-facing role is right for you, read on for a few careers in marketing, sales, and service that deal directly with working with customers.
Customer Facing Roles
All of the jobs below involve interacting with customers in real-time. To help you search, we've organized them by marketing, sales, and customer service departments.
Customer Facing Marketing Jobs
Market Research Analyst
A market research analyst studies the company's industry and determines how the business can take advantage of different trends and promotional opportunities. Part of this work includes surveying the brand's customer base and learning about the behaviors that are common for its target audience. To do this, marketers need to survey their customers frequently and may even invite them to participate in focus groups. These are where these individuals need to have strong customer-facing skills so they can get honest feedback from the people they're interviewing.
Average Salary: $54,000/year according to Glassdoor
Field Marketing Manager
Field marketing managers oversee campaigns that customers interact with in their everyday lives. This includes ads like billboards and posters and events sponsored by the company.
One good example of field marketing is Red Bull's promotional team.
If you've seen one of these cars, there's a good chance you've come across one of their reps who's giving away free drinks. These employees need to have great customer facing skills since they're promoting on Redbull's behalf.
Average Salary: $70,000/year according to Salary.com
Social Media Marketing Manager
If you're managing a social media operation, then you're going to interact with customers every day. As the manager of a business account, you'll be responsible for creating shareable content, but also for replying to comments and direct messages sent to your team's inbox. These channels are open 24/7, meaning you're available for customer communication essentially all day and night.
Average Salary: $54,000/year according to Glassdoor
Customer Facing Sales Jobs
Sales Associate
A sales associate interacts with customers in-person, over the phone, and through live chat and email. They find products that are ideal for qualified leads and close deals on behalf of the company. Customer service is important in this line of work as it can be the determining factor for whether or not you make a sale.
Average Salary: $34,000/year according to Glassdoor
Account Manager
An account manager enters the picture once a deal is closed. They work with customers after a purchase is made to make sure buyers have everything they need moving forward with the company. If a customer needs an upgrade or wants advice on how they can best use a product or service, they'll go to their account manager for assistance.
Average Salary: $62.000/year according to Glassdoor
Sales Development Representative
Sales development reps manage the beginning stages of the sales process, which involves researching, prospecting, and qualifying new leads. These individuals will often reach out to prospects to learn more about their needs or to connect with them on social media. Once they can identify the prospect as a qualified lead, they'll pass the contact information off to the sales associate to close the deal.
Average Salary: $50,000/year according to Glassdoor
Customer Facing Customer Service Jobs
Customer Service/Support Representative
Customer service and support reps are the first responders to customer roadblocks. If a customer or potential customer has an issue regarding your company, products, or services, then it's up to the service rep to troubleshoot their inquiry. This role requires a great deal of customer-facing skills as you're constantly working with people who have different needs, goals, and expectations of service.
Average Salary: $28,000/year according to Glassdoor
Customer Success Manager
Customer success managers, or CSM's, onboard new customers and manage long-term relationships with buyers. After a purchase is made, the customer success manager will onboard the user, answer any immediate questions, then ensure the customer has everything they need to be successful with the product or service. The idea behind this position is to empower the customer over time so that they trust your product or service is right for them.
Average Salary: $65,000/year according to Glassdoor
Customer Service Manager
A customer service manager oversees a team of service or support reps and plans broader strategies for supporting the overall customer base. They're responsible for making sure the team meets its recurring metrics and that customers are happy with their experience when interacting with support. For some managers, this involves working directly with customers who are frustrated with a support ticket and want to speak to someone who's higher up in the company. In these instances, your customer-facing abilities will play a critical role in whether this customer churns or not.
Average Salary: $37,000/year according to Glassdoor
Now that we've found the right customer-facing role for you, let's get you familiar with some of the technology you may encounter in your day-to-day workflow.
Customer Facing Technology
1. Help Desk
Help desks host a variety of customer service tools, including shared inboxes, self-service resources, and instant messaging software like web-based live chat and Facebook Messenger. These platforms make it easy to keep track of open support cases, answer user inquiries, and escalate issues to management or a specialist when customers need further assistance.
Help desks can also guide customers to solutions on their own. Some platforms will let you create a knowledge base, like in the example below, where customers can search for support resources that can walk them through troubleshooting steps for common user problems. This is a great piece of customer-facing technology that can save time for your support team while removing roadblocks for your customers simultaneously.
2. Ticketing System
A ticketing system lets you create individual documents where you can record details from your interactions with customers. Similar to the example below, these tickets store relevant case details so you can recall them later when you're troubleshooting an inquiry or following up with a customer in a later conversation. Ticketing systems help you personalize your interactions which creates a stronger connection between customers and your brand.
3. Social Media Management Platform
If you're interacting with customers via social media, then you may have to use a social media management platform to oversee your digital activity. These tools let you write, schedule, and publish posts to various social media accounts all from one centralized location. Some platforms will even let you monitor social media mentions, so you'll know immediately when your followers are talking about your brand.
4. Customer Feedback Software
When reviewing employee performance, customer-facing roles will often be measured in some way by customer feedback. Whether this is overall customer satisfaction or an individual metric like Net Promoter Score, management will want to know how customers feel about their interactions with the company's employees. Becoming familiar with this software will help you learn what customers think about your service and where you need to improve as a customer-facing employee.
5. Customer Relationship Management Software (CRM)
If you're working in sales or marketing, then you'll probably use customer relationship management software (CRM) on a routine basis. These tools are like supercharged contact books, except they record the customer's interactions with your company along with their personal information. Having this data readily available can help you identify customer needs and provide excellent service to your target audience.
For more information about customer-facing roles, read these reasons why you should take a customer support job.