Having a customer-centric approach is a proven way to differentiate yourself in the eyes of your target audience. No matter how big your business is, collecting and analyzing feedback is critical to understanding your customers, their pain points, expectations, and needs.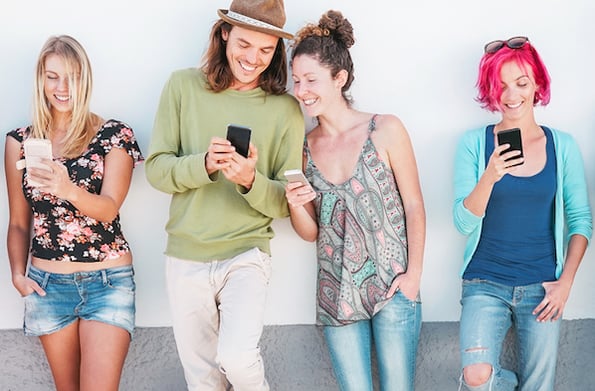 However, most customers don't have the time nor desire to share their experiences with companies. In fact, only one in 26 customers will tell a business about a negative interaction.
But, the good news is that there's no need to bombard your customers with surveys if you want to understand their experience. In the era of social media, Instagram is a great source of feedback as your customers are more likely to express their opinions within an online community.
For most brands, Instagram isn't the most obvious channel to gather customer feedback. So, in this post, we'll explain why you should use it as well as three proven ways to collect feedback on the platform.
Collecting Customer Feedback on Instagram
To understand why Instagram is useful for gathering customer feedback, we first need to look at a few statistics.
First, Instagram has over one billion users and these people are very active on the platform. For example, an average user spends around 53 minutes each day on the app. So, not only are people downloading Instagram, they're using it frequently to consume and share content.
Next, 80% of Instagram users follow at least one brand on the platform and over 200 million visit at least one business profile each day. This means that your customers care about Instagram content and are willing to engage if you participate.
Lastly, 70% of people use Instagram to discuss customer interactions and 89% of customer service professionals agree that social media empowers customers to share their experiences with brands. This justifies Instagram as a legitimate resource for gathering customer feedback. Customers are clearly interested in sharing their stories so that other people can engage with them.
Now that you know the importance of using Instagram for customer feedback, let's discuss three proven ways to collect it on this platform.
3 Ways to Collect Customer Feedback on Instagram
1. Encourage followers to share customer feedback.
It's important to show that you care about your customers, their thoughts, and their experiences. Why? Most people will never leave their feedback -- either positive or negative -- if they don't believe your business pays attention to it. As specified in this HubSpot article, 43% of customers don't share feedback because they believe that businesses don't care about it.
To fight this stigma, here are a few ways you can inspire your followers to provide feedback.
Provide customer service on the platform.
Do you know that 43% of people between 18 and 29 use social media for service-related needs? The digital communication is getting more popular, so social media customer service is a must for acquiring new customers.
When you provide customer service on Instagram, not only do you increase customer satisfaction, but you also encourage followers to share feedback. Big brands know the power of customer service, so they solve customer requests on Instagram promptly.
For example, Glossier interacts with its customers by replying to their comments on Instagram. Here's what it looks like:
Source: Instagram
People want to feel heard and valued, so when you listen to them on Instagram, you give them another reason to trust you. As a result, they're more likely to share their thoughts on how to make your product, service, and business better.
Ask questions about your product.
The simplest, yet most powerful way to understand what your customers think about your product is to ask them. And, if you play to their motivation, it can produce wonderful results like free data and customer insights.
It's no secret that people want to be a part of something important. According to Maslow's hierarchy of needs, belongingness is part of social needs, which drives human behavior. To encourage your customers to share feedback, involve them by asking them questions when you're building new products or improving existing ones.
Here's this strategy in action from Logitech G.
Source: Instagram
To establish a personal connection with every participant, the company added a link in the bio and encouraged followers to use it when sharing their experiences. It allowed people to express their thoughts without being discouraged or ridiculed by other followers.
Sponsor a giveaway.
Contests and giveaways help brands of all sizes achieve their goals faster. People love free stuff, and they're willing to fill out a survey for a chance to get something for nothing. This is where you can boost creativity and use the "how to enter" section to ask followers to share their thoughts about your product as one of the participation requirements.
If you're not a big brand with an army of loyal followers, referral marketing can help create a buzz around your giveaway and attract more participants. When you team up with niche influencers who have the potential to reach your target audience, you enter an already-established community of followers who are ready to share their thoughts with you.
For example, check out how Nazanin Kavari helped YMI Jeans boost user engagement.
Source: Instagram
In partnership with Nazanin Kavari, YMI Jeans created a post that got 4129 likes and 407 comments from Instagrammers who were happy to share their thoughts for a chance to win a free pair of jeans.
Asking an open-ended question, the company let their participants' imagination go wild, which resulted in hundreds of creative answers that helped the company better understand its customers.
Organize Q&A sessions.
No matter how good your product is, your customers may still have questions about it. If you want to ease the minds of worried consumers, host a Q&A live session.
Being available for a limited period of time, live sessions create a sense of urgency that drives user engagement. Simply put, your followers are afraid of missing out on something important, so it encourages them to join your session.
Take a look at how Rose Siard told her followers about a Q&A session.
Source: Instagram
When you go live to answer questions, you create a sense of inclusivity which motivates followers to share their thoughts and opinions. For brands, this means a valuable source of candid consumer opinion.
2. Proactively listen to your followers.
According to Adweek, 91% of consumers believe that social media can successfully connect people and 64% of users want to connect with brands on social media platforms.
With the growing popularity of social shopping, more people are sharing their customer experiences on social media to help other consumers make the right purchase decision. While it comes across as friendly advice, it's feedback being made in the public eye. For brands, this means an opportunity to gather customer data without being pushy.
Here are a few ways you can listen in on these conversations and extract their valuable insight.
Read your followers' comments.
Instagram comments have become an important element of the consumer-company relationship. When it comes to customer service, writing a social media comment is one of the easiest ways to share your thoughts with a brand and get heard.
Like all big companies, Whole Foods constantly gets many comments on Instagram. Customers share their pain points, insights, and ideas--sometimes within the same post.
Source: Instagram
The more comments you get, the more insights you'll receive. And, if you want to encourage users to leave comments, you need to interact with your followers because 83% of them expect brands to respond to comments within a day or less.
Monitor your brand mentions.
Not all brand interactions happen on your business profile. Since most people believe that companies don't care about their customers, Instagrammers share their stories with their following, rarely tagging the brand in question. In fact, 96% of people discuss your brand even if they don't follow it on social media.
Not surprisingly, unhappy customers are more likely to complain about their experience on their personal profiles. Just take a look at the example below.
Source: Instagram
Listening to your customers is a must for winning new clients and keeping existing ones. Not only does it help you understand customer pain points, but it also helps you build a positive reputation.
When companies don't receive mention notifications -- or simply ignore them -- they miss out on a vast amount of customer conversations. But, by using social listening tools companies can be alerted whenever someone mentions their account.
Analyze your direct messages.
Epsilon Research found that 80% of people are more likely to do business with a company if it creates personalized experiences. So, it's no wonder that more customers want to have one-on-one conversations with brands and will reach out with direct messages (DMs) on Instagram.
For brands, this provides an opportunity to establish a connection with a customer and encourage them to share feedback. However, that can't be done if their messages are buried deep within your inbox.
Remember, the more followers you have, the more direct messages you'll get, making it daunting to manage your Instagram inbox. And, if your followers don't get a reply on time, it's more likely they'll tell other people about their negative experience. For example, Made.com got these comments from its followers requesting a reply to their DMs.
Source: Instagram
When it takes days -- or weeks -- to get a reply, your customers lose interest with your brand which damages your reputation. In short, analyzing direct messages on Instagram is important if you don't want to miss out on valuable customer feedback.
But, if you realize that you can't meet your customers' direct messaging demands, it's better to tell your followers that you don't reply to DMs, like how Bootees did below.
Source: Instagram
3. Make the most out of Instagram Stories.
Over the last three years, Instagram Stories has become one of the most popular features on the platform. Today, 500 million people create or watch stories daily, which gives brands more opportunities to interact with users.
Moreover, Instagram Stories rolls out more features that make it easier for companies to gather customer feedback in an interesting and funny way. We can take a look at a few ways to do this using the examples below.
Add the poll sticker to understand your followers' preferences.
In October 2017, Instagram announced a one-question poll feature for its stories. Now, brands of all sizes have the opportunity to collect feedback interactively. It doesn't take much time or effort to vote, and users can see real-time results that attract more participants. Thus, more and more brands use this tactic to understand their followers' preferences.
For example, here's how Sephora uses the poll sticker to encourage its followers to vote on its cosmetics.
Source: Smart Insights
With its eye-catching templates, Sephora grabs the attention of its followers and encourages them to vote for their choice. As a result, it has a valuable source of market research data that it can use for future campaigns and updates.
Use the question sticker to collect your followers' thoughts.
If you're looking for another way to start a conversation, consider using the question sticker. With an open-ended question, you'll get detailed replies as customers can voice their complete opinion. As a result, you'll collect customer feedback, gather new business ideas, and find out what your audience wants to know about your company.
HubSpot often encourages its followers to share their thoughts, showing that the company is invested in their feedback. Not surprisingly, HubSpot receives dozens of replies to its polls, like in the example below.
Source: Instagram
With the question sticker, you can invite followers to comment on your products, customer experience, or customer support. And, once people feel that you're listening to them, they're more likely to express their genuine thoughts.
Include a clickable link to your survey.
Once your Instagram community has grown to more than 10K followers, you'll unlock the clickable link feature. This feature provides customers with quick access to your popular webpages, which helps drive more traffic to your site.
For example, Made In Nature uses the swipe up feature to help its followers find answers to questions on its FAQ page.
Source: Instagram
When it comes to collecting customer feedback, most companies use questionnaires. With clickable Instagram Stories, you can write a compelling call-to-action that encourages your followers to take customer feedback surveys without leaving the app.
For more ways to gather feedback, read about customer feedback strategies.