If you have five minutes, do me a favor and watch the video below.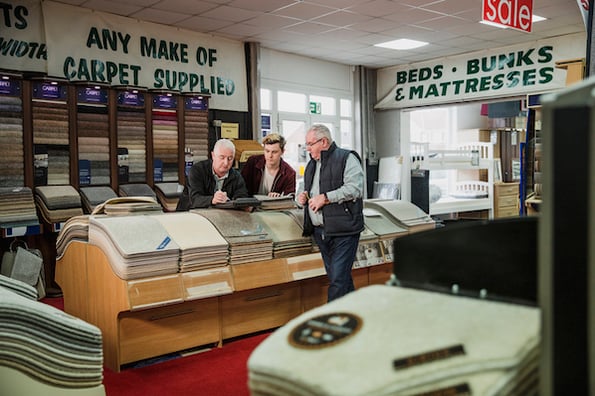 If you're in a bit of a hurry, I'll sum it up for you. This is a story about customer obsession from an unlikely source, the United States Postal Service or USPS.
The speaker talks about his experience with an extraordinary postman named, Fred. Fred is so dedicated to his clientele that he aligns his work with their schedules, provides security options for their mail, and even retrieves packages that are wrongly delivered by other postal carriers. Needless to say, Fred is the "postal professional" we've all dreamed of.
But, Fred doesn't do it for a reward. The USPS doesn't offer incentives for outstanding performance nor does Fred get any recognition for all of his hard work. When asked why he does it, Fred simply replied that he didn't want to waste any part of his day.
Fred's story is the epitome of customer obsession. He shows a nonstop dedication to customer needs and a consistent willingness to go above and beyond for his clients.
If you want your company to match Fred's example, read on for our breakdown of customer obsession, including what it is, its qualities, and companies that are considered to be customer-obsessed.
What Is Customer Obsession?
Customer obsession describes organizations that continuously add value to the customer experience. These companies collect feedback regularly and prioritize customer needs in every business goal. They're more concerned with retaining and delighting existing customers than acquiring new ones.
Customer obsession focuses on increasing retention and loyalty. By constantly improving the buyer's journey, your customers become more dependent on your brand. They can trust your business has their best interest at heart which increases their likelihood of repeat purchases and becoming a loyal advocate of your business.
If you're not sure if your brand fits this mold, take a look at the graphic below for some common characteristics shared by customer-obsessed companies.
Source: Vision Critical
Let's dive deeper into customer-obsessed qualities in the section below.
Customer-Obsessed Qualities
1. Prioritizes Customer Retention Over Acquisition
This is the biggest distinction for customer-obsessed companies. Most businesses focus on marketing and sales, bringing in new customers and closing as many deals as possible.
But, customer-obsessed companies take a more methodical approach. They implement customer service throughout the buyer's journey and look to create meaningful relationships with leads and customers. Once a deal is closed, the company adds more value to the customer's experience, increasing its chances of retaining that customer. After all, retaining a customer can be five to 25 times cheaper than acquiring a new one.
2. Focuses on Quality Over Quantity
Customer-obsessed companies are less focused on the size of their customer base but more concerned with the relationship they have with their users. They'd rather close a deal with one loyal user who will come back again and again instead of three quick sales that will likely churn after a couple of months.
If you want to become a customer-obsessed company, you need to direct your efforts towards customer relations and long-term customer success. This will develop a mutually-beneficial relationship that results in repeat sales and improved satisfaction.
3. Aligns Every Department With Customer Success
Customer obsession doesn't just include your customer service department. Every team at your company needs to implement customer service and align themselves with customer success. This will improve the entire customer experience, including before, during, and after the purchase.
4. Utilizes Proactive Customer Service
Proactive customer service involves solving problems before your customers encounter them. This lets users know that your business is looking out for them even when they're not shopping in your stores.
There are a few ways to integrate proactive customer service into your team's everyday routine. First, you can use email automation to trigger follow-up emails that are sent out after a purchase. These messages touch base with the user to see how their experiencing is going and provide support options if they have questions or need help.
Or, you can adopt self-service tools that provide support resources to customers who aren't interested in connecting with your team. Tools like knowledge bases and community forums save customers time by providing troubleshooting steps for simple or common problems. That way, your customers don't have to reach out to your support team when they have small questions or issues.
5. Driven by Customer Feedback
Before you make any changes to the customer experience, it's important to survey the people who matter most: your customers. Ask them how they feel about shopping at your stores and on your website. Use surveys like NPS® to gather quantitative and qualitative feedback so your team can make informed decisions when updating policies and protocol. The last thing you want to do is take something away that your customers really loved.
6. Analyzes Customer Data Routinely
Once you get your customer data, don't just let it sit around and gather dust. Put it to good use. Analyze it for trends, look for common problems, and, most importantly, share your findings with the rest of your organization. The last thing you want is data silos preventing other teams from accessing important information. That data can help marketing, sales, and customer service teams capitalize on timely opportunities to delight your customers.
If you're still not sure if your company is customer-obsessed, we've curated the list below of companies you can compare yourself to.
Customer-Obsessed Companies
Wegmans
Slack
Casper
Ritz-Carlton
HubSpot
Zappos
1. Wegmans
Wegmans is a regional grocery store that has become quite popular on the east coast. In fact, according to a 2018 Harris Poll, it finished second to Amazon in customer perception of the brand.
Source: Forbes
What makes Wegmans unique is its dedication to customer satisfaction. As a former employee put it, "management didn't want anybody leaving the customer service desk or store upset, so nine times out of 10, we gave people whatever they wanted."
In addition to customer service, Wegmans focuses on all aspects of the customer experience. It's known for its colorful fruit and vegetable displays and its delicious made-to-order food options. It also has an extensive digital coupon program that saves shoppers more money if they continue visiting its stores.
2. Slack
Slack is a messaging software that lets internal teams communicate with each other. It's so customer-obsessed that HubSpot's very own Chief People Officer, Katie Burke, happily provided a testimonial regarding how its product helped us scale our company's culture.
For example, Slack offers a personalized onboarding service for new users. Once an employee logs on, they're greeted with a customized message introducing them to the software and automatically inviting them to channels that management has preselected. As you can see in the image below, this saves our new employees from having to manually subscribe to channels.
Source: Slack
Slack also understands which features we need to be successful. Our Senior Vice President of International Operations, Jeetu Mahtani, notes that, "anytime we get a lead, we actually send it as a notification to our reps in Slack. They're getting real-time notifications, whether they're at their desks or on their phone, and can respond proactively, as opposed to waiting for something to show up in their inbox." Here's an example of what this looks like.
Source: Slack
With this feature, our Sales team is significantly more effective because they know when they have leads the moment the information comes in. They don't have to check their inbox, instead, they can open and approve deals all from the same interface. These types of personalized features are exactly what make our customer experience exceptional.
3. Casper
Casper is a revolutionary mattress company that delivers its products right to your door. The reason why it's so unique is that it makes mattress shopping convenient for the customer.
The company's website offers three types of mattresses, each at an affordable price, then delivers the product in one box directly to your door, even including a box cutter. When it arrives, all you have to do is cut open the box and the mattress expands to its full size. That way, you don't have to spend your afternoon trying to figure out how your new mattress is going to fit through your door -- as I did at my first apartment.
Additionally, Casper looks to add value outside the purchasing experience. It has a blog that discusses a range of topics surrounding health and wellness. You can read about ways to improve your sleeping habits or just entertain yourself learning about how dogs choose where to sleep. These types of features show how Casper is focused on much more than just selling mattresses.
4. Ritz-Carlton
As a luxury hotel brand, it's no surprise that Ritz-Carlton is dubbed one of the best companies for customer service. In fact, as you can see in the image below, in 2018 it led its industry in NPS with a score of 75.
Source: NICE
A few weeks ago, I was fortunate enough to stay at a Ritz-Carlton -- courtesy of a complimentary room, of course. And, let me say, the hype didn't disappoint.
Every employee greets you as you pass by, and I mean everyone. The staff makes you feel like a C-level executive and ensures every detail of your stay is exactly to your liking.
And, more importantly, it doesn't feel forced. I remember having a wonderful conversation with one employee who seemed genuinely excited that I was happy with the cleanliness of my room. He asked plenty of questions about the room and its amenities and made sure I didn't need anything else sent up for more comfort. I was so surprised to see a company so large and successful maintain that high quality of individual customer service.
5. HubSpot
At first, I was hesitant to put this company on our list for fear of bias, but I did want to highlight some of the incredible things HubSpot does to improve the customer experience. After all, it was voted the highest-rated marketing automation software in terms of customer satisfaction.
At HubSpot, we have extensive onboarding and academy programs that educate customers on how to use our products and optimize their potential. Our customer success team works regularly with our users to develop strong, lasting relationships that are centered around the customer's needs and goals. And, our marketing, sales, and customer service teams all work together with product development to create the best product possible for our users. Everyone at HubSpot is clear on the company's goals and is committed to its vision of success.
While we've scaled quite a bit since 2008, our company still maintains a deep obsession with our customers. This is inspired by our leadership who constantly reminds us who our work benefits. For example, I remember working in support and getting countless emails from our CEO, Brian Halligan, who would share testimonials from HubSpotters who were thrilled with their support experience. It seemed almost every other week we got an email from Brian who was always ecstatic to hear our customers were happy. That type of top-down leadership in a growing company keeps teams motivated and makes them feel appreciated.
6. Zappos
Zappos is an online retailer that has distinguished itself in its market through customer obsession. If you do a quick Google search, you'll find countless stories of Zappos customer service agents going above and beyond for their customers. To save you the search, we put a few of these stories below.
10-Hour Customer Service Call
In December 2012, one Zappos phone rep took a service call that lasted for 10 hours and 29 minutes. While the call went far beyond the company's product line, the rep remained calm and didn't rush the customer as they chatted throughout the day. In the end, the customer ended up buying a new pair of shoes and was delighted with their experience.
Needless to say, as a former call center rep, I have the utmost respect for this customer service agent.
Unfortunate Customer Situation
One customer had arranged to return some shoes, but her mother passed away before she had the chance to ship them. When Zappos had reached out to check in on the status of the shipment, the customer informed the rep about her loss. Zappos not only took care of the shipping at no extra cost, but it also sent a basket of flowers to apologize for their loss.
CEO Pizza Call
One night, Zappos' CEO, Tony Hsieh, was having some fun with his friends at a bar. When the bar closed they were looking for a bite to eat but couldn't find a pizza place to deliver. Hsieh was so confident in his support team that he had his friends call -- anonymously -- and request a pizza. While the support agent didn't send a pizza, he did locate three restaurants in Hsieh's area that would deliver to him.
If you're looking for more ways to become customer-obsessed, read about these customer service skills.