Many businesses use a CRM to manage their customer data. But, your CRM is a lot more than a database filled with names and addresses.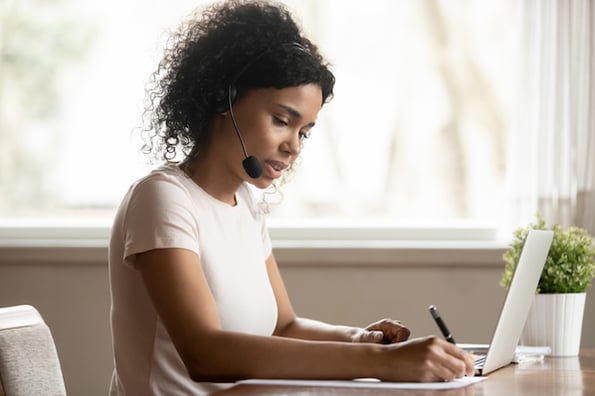 CRM stands for "customer relationship management," and the "relationship" part is potentially the most important aspect for achieving a high customer retention rate. The data stored in your system helps you improve customer satisfaction, foster customer loyalty, and respond to customer feedback. This lets you personalize the service experience even more, making it easier to retain valuable customers.
In this post, we put together a list of customer retention strategies that you can use in conjunction with your CRM. Using these best practices, you can turn one-time customers into loyal advocates of your business.
5 CRM Customer Retention Insights
1. Tweak (and Perfect) the Customer Journey.
For any business to be successful, it has to understand its customers as well as the pain points that they encounter when interacting with the brand. If you want your marketing communications to be effective, it must be relevant to what people experience throughout their customer journey.
Failure to understand customer needs means running the risk of losing them over time. One of the best ways you can better understand your customer base and gain insights for improving their journey is by analyzing data in your CRM.
Your CRM can help you build more detailed buyer personas, learn more about customer challenges, and get a more accurate picture of common touchpoints and interactions with your service team. Having this data handy will give you a complete representation of your customer journey, so you'll know exactly what your customers are going through and where you can improve their experience. If you keep visiting this data over time, you'll significantly improve your customer retention rate.
2. Widen Your Personalization Net.
Today's consumers expect personalized experiences.
Personalization is good for both the business and the customer. It increases sales and conversions (think of the personalized shopping recommendations on sites like Amazon), and it also provides a better customer experience by delivering content that's relevant and useful.
If we look at the chart below, we can see how personalization significantly improves a customer's interaction with your brand.
Customers who have positive experiences with your company are more likely to make repeat transactions. On the other hand, those who have less-personalized experiences may switch to one of your competitors in search of better service.
There's no doubt that personalization rewards those that make the effort to perfect it. 99% of marketers agree that personalization improves customer relationships, but achieving the level necessary to maximize those rewards can be tricky. Your CRM may hold the answer to how you can improve the personalization of your marketing messages.
For example, if you use your CRM to store as much customer information as possible — including details of customer interactions, preferences, and behaviors — you can then integrate this data with other marketing tools to both personalize and automate communications.
Here's an example from HubSpot.
Using a "personalization token," you can pull customer data, like name, company, and address, and automatically input it into an email template. This saves your team time from having to manually adjust the email for each customer, while still maintaining a personalized experience.
3. Set Service Expectations at the Start of the Customer Journey.
Every company should want to provide excellent customer service. However, many overlook the importance of setting service expectations at the start of the customer journey. This lets the customer dictate the level of service that they want to receive which leaves your team trying to keep up with expectations rather than exceeding them.
If you don't meet your customers' expectations, you have a higher chance of losing them. After all, would you keep giving your business to a company that's constantly disappointing you?
Clear communication is one of the cornerstones of setting customer expectations. As well as relaying information to your customers, make sure you ask them questions and ensure these responses are stored away in your CRM for later use.
One way to surpass your customers' expectations is by providing value without asking for anything in return. And, one of the easiest and most cost-effective ways of doing this is with content marketing.
Thought leadership content can educate and inspire your audience. It also builds brand trust and authority, which drives sales and increases conversions and customer retention. Again, your CRM data can provide topic ideas for these thought leadership pieces by looking at what your customers' problems are and then publishing informative content that helps them navigate these issues.
4. Establish a Robust Customer Feedback System.
In most cases, customers aren't leaving your business because they were lured away by a competitor or because they were dissatisfied with your product. Instead, most leave a business because they think the company is indifferent to them.
We can see this is highlighted in the graphic below.
A customer feedback system not only enables you to detect and deal with customer dissatisfaction but it also shows customers that you care about their opinions. Your CRM should be a vital part of this system because it can record feedback for later use and team members can recall this information during a future interaction with that customer.
For example, if a service agent records negative feedback on an account, a sales rep will see it the next time the customer goes to make a purchase. The sales rep will know that the customer isn't happy with the brand and can then personalize the experience to avoid potential churn.
The same works in reverse. If a customer tells the sales team they're unhappy with their purchase, sales can ping customer success to alert them to the issue. By recording the customer's feedback in your CRM, your customer service team will have all of the information required to adequately meet the customer's needs.
5. Prioritize the Post-Purchase Service Experience.
As a customer, your interactions with employees can make a major impact on your feelings towards a company. For instance, if you stayed in a 5-star hotel but got snooty, disinterested service, you probably wouldn't consider your experience a positive one — no matter how luxurious your room was.
Employees can make or break the customer experience. Ultimately, they're your most valuable asset and you need to make sure they understand how important they are to customer retention. After all, if you've done the hard work of attracting and converting leads into customers, the last thing you want is to lose customers because they can't get the help and attention they need.
Your CRM is a valuable asset in this regard because it can give service personnel all of the information they need to provide excellent customer support. If an existing customer reaches out with a service inquiry, your support agents will have their data available in the CRM. They can see if the customer reported the same problem in the past, has submitted positive or negative feedback, or has any lingering support cases that still need to be solved.
This also improves the service experience for the customer because they don't have to repeat any explanations of their problems. If they're transferred to a new rep, all of their case information is sent along with it, and the new support agent can simply pick up where the last one left off.
For more ways to keep your customers happy, check out these customer retention tools.