You've probably heard one of the more famous -isms in the world before: "The customer is always right."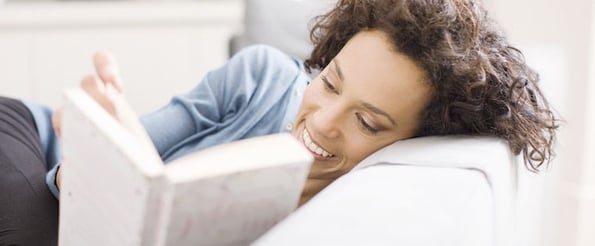 But you probably also know that "the customer is always right," isn't the only key to making customers so happy they stick around. There are a variety of other philosophies, strategies, and tools customer-facing professionals and teams can use to turn customers into loyal promoters and advocates.
But how do you learn everything you need to know to turn yourself -- and your team -- into a high-performing customer happiness engine?
There are a lot of things you can learn on the job when you work in customer service. But sometimes, it's faster to learn from an expert, so you can take their learnings after years of research and experience, and immediately implement them in your own workflow.
Peruse this book list to learn from the experts about customer service, customer success, leadership, and writing. All of these books contain valuable insights for anyone working in a customer-facing role, so pick one to get started on improving your knowledge so you can become an expert, too.
20 Top Customer Service Books
Customer Service Books
Read these books to learn about how to create an exceptional customer experience -- featuring real-world case studies and time-tested methods created by industry thought leaders.
Authors Frances Frei and Anne Morriss argue that, in order to provide exceptional customer service, you need to do other things less-than-exceptionally. That's right: The authors advocate for underperforming in one area of your business in order to excel at customer service -- because, they argue, you can't do everything well.
The authors encourage businesses to identify what their customers value most, prioritize excelling in that business function, and accept that this prioritization will result in underperformance in other areas. They argue that customer service will become a competitive differentiator for customers trying to choose among many different options, so this tough truth is also a necessary one.
Nordstrom has set the standard for customer happiness in the sea of its other department store competitors, so authors Robert Spector and BreAnne O. Reeves literally wrote the book on how they did it.
Key insights from Nordstrom include empowering self-motivated employees to go the extra mile to make customers happy, to prioritize ease-of-use for your customers across every touchpoint they have with your brand, and to always think like the customer to build a customer-centric brand on every team and function within your business.
Authored by customer service thought leader Shep Hyken, this book offers seven practical strategies to improve customer happiness and loyalty, including cultivating partnership with customers, providing unique membership awards, and building community with customers.
This book is all steak and no sizzle, with tons of practical ideas and strategies supported by real-world examples that readers can take into work with them as soon as they read.
Author Jay Baer wrote Hug Your Haters for a modern customer service organization that isn't just built on the phone or email, but on social media and on messaging apps, too. Baer implores readers to build their customer service organization around these digital channels, where the majority of customers share their rave reviews -- as well as their complaints.
In the book, Baer teaches readers how to handle your haters and your trolls, how to measure customer service productivity, the impacts of not addressing customer complaints, and how to use his frameworks for responding to customers complaints across a variety of online channels.
If you're not familiar with the Ritz-Carlton's famous customer service policy, it's pretty legendary: Every single employee, no matter what their role, has the discretion to spend up to $2,000 per day to improve customer experience.
This policy, and the principles and foundations behind it, have built the brand a legion of loyal customers, and in this book, author Joseph Michelli explains how other brands can build a similarly memorable brand and customer experience -- using principles like "empower [employees] through trust," "leave a lasting footprint," and "define and refine [the experience you want customers to have]."
Marketing mogul and author Gary Vaynerchuk regularly talks about the importance of 1:1 communication in marketing -- and his philosophies extend to the customer service world, too.
In this book, Vaynerchuk writes that the era of small courtesies is returning to the business world, now that social media has enabled businesses to communicate more intimately across different channels. He also writes that, if businesses don't pursue 1:1 customer care and engagement, they'll lose business to their competitors. This book will make you think about how to use the power of technology to more effectively grow and scale relationships with customers around the world.
Author Nicholas Webb has some things to say about the current state of customer experience: "Let's face it: Today, most customer experience programs are a disaster."
Webb things only businesses that offer "optimal" customer service will survive -- and that most businesses are a long way off from achieving that. The main reason, Webb argues, is because the technological innovations of the last few decades have made it easier for businesses to treat and review customers like data points, instead of treating them like real people.
Webb calls for reviewing each touchpoint a customer shares with your business, and evaluating what you can do, both online and offline, to improve each step of that experience. Optimizing each stage of the customer experience, instead of making broad-strokes changes, will satisfy individualistic customers who won't be satisfied by the bare minimum.
Customer Success Books
These books are about taking customer service to the next level -- into customer success. Once you've started solving your customers' problems and helping guide them toward other solutions and strategies for achieving their goals with your product or service, you can start building a customer success program -- one that helps your customers succeed so your business succeeds, and turns your happy customers into your loyal advocates and evangelists.
Authored by some of the pioneers of the customer success movement, this is the definitive book to read to get the lay of the customer success land -- focused squarely on improving customer loyalty, decreasing churn, and adapting to the advent of the subscription economy.
The book focuses primarily on subscription-based, software-as-a-service (SaaS) businesses, but the principles and ideas they explore are relevant to any industry or business. A key concept that's explored again and again is customer loyalty -- and specifically, behavioral vs. attitudinal loyalty. Attitudinal loyalty, the authors explain, is loyalty when customers love a particular brand or product, and it's ideal -- but difficult to achieve.
This book is authored by Frederick Reichheld -- one of the creators of the Net Promoter Score® -- the landmark customer happiness and loyalty metric many businesses use today. And like the NPS, the ideas originally published by Reichheld back in 1996 are some of the most widely-shared beliefs in the customer service and success spaces today.
Chief among his findings and arguments include the finding that loyal customers are cheaper to service than non-loyal customers, that loyal customers are typically more willing to pay higher prices because of their satisfaction with the brand and the products, and that loyal customers are valuable marketing agents, as their recommendations to friends and family provide free referral business.
Author Jeanne Bliss is a thought leader on the role of customer leadership -- like the Chief Customer Officer, for example. Her book outlines the five competencies she uses to evaluate and coach customer-driven executives to turn customers into a growth engine -- but they're useful principles to use as guiding north stars, no matter what stage of your career:
Honor and manage your customers as assets
Align around customer experience
Build a customer listening path
Proactive experience reliability and innovation
Leadership, accountability, and culture
In this book, author Jill Griffin delivers really practical, easy-to-implement advice about, well, what the title suggests: how to earn and maintain customer loyalty. Each section focuses on a different stage of the customer experience, and how to prioritize loyalty in each stage -- such as how to turn a first-time buyer into a repeat customer, how to prevent customer loss when you notice signs of churn, and more.
Authored by Zappos CEO Tony Hsieh, Delivering Happiness is another case study of a company made successful by its exceptional customer service. The book chronicles Zappos' one-of-a-kind company culture and commitment to customer experience that's made it as big as it is today.
Hsieh really believes that company culture is a determining factor and predictor of your business' success -- and the kind of service your customers will receive. Like the authors of Uncommon Service, Hsieh advocates for choosing one thing to do exceptionally well, instead of trying to be average at everything. And that one thing, he argues, should be customer service.
Leadership Books
These books aren't written strictly for customer-facing professionals, but they offer valuable lessons for leaders at the head of customer-facing teams, as well as ideas for influencing and building trust with the customers you serve.
"Hard skills" are technical skills and expertise, but author and career coach Peggy Klaus things "soft skills" are even more important to career growth -- skills like workload management, giving and receiving feedback, developing a brand, and more.
These soft skills are relevant for any customer service or success professional seeking to grow their career, and eventually, lead a team.
Another good read for anyone trying to build a career, author and speaker Simon Sinek's book details how successful leaders can inspire others to rally behind a cause or a mission -- and achieve it.
Sinek believes in the importance of putting the "why" before the "how" or the "what." In other words, successful leaders should focus on getting everyone on board with the purpose before diving into the process or product.
This is valuable guidance for leaders of teams and for customer-facing professionals in general. By focusing on the "why" of your customer, you will be able to more effectively navigate conversations to build rapport and trust with them, which will allow you to build a mutually beneficial relationship and inspire their loyalty -- to you and your brand.
You're probably already familiar with the concept of emotional intelligence -- the ability to understand and manage the needs and feelings of others, as well as yourself, and to respond appropriately.
This book takes these concepts further, with authors Travis Bradberry, Jean Greaves, and Patrick Lencioni that provides helpful tools, tips, and frameworks for building your emotional intelligence components. It even includes a helpful interactive quiz, which identifies your strengths and areas for improvement so you can focus on making the biggest impact on your EQ as possible.
Dale Carnegie's famous book still stands the test of time, and it's worth a read for anyone brushing up on their leadership and people skills -- at work, or in your personal life.
You can read a detailed summary of the book here, but below are some of the principles most applicable to someone building a customer-focused career:
Give honest and sincere appreciation.
Be a good listener.
Make the other person feel important.
If you are wrong, admit it quickly and emphatically.
Try honestly to see things from the other person's point of view.
Writing Books
No matter what your job, it's likely that it will involve a fair bit of writing -- and even if you're only writing emails in your role, it's important to have a few skills in your back pocket before you press "send." And customer-facing professionals have to spend a lot of time emailing their customers. Here are a few helpful books to read to brush up on your written communication skills:
Author Ann Handley's book is my blogging must-read -- in fact, it sits on my desk at work. Her actionable tips and guides are easy to implement in your day-to-day writing, as well as in your content creation (for example, if you write knowledge guide content or blog posts for a customer blog).
This book is made up of 74 short chapters, so it's easy to flip through while you're writing different things. Her suggestions for writing social media copy are particularly helpful -- and she encourages making sure to adjust tone and content for each platform and use case.
Business writing doesn't have to be boring, according to author Mish Slade. This book provides a ton of ideas and techniques for making every single word of your copy remarkable -- from your website to your social channels to your emails.
These tips are specifically about trying to read customers' minds -- to answer their questions clearly and concisely, which is why they're likely looking at your website in the first place. Tips for clarity and writing with enthusiasm will be of particular use for customer service professionals writing social media customer service copy, or knowledge base content.
A staple for any nonfiction writer, this book by William Zinsser teaches readers that everyone can learn to write well -- and that the keys to writing well are communicating authentic personality and helpful information. The principles in this book will teach readers how to write clearly and effectively to share important information, while still being engaging and creative in the process.
Another quick-hits read, author and New York Times editorial board member Verlyn Klinkenborg breaks down the minutiae of sentence structure to give readers a helpful guide to storytelling. As the title might already suggest, she advocates for writing short sentences in order to practice writing longer ones, so you can write content that's strong and balanced, and not unwieldy.
This helps create reader clarity -- which is critical when you're using writing to educate and communicate with customers.
What are your must-read customer service books? Share them with me on Twitter.
Net Promoter, Net Promoter System, Net Promoter Score, NPS and the NPS-related emoticons are registered trademarks of Bain & Company, Inc., Fred Reichheld and Satmetrix Systems, Inc.