When employees are unhappy with how management treats them — and how management allows customers to treat them — this can impact how they perform at their jobs. As a result, the company's strong customer service culture is in jeopardy because employees aren't inspired to serve the customer.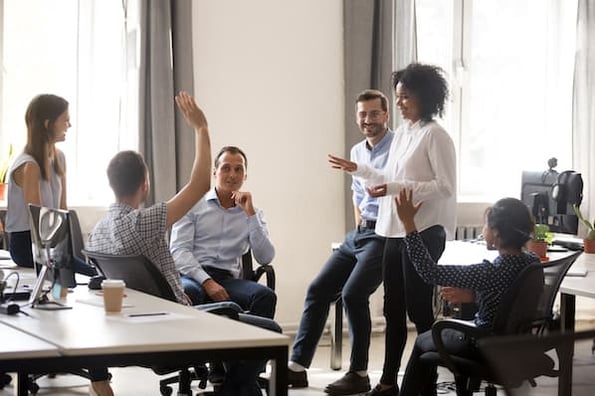 Shep Hyken, a customer service expert, accurately observed, "The reason an organization can deliver good or bad customer service comes down to one thing; what is happening on the inside of that organization. To sum it up in one word: culture."
In this post, we'll review what a customer service culture is, how to build one, and review a few examples to inspire your own culture.
Customer Service Culture
A customer service culture is about what's happening inside your company. The culture is how your company's visions, values, and mission are upheld with your employees and customers. With a positive customer service culture, your employees will feel empowered to put the customer first.
Let's dive into the actionable steps you can take to create a strong customer service culture that puts the customer first.
Creating a Customer Service Culture
Hire for culture.
Treat your employees well.
Create camaraderie on your team.
Build psychological safety on your team.
Invest in professional development.
Reward and provide feedback for employees.
Define and reinforce your culture.
1. Hire for culture.
To get started with your customer service culture, you'll need to look inward.
In fact, the most tangible thing you can do to create a positive customer service culture is hire people who embody your values.
When you're hiring employees, you should ask questions that go beyond experience and skills. Ask questions that help you determine if they'll not only embody your existing culture, but also add to it.
This means that you should ask about the candidates' values, teamwork experiences, problem solving skills, and how they prioritize their work. Shannon Howard at The Predictive Index lists 20 questions you can ask to determine culture fit and culture add.
For example, at HubSpot, our values are HEART (humble, empathetic, adaptable, remarkable, and transparent). Those values play a large role in who we hire.
Pro Tip: To get started, take a look at your values. If you don't have them written down, develop some. Start by thinking about the type of workplace you'd like to have if you had the best talent and unlimited resources. Then parse that down to a list of three to five statements like "My employees feel empowered to do their best work" or "Everyone in the company values continuous learning."
2. Treat your employees well.
Again, one of the only ways to build a strong customer service culture is to evaluate yourself. Ask yourself, "How do we treat employees?" and "If I were an entry-level employee, would I want to work here?"
Happy employees want to perform well, and they want to do right by the company. But making employees happy is subjective. Everyone's compensation, workload, and team are different. A standard place to start evaluating employee satisfaction is by analyzing the benefits they receive. Do these benefits contribute to your employees' well-being inside and outside the office?
For instance, a free, onsite yoga class at 7am each morning might seem like a great benefit on paper, but if only 10% of your team attends the class, you could be missing an opportunity to adequately compensate the other 90%.
Pro Tip: Culture is top down, not bottom up. If your leadership team truly embodies your values, your employees will model them. They'll be proud of where they work which is an important aspect of talent acquisition and retention.
3. Create camaraderie on your team.
To achieve a customer-oriented service culture, it's important to create camaraderie on your team. For people to do their best work, they have to enjoy the people they work with and view their job as a team effort.
One way to do this is to participate in team-building activities that will bond your team. By creating a teamwork environment, your employees are more likely to value the team over the individual, which is the first step to creating a customer-oriented team.
Pro Tip: In a remote or hybrid environment, it can be difficult to sync everyone's calendars and coordinate travel for large teams. Instead, try virtual team building activities for remote groups.
4. Build psychological safety on your team.
We've written about building psychological safety before, but it bears repeating.
If your team doesn't have psychological safety, they won't feel empowered to try new things or communicate effectively.
This means that people might not speak up about amazing ideas they have or admit when they've made a mistake. To truly empower your team to bring their best selves to work, they have to feel safe at work. They should feel safe to make mistakes and learn.
Pro Tip: To build psychological safety, you can work on inclusion in your team meetings or conduct team activities that are meant to help build camaraderie.
With psychological safety, employees will have the freedom to provide constructive feedback. This means that you have to listen to your employees and take their feedback seriously.
5. Invest in professional development.
Most of these tips are centered around your employees. That's because they are the ones who have to live and breathe your culture every day for it to reach your customers. For your team to continuously create a positive customer service culture, invest in training for them so that everyone's on the same page.
Pro Tip: Your employees should be knowledgeable about your product or service. To empower them to do this, you should be providing continuous professional development opportunities.
6. Reward and provide feedback for employees.
Your customer service culture should incentivize employees to follow through on your values in their interactions with your customers. To do this, reward employees who are providing excellent customer service and tell them what they're doing right.
On the other hand, if employees aren't quite grasping a concept, provide constructive feedback so they can improve. By doing this, you'll help reinforce what you want your customer service culture to be.
Pro Tip: Don't wait until your team members' annual performance reviews to give them feedback. Make a commitment to check in at least twice a year, if not every quarter, about what they're doing well and what they can do to grow.
7. Define and reinforce your culture.
Not to get too rudimentary, but your customer service culture should be written down. You should have your values, mission, and vision written out and clearly communicated to employees and customers.
This means that your managers and employees will have a guiding philosophy to help them make decisions. Plus, it helps inform customers what you're hoping to achieve so they can provide feedback.
So, you might be wondering, "What does this look like in action?" Let's review some examples below.
Customer Service Culture Examples
At HubSpot, creating a strong customer service culture is important.
That's why our co-founder, Dharmesh Shah, took the time to write it down in the HubSpot Culture Code.
According to Shah, "Like HubSpot, the Culture Code is a perpetual 'work in progress,' so we'll update it periodically. To date, we've updated it more than 25 times, and what you see is our latest version. It is a culture of amazing, growth-minded people whose values include using good judgment and solving for the customer. Employees who work at HubSpot have HEART: Humble, Empathetic, Adaptable, Remarkable, Transparent."
What we like about HubSpot's customer service culture:
By publishing and talking about our customer service culture, both employees and our customers understand what we stand for. That creates a sense of belonging on the team. Even candidates for open positions at HubSpot are encouraged to read and share their thoughts on the Culture Code. This resource is a great way for candidates to understand how they can add to the HubSpot culture.
When I studied Organizational Communication in my undergrad program, Zappos was the first company I researched.
It's well known for providing excellent customer service, even if that means helping a customer with a problem that has nothing to do with a Zappos order.
Tony Hsieh, the founder of Zappos, says, "To me, the Zappos culture embodies many different elements. It's about always looking for new ways to WOW everyone we come in contact with. It's about building relationships where we treat each other like family. It's about teamwork and having fun and not taking ourselves too seriously. It's about growth, both personal and professional. It's about achieving the impossible with fewer people. It's about openness, taking risks, and not being afraid to make mistakes. It's about being part of a story that never stops unfolding. And it's about having faith that if we do the right thing, then, in the long run, we will be a part of building something great."'
What we like about Zappos' customer service culture:
If you'll notice, both HubSpot and Zappos have founders who are passionate about their customer service culture. Both companies discuss it and have been intentional about creating a positive environment for both employees and customers.
Hsieh added, "Unlike most companies, where core values are just a plaque on the wall, our core values play a big part in how we hire, train, and develop our employees."
Creating a company culture has to be a work in progress. Slack understands this and they've worked to improve their company culture throughout the years.
In fact, they said that company culture is something that needs to be intentional because letting culture form unchecked can vary between fair to disastrous.
What we like about Slack's customer service culture:
At Slack, they value diligence, curiosity, and empathy. Nolan Caudill, the previous Engineering Chief of Staff, said, "At Slack, we want to work with people that have the skills to do their job and the gumption to do it well. They possess great empathy, as designing and building a great product is made up of countless acts of empathy, not only for the users but for those you do the work alongside. Diligence, persistence, an unrelenting bull-headed pursuit of Quality — this drive is what compels the kind of person we look for."
Again, it's made clear that at Slack, they hire for their culture.
All these companies take culture seriously and have it embedded in their strategies. It's important to note that these examples can provide inspiration, but they shouldn't be copied exactly.
You have to take a look at your company and see what works for you. To really get started on customer service culture, look inward, and evaluate how your team functions.
Editor's note: This post was originally published in July 2020 and has been updated for comprehensiveness.