It's 1958. You own a mom-and-pop store and know each of your customers by name. You weigh out every item – a bag of flour, rice, potatoes – by hand. You deal with every question or complaint personally.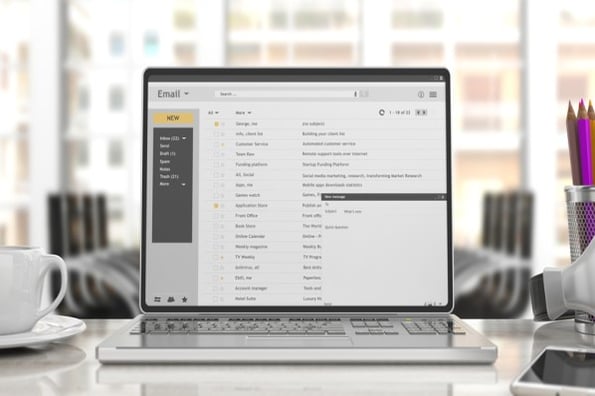 Fast-forward to 2019. You have thousands of customers located all over the world, each one purchasing your products or services and contacting you online or over the phone for help. You can't possibly keep up with this flood of customers, and your team is struggling to cope.
Enter the customer service desk.
Even in 2019, 72% of customers expect your customer service agents to "know who they are, what they have purchased, and have insights into their previous engagements" when they contact your company. In short, they want personalized service.
That's why customer-centric businesses need to invest in a service desk if they want to keep their customers satisfied. Without a tool that's purpose-built for keeping customer communications organized, businesses won't be able to offer that mom-and-pop level of service that customers still expect today.
In fact, 54% of consumers now claim that their customer service expectations are even higher than they were last year. This puts pressure on businesses to deliver a higher standard of service to retain their loyal customers. To do so, many companies are adopting customer service desks to help manage the increase in customer demand.
In this post, we'll break down what a customer service desk is, as well as why your business should add one to its customer service team.
What is a Customer Service Desk?
A customer service desk is a tool or software that helps customer service teams manage incoming service requests. Also known as a support center, the customer service desk is the single point of contact for customer service in your business. This system helps your service team communicate with your company's stakeholders, whether these are external customers or internal employees within your organization.
A service desk can be Information Technology Infrastructure Library (ITIL) compliant, which is a set of certified best practices for organizing customer requests. In fact, the term "service desk" originally referred to service desks in IT support, but any company can now benefit from a customer service desk. Your service desk is designed to deal with both incidents – disruptions to service – and service requests, providing a proactive form of customer service.
The alternative to using a service desk is a help desk or call center. You might say that the help desk is tactical, while the service desk is more strategic. A service desk usually incorporates elements of the help desk like the ticketing system – you have the ability to receive incoming tickets and manage them collaboratively. But, with a service desk you also have more oversight of the customer, and service delivery, than you would with a help desk.
In the next section, we break down some of the benefits your team can gain from adopting a customer service desk.
Benefits of Adopting a Service Desk
Customer service desks provide customer service teams with additional tools that help them solve your customers' problems. By having these resources at their disposal, your reps can provide personalized support and analyze common roadblocks that are impeding your customer's goals. To give you a better idea of how they can help, here are a few ways that adopting a service desk will assist your team in improving the customer's experience with your brand.
Proactive Support
The main benefit of a service desk is proactively being able to serve your customers, instead of passively waiting for incoming support tickets. This helps your team live up to your company's goal of being a customer-centric business.
Improved Productivity
The service desk also helps you organize and manage your tickets more effectively and works more collaboratively by assigning tickets to the correct agents. For example, it's possible to categorize your tickets with meaningful words and phrases and give them a status like open, closed, or unresolved. That way your reps can quickly organize their open cases and help other reps who are struggling to find solutions. Since 42% of customers expect businesses to reply to their queries within one hour, you can use features like these to keep track of open cases and respond to customers in a timely manner.
Advanced Reporting
You can also assess your productivity with your service desk, and help individual employees track their performance. You can tag tickets with a due date and a closed date, then run reports on which tickets were closed on time. You can also set important targets to meet, like closing high priority tickets 100% of the time.
Your service desk software can demonstrate the value of customer service in your organization by freeing up more resources to go above-and-beyond for customers. You can analyze ticket volumes for different issues and prioritize tasks more effectively. Repetitive but simple issues can be transferred to the knowledge base. You can even automate some of your internal processes to get more done with the same amount of time.
Service Desk Features
There are several features that a service desk can provide. This is because the overall aim of the service desk is to enable your business to proactively manage your customer service operations and create a delightful experience for your customers. Below are some features you can expect a service desk to include for your business.
Shared Inbox
A shared inbox is the central point of contact for all incoming customer issues. Reps have access to this inbox and can assign themselves or teammates open tickets.
Service Request
A customer service desk should have the ability to log new service requests which are routine like customizations or upgrades.
Incident Management
A customer service desk should handle technical issues like breakdowns and product glitches.
Problem Management
Your service desk should also understand what problems are already being worked on and identify areas causing the most problems.
Change Management
Change management is a feature that proactively tackles issues caused by planned changes to services.
Automation Rules
Automation rules program your internal workflows to run automatically so your reps save more time performing their day-to-day tasks.
Configure SLAs
SLA (Service Level Agreement) status information helps your team prioritize incoming tickets. This way your reps can respond to the most urgent cases first.
Knowledge Base
Your service desk should have the ability to create a self-service knowledge base from customer support tickets. This provides customers with a self-service option for support.
Reporting and Analysis
Your service desk should have detailed reporting and analysis tools. It should let you view data on important metrics that help you improve your customer service.
Integrations
Your service desk should allow you to integrate it with other customer service, IT, and business software that your business already uses, or plans to add in the future
Examples of Service Desk Software
There are a variety of service desk software solutions available, and the one you choose depends on your business's needs. Below are some examples to get your search going.
HubSpot
An excellent one to get started with, HubSpot's ServiceHub has an intuitive interface with a shared team dashboard. It's easy to set up and configurable for different types of workflows. HubSpot's ServiceHub includes a ticketing system as well as advanced automation features like chatbots that can help your team manage incoming service requests.
Price: Free
Net Help Desk
Net Help Desk is one of the most reputable products in the help desk industry. It's accessible on-premise or through the cloud and offers a feature-rich application with a simple user interface. All service features are listed within one centralized page, and users can quickly search for different functions without having to navigate away from that page.
Price: $20/month
JIRA Service Desk
JIRA Service Desk is a modern service desk software made by Atlassian. Its primarily designed to help development-focused teams manage both internal and external service requests. The big advantage of JIRA Service Desk is its easy integration with other JIRA software. If your business already has another JIRA application, you can simply integrate the two software and have them supplement one another.
Price: $10/month
Freshservice
Freshservice is a customer service tool that's part of the Freshworks ecosystem. Freshservice is an online ITSM solution that includes "incident management" software that helps your team organize and assess customer service tasks. It includes a ticketing system as well as self-service features that help customers find their own solutions to their problems.
Price: $19/month
Check out our post containing 13 examples of the best service desk tools.
Tips to Improve Your Customer Service Desk
According to 62% of customers, customer service insight and knowledge is crucial to providing an excellent support experience. This is where your customer service desk comes in handy. Align your service desk tools with your business goals to maximize the effectiveness of your customer service efforts.
For example, when it comes to ticket management, make sure you're tagging tickets consistently to measure the issues being raised and solved. This will provide you with time insight regarding the type of problems your customers are experiencing. Then you can redefine your key metrics around these problems to measure whether your service has improved over time.
Additionally, you can use a service desk to outline escalation procedures so agents know what to do when faced with an urgent or critical problem. These procedures should encourage your employees to convert common ticket responses into self-service knowledge base content which will help reduce the need to handle repetitive queries.
Although customers desire the speed of a digital response, personalized service is what keeps them coming back time and time again. Give them that authentic mom-and-pop experience by providing customer service that both meets their expectations and exceeds them. Remember that your customer service desk is still your most useful point of contact with your customers, and more of a growth center than a cost center. It's a tool to help you proactively serve your customers, and build a customer-centric business.
For information about customer service desks, read about the 13 best customer service desks.