Your company has to provide every single customer with undeniably good customer service. It's that simple.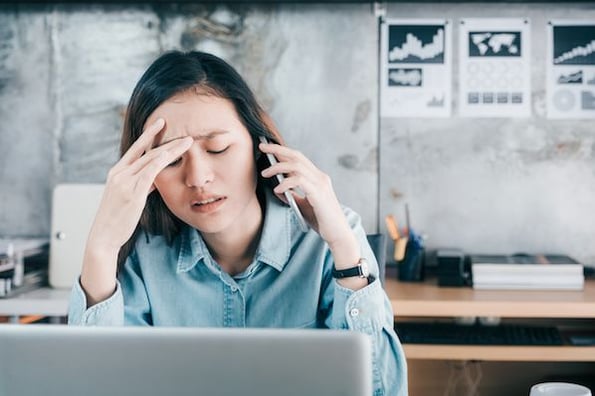 Why? Because if your potential and existing buyers are left unimpressed by your business's support -- or even enraged in worst-case scenarios -- they're unlikely to return. They may even spread the word of your brand's failure among their friends and relatives on social media. And you can be sure their colleagues will hear about it, too.
Even one negative customer experience may be enough to have an impact on your reputation, and with so much competition in every industry, you can't afford to leave good service to chance.
No business is perfect. Mistakes happen -- but some are far more damaging than others. In this blog post, we'll review five of the biggest mistakes you can make that will impact your service -- and how to avoid them.
5 Customer Service Mistakes to Avoid
1. Understaffing Your Customer Service Team
We've all had an encounter with a company we knew we'd never buy from again. Just one unreasonably long wait on hold may have chased you away to another brand.
You never want to put your customers in this position.
A fast, efficient response is critical. If your customer service department is too small for to cope with demand, you have to take action to correct this now.
Of course, this is easier said than done if your business is small. A startup with a growing list of customers and a tiny team is obviously going to struggle to accommodate dozens (if not hundreds) of calls. Those customers who actually manage to get through to a rep might not receive the close attention they expect.
You have to be adaptable to changing demand as your brand evolves. Employing new customer support staff equates to extra expense, and while you might find paying additional salaries tougher, you'll receive a return on your investment when exceptional service helps retain existing customers and generate new ones.
Meeting the needs of your audience and leaving them satisfied should be paramount. Don't become complacent. If you don't know where to start, consider investing in some good hiring software, and read these ideas about how to appropriately staff your customer support team.
2. Hiding Your Contact Information
Social media, text message and live chat have transformed the business-consumer relationship, offering customers greater convenience than previous generations enjoyed.
You should give your audience an extensive selection of communication channels to choose from on your 'Contact Us' page, incorporating as many different methods as possible. This is especially important if you're aiming to engage millennials. Younger consumers are used to (if not reliant on) a range of ways to communicate with friends, family, and businesses they choose to work with.
Social media is a convenient way to interact with brands -- whether to complain, ask for information or to offer praise, while live chat connects customers directly to a support rep in a matter of seconds, for free.
Live chat is supported across desktop and mobile sites, usually with an unmissable icon somewhere on most or every page. Clicking this typically opens a menu requesting the customer's name, and email address, and waiting times tend to be kept brief.
A major benefit of live chat is that any customers who feel unable to articulate themselves verbally can explain their issue over text with more care. They can also read and re-read the support rep's words for clarity, reducing time wasted on miscommunication and repetition.
In short, be available by any means, and make it clear when and where your customers can reach out.
3. Failing to Unify Your Documentation
So you need to be available on multiple communication channels for your customers. But this raises a key concern: If people are reaching out to you via email, live chat, social media, phone and even mail, what are you doing to collate the information gathered?
Your customer service must be cohesive. If your reps can't access the details they need during a call or interaction, they may ask the individual to repeat the same information over and over and over. This might fall on deaf ears too if your staff are scouring different files trying to find the right records.
Miscommunication, confusion, and customer frustration can all follow.
Various tools are available to keep your customer service data unified in an easily-accessible, manageable platform. Customer service software is a powerful resource for businesses of all sizes, enabling staff to keep track of interactions across multiple channels. As information is collated from different touchpoints, your customers won't have to explain themselves every time they speak to a representative, and reps will have past and present customer conversations in context.
A more unified shared inbox can help your customers feel more valued and as if they are actually being listened to. As a result, your brand will appear more professional and organized.
4. Not Offering Self-Service Options on Your Website
The humble FAQ page is a common feature on websites across all industries. Visitors are free to browse a list of different questions and find their answer at their own leisure. There's no need to call a costly customer service line and the information can be referred back to anytime.
Additional resources may be available alongside the FAQ page, such as buying guides, videos, user manuals, white papers, a knowledge base, and more. All of these empower consumers with the flexibility to help themselves, rather than being at the mercy of your support department.
If you offer no self-service options, customers might feel annoyed that they have to spend time reaching out for assistance instead of helping themselves.
Self-service content reduces the strain on your support team too, leaving them free to focus on more pressing calls and interactions. This cuts customers' risk of being put on hold too.
If your site has no self-service content available, you're letting customers down. Help them help themselves, but let them know you're available if they need you.
5. Skimping on Customer Service Training
Don't just assume your reps know what to do and what not to do. You can't expect them to deliver quality service if they have no training, or were subjected to a dreary day-long lecture when they first joined the company years earlier.
You have to invest in your customer support department for consistently-high performance. Training should be an ongoing, dynamic process to keep your staff working at their best. In fact, HubSpot Research found that companies that prioritize customer service training and education are more likely to be growing their revenues than other companies -- so it's an imperative for customer service and overall business success.
The better their knowledge, the more capable they will feel and the more competent they will appear to customers. Staff should be able to handle all types of query and provide the support callers require, whether they're making a complaint or heaping praise upon your brand.
Provide your customer support reps with the latest tools and technologies to help make their work easier, and incorporate different training techniques. Listening back to recorded conversations lets you identify where and when staff make mistakes, enabling you to make improvements in the future.
Keep helping individual reps hone their talents and concentrate on their weaker areas. Try to avoid subjecting all staff to the same generic training if only certain people will benefit from it.
Is your business guilty of any of these mistakes? If so, make every effort to put things right and give your customers the exceptional service you know they deserve. It may not always be easy, but it's worth it.
To learn more, read about how to provide customer service that goes above-and-beyond next.