All the best teams have nicknames: "The Dream Team," "The Steel Curtain," "Murderer's Row."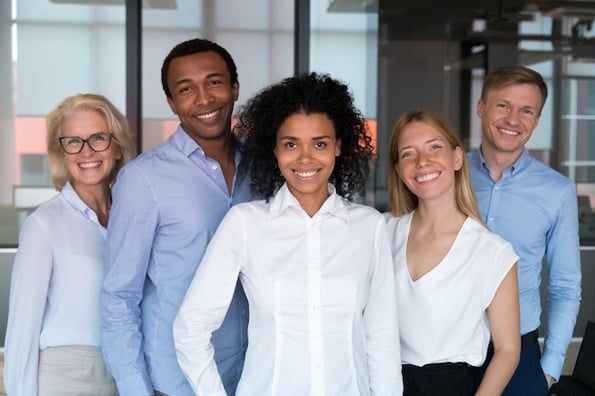 These teams earned their nicknames for the unbelievable talent and the unique characteristics that set them apart from other teams in their leagues.
While there's no customer service hall of fame, your team is still competing for this same type of glory. Instead of competing against other service teams, you're working against competitors in your industry, and for a prize that's worth much more than a trophy or a cup. You're competing for the loyalty of your customer base.
As your company works towards this title, you'll need a catchy nickname that best represents your team. Team names foster collaboration and create a sense of community with your reps. They're a fun way to build team morale and unify people who may not have as much experience working in a team environment.
Choosing a team name should be a group effort. Everybody should get a say in what the team will be called. But, if you're having trouble finding inspiration, below are a few ideas that you can use to get started.
1. Professional Team Names
If customers are going to see your team name, then you may want to go with a more professional approach. Whether you know it or not, your team name can influence customer perception and a good name can make people more likely to trust your reps.
Take Apple, for example. They named their service team, "Geniuses." Now, every time you need help with an Apple product, you get to work with a genius who knows everything about it. It's a subtle marketing tactic that can distinguish your brand from its competitors.
Here are some names that will make your team appear more professional:
Customer Service Experts
Customer Experience Specialists
Customer Service Gurus
Customer Support Squad
Customer Care Team
The Support Ninjas
2. Punny Team Names
If you're looking for a more light-hearted approach, you can never go wrong with a good pun. This is typically a good approach to take if you have a more casual company culture.
Here are some punny team names that will give your reps a chuckle:
The Screen Team
Calling the Shots
Out of Service… Now Back In
Hashing It Out
Dialed Up
3. Location-Based Team Names
One easy route you can take for inspiration is geography. If your employees are local, they'll take some pride in having a team name that's affiliated with their home.
Here are a few examples you could use:
The Townies (Charlestown or Boston, MA)
Team Alcatraz (San Francisco, CA)
The Rockafellas (New York, NY)
The Angels (Los Angeles, CA)
The Black Sox (Chicago, IL)
4. Pop Culture Team Names
Pop culture is another good source of inspiration when it comes to picking a team name. Movies, music, and news offer great opportunities to create names that are clever and relevant to your reps. By choosing a movie or music artist that everyone is familiar with, you can effectively highlight a hobby or interest that your entire team shares.
Here are a few ideas we came up with:
The Avengers
Smells Like Team Spirit
The Fast Five
The Rolling Phones
The Magnificent Seven
5. Simple Team Names
Sometimes team names are more for functionality than team morale. For example, if you have a large customer service team that you want to break into smaller groups, you'll need a system that identifies each subteam. Simple names can make it easier to onboard new teams because you already know what they'll be called.
Here are some examples:
The Team Manager's Last Name
Colors
Numbers
Planets
Street Names or Neighborhoods
6. Funny Customer Service Team Name
Not trying to take yourself too seriously? Below is a list of funny customer service team names you can choose from.
Game of Phones
Call Center of Duty
Call Me Maybe
The Fast and the Curious
One Call, Two, Red Call, Blue Call
Hung Up On you
The Brogrammers
Worst Case Scenario
7. Creative Customer Service Team Names
If any of the names above didn't catch your attention, here are a few more that may not be funny, but are still very creative.
TKO (Technical Knockout)
The Eliminators
Brain Over Braun
Fort Support
The Pink Tank
The A-Team
The League of Extraordinary Service Reps
Now that your team has its name, you can return to work with these free customer service training materials.