If you spend time online researching customer service and support, chances are, you've encountered Shep Hyken before.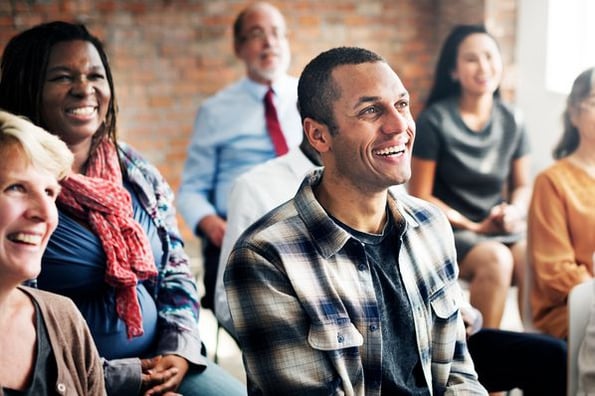 He's an industry thought leader who writes and speaks extensively about creating a great customer experience by building a customer-focused culture.
I first got to know Hyken at Support Driven's SDX event in Portland, Oregon, where he spoke extensively about the challenges and opportunities facing modern customer support teams.
We sat down recently so I could pick his brain about building and scaling a productive customer support team -- and I've distilled his thoughts into six key lessons company executives, team leaders, and customer support reps can all learn from.
6 Pieces of Leadership Advice from Customer Support Expert Shep Hyken
1. How to Build and Scale a Customer-Centric Company Culture
Hyken believes you shouldn't start scaling your customer support team until you have a strong customer-centric company culture in place.
"I call it customer focus," Hyken explained, "because before you can be great at customer service, you need a culture that provides for it."
When a company is just starting out and only one or two people are handling customer support requests, it's easy to be customer-focused. But once you start building your team, it gets more difficult to stay aligned with the vision -- which it why it needs to be strong before you start making additional customer support hires.
There are six steps to building a customer-centric culture:
1. Set the Vision
Company or team leadership should set a clear vision for what customer service should be. It should consist of one sentence or phrase that easily sums up the philosophy. Hyken's customer service vision, for example, is "Always be amazing," and The Ritz-Carlton Hotel Company's is "We're ladies and gentlemen serving ladies and gentlemen."
2. Communicate the Vision
This mantra for your customer service vision should be widely and constantly communicated throughout your company. Anyone should be able to repeat it verbatim because it should be succinct, clear, and impactful.
3. Train Employees on the Vision
Every new employee, no matter what department or team they work in, should be trained and reminded of the vision (because everyone works in customer support, even if they aren't on the phones every day).
4. Model the Vision
Company and team leadership should model the customer service mission for the rest of the employees at all times.
5. Defend the Vision
There are growing pains any time a team or company scales. Leadership should defend the vision in times of growth, strain, or poor feedback from customers.
6. Celebrate the Vision When it's Working
Along those same lines, leaders should call out and celebrate employees and teams who bring the vision to life for their customers so employees are continually motivated.
Then, once you've built a strong culture that you know your employees can repeat verbatim and live by every day, you can evaluate if and when you need to scale your customer support team.
When to Scale Your Customer Support Team
Companies are all different, which means the customer support issues will differ, too. The types of customer issues, length of time required to resolve issues, and average number of calls an employee can take each day factor into the decision of when to start making more hires.
Hyken's advice? "If there's friction involved for your customer to contact support, it's time for a change." If, for example, you require customers to fill out a form to get in touch, or to wait on hold before they can reach an available customer support rep, you're adding unnecessary friction for a customer who's already experiencing friction using your product or service.
Hire additional reps to cut down on hold times, eliminate the need for forms, or to manage live chat to provide people with immediate assistance. But as companies scale, leaders and executives shouldn't become more distanced from the front lines. Instead, leaders should take time shadowing or even taking customer support calls regularly so they can keep a pulse on the customer as the company grows.
2. How to Use AI and Bots to Improve Customer Support
Hyken believes artificial intelligence (AI) and bots belong together, working behind-the-scenes with customer support to provide a better experience.
And while some people are worried about these technologies replacing human jobs, he thinks that, for now, they're only serving to help humans working in customer support by optimizing their workflows and providing even more information to help improve customer experience.
For example, chatbots can be used when customer requests come in over live chat to identify the customer, answer initial questions, and eventually, route customer requests seamlessly to a customer support rep. They can eliminate some of the friction required of customers by quickly and easily identifying them, and they can facilitate a seamless handoff to human employees by knowing when a question is too complex to answer, or when the customer is getting frustrated (thanks to AI).
AI can help support employees too -- by serving as an "intelligent assistant" and listening in on (or watching) the information the customer support employees are sharing with customers. AIs can simultaneously conduct research, or check a database, to provide the information reps need before they need it to answer questions.
AI can also help provide predictive support by offering suggestions for upselling and cross-selling. By analyzing patterns and trends among other customers, AIs can suggest to reps a product, service, or issue the customer might run into next -- so they can get ahead of it and provide a better experience.
3. How to Provide Customer Support That Pays Instead of Costs
"I believe customer service doesn't cost -- it pays," explains Hyken. "Just like advertising earns money by bringing people in, customer service pays by bringing people back."
Customer service and support used to only be about angry customers and resolving issues. But nowadays, it's an entire-company philosophy that sales, product, and marketing teams collaborate on, too. And the goal of all of this collaboration is driving customer loyalty, so customers keep coming back and sharing their experiences with you with friends and colleagues.
Customer support reps should always be asking themselves: Is what I'm doing right now -- the information and help I'm providing -- going to get the customer to come back the next time they need my help? If you're doing it right, the answer should be "yes."
Ingrain this mindset into your customer support team by encouraging high Net Promoter Score® and customer satisfaction results after calls and resolving issues by asking for customer feedback. Make it into a competition on the floor, or use good ratings as an opportunity to celebrate and motivate individuals.
4. How to Get Customer Feedback (Without Annoying Your Customers)
It's important not to fatigue your valued customers with too many surveys in their inbox every week -- which Hyken sees as the beauty of quick and easy NPS or CSAT survey questions after a support interaction: They don't take longer to fill out than the actual customer support interaction, so they won't tire out your customers.
Make sure you take into account the length of the survey, the relevancy of the questions, and the timing of deployment of your surveys. You don't want to ask for feedback too soon (for example, before a customer receives something they ordered from you), but you don't wait to wait too long to ask for feedback, either.
Above all, respond to any and all customer feedback you get -- whether it's positive or negative, and no matter where it appears. Particularly if a customer leaves feedback on social media, where they're potentially looking for engagement faster than via phone or email, it's important to triage and acknowledge every piece of feedback you get so customers feel valued and heard.
5. How to Prevent Burnout in Customer Support
Hyken thinks it's important to make customer support a destination career at your company -- and not a stepping stone.
Customer support reps who feel burnt out or devalued in their roles aren't just a liability for your company -- because they won't provide above-and-beyond customer service if they're demotivated. It's also a toxic work environment for them.
Instead, make sure you're providing an environment where people-oriented employees with a knack for problem-solving can thrive and grow.
Treat your employees like stewards of your brand -- which they are -- and make sure they have proper resources to grow and learn. Compensation, education and training, and ample leadership opportunities help with this.
Additionally, hire the right people for the job from the start. Make sure you're hiring people with the right personality -- and a thick skin -- to be successful in customer support. And don't be afraid to hire someone without traditional customer support experience -- because anyone with a hospitality mindset will treat your customers the way you want them to be treated.
Finally, giving customer support reps time away from the queue to work on other projects is vital to preventing burnout. It helps reps grow other skills that can help them better help customers, and giving them time to build a skill or work on a project they love might help reps handle the daily grind.
6. How to Transition to Providing Customer Support and Success
Hyken thinks you should make customer relationships about customer success from the moment you start onboarding them. So, instead of waiting for your customer base or company to grow to a certain point before investing in proactive customer success, you can start building loyalty and an emotional connection to your company from the very start of the relationship.
"If all you do is answer customer questions, you're doing them a disservice," says Hyken. Instead, by taking the time to build rapport and understand the customer and their needs, you have the information you need to develop a partnership where you can proactively offer up suggestions and solutions to help the customer achieve greater success with your product or service.
After all, you're not doing your customer any favors by failing to make suggestions that could help your customer get better results -- and good suggestions like that help move your relationship to a partnership.
Key to customer success is employee empowerment -- providing your team with the resources and autonomy to do what needs to be done to provide value to the customer and -- hopefully -- cultivate loyalty.
To read more from Hyken, read his latest customer service blog posts here.
Net Promoter, Net Promoter System, Net Promoter Score, NPS and the NPS-related emoticons are registered trademarks of Bain & Company, Inc., Fred Reichheld and Satmetrix Systems, Inc.