Customers today have more ways than ever to discover, research, and buy products. However, 93% admit that online reviews directly impact their buying decisions. So, if you don't have enough customer testimonials from satisfied buyers, your business runs the risk of falling behind your competitors.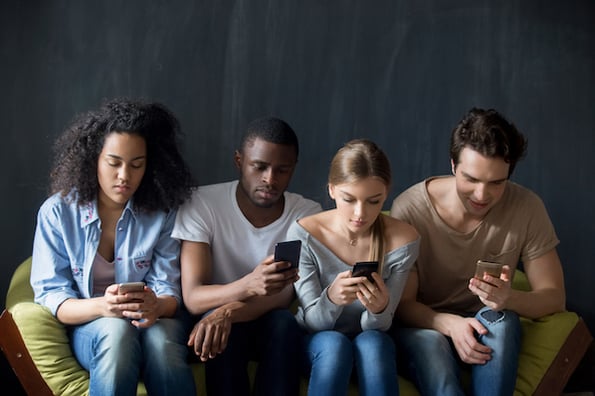 Living in the digital era, we can share customer testimonials on social media to acquire new customers and keep existing ones. In fact, 71% of customers will buy from your business based on its social media referrals.
Since Instagram is one of the fastest-growing social media platforms, it's a channel you should be considering when requesting testimonials from your following. In this post, we've gathered three ways you can obtain customer testimonials from your Instagram account.
7 Ways to Obtain Customer Testimonials Using Instagram
Optimize your account for social proof.
We live in an unprecedented age of options which means making decisions is hard. Customers want to feel confident about their choices, so it's no wonder they seek out social proof before purchasing a product.
Social proof helps to build customer trust, validate purchasing decisions, and create credibility for your business. Simply put, social proof helps to sway potential customers and influence consumer behavior.
If you want to make it easier for both Instagram users to read and share customer reviews, it's important to optimize your Instagram account for social proof.
Here are a few simple ways you can do it.
1. Include a call-to-action in your bio.
Being limited to 150 characters, your Instagram bio is still a powerful marketing tool. Why? The average person has an attention span of about eight seconds, so you don't have much time to grab your audience's focus.
Your bio must be enough for your visitors to take a quick glance and know that they can trust your business. This means you should include a call-to-action (CTA) that enlists readers to spread the word about your product.
Here's a good example of this strategy used by J.Crew.
With a specific brand hashtag "#withatwist," not only does J.Crew encourage customers to share their photos on Instagram, but it also makes it easy to find and curate authentic images of customers wearing J.Crew's products.
2. Share customer reviews via Instagram Stories Highlights.
Do you know that 91% of customers between the ages of 18 and 34 trust online reviews as much as personal recommendations? Although sharing individual reviews is a great idea, you should also publish third-party reviews as customers will give your product a try after reading independent feedback.
If you want to make it easier for your visitors to read your customer reviews, provide your followers with quick access to the most important information about your product.
How? Use Instagram Stories Highlights that appear below your profile photo.
Let's take Clek, for example. The company has a separate Highlight album for customer testimonials and media reviews. Since Clek makes customer reviews its first category for Stories Highlights, it's nearly impossible for visitors to miss this album when viewing the Instagram profile.
When you share customer reviews, you encourage consumers to share their thoughts on your product which helps similar users find the best recommendation.
Encourage followers to share customer reviews.
A recent HubSpot Research survey found that 77% of customers have shared positive experiences and 46% of consumers tell their friends about companies they love. And, if you receive positive reviews from your customers, it gives your business an opportunity to encourage Instagram followers to share their reviews, too.
To inspire other customers to do the same, you need to share the positive customer reviews that you've already received. Here's how to do it, using examples from various brands.
3. Post user-generated content.
In the era of sponsored posts and paid ads, customers crave peer recommendations more than ever; 85% of customers claim that user-generated content (UGC) is more influential than photos or videos.
User-generated content -- content produced by your loyal customers and fans -- builds trust and proves your product is worth trying. And, if you post UGC on Instagram and tag the authors, it creates a sense of belonging as people feel a connection to your company.
The more UGC you get and publish, the more your customers want to become a part of your community. As a result, you get more customer testimonials.
Check out how Cluse does it in the image below.
But if you're not a large company like Cluse, you may have trouble getting fan-made content. Luckily, referral marketing offers more opportunities for emerging brands that are focused on getting customer testimonials.
To encourage more user-generated content from your customers and followers, you can set up a referral program that gives your customers a solid reason to spread the word about your product or service. Not only do your customers promote your brand, but they also set an example that other Instagrammers will follow.
4. Repurpose client testimonials.
If you want to encourage customers to share their thoughts about your service or product, you need to listen to them. Once you have client testimonials, you can share them with your Instagram followers.
Let's take Sellfy, for example. The company conducts customer success interviews, publishes them on its blog, then quotes the blog on Instagram.
If you want to transform your testimonials into eye-catching quote graphics like Sellfy's, there's no need to hire expensive designers -- just rely on a free graphic design tool like Crello.
5. Team up with influencers.
One of the fastest ways to gain testimonials on Instagram is to team up with influencers. Influencers hold a strong influence over their followers and can spark an influx of customer testimonials for your business. Not only do influencers set an example, but they also encourage followers to share their thoughts about your product.
Here's an example from Joy Fully Green.
It's important to note that working with influencers doesn't guarantee more customer testimonials. That's because it's no secret that influencers post testimonials in exchange for payment, so followers might be skeptical of the authenticity of their reviews. So, if you want to bring authenticity to your content, you should work with a new type of Instagram influencers called nano-influencers.
Nano-influencers -- those who are common Instagram users with less than one thousand followers -- have authentic voices and strong brand advocacy as they have personal relationships with the majority of their community. Appealing to these influencers can yield leads that are more likely to convert on your content.
Reward your followers for their loyalty.
No matter your business's size, happy customers are your brand advocates and can grow your customer base. In fact, satisfied customers tend to share their positive experiences with about 11 people.
According to Business Instagram, 90% of users follow brands they love and support. This means your followers are loyal to your brand, and if you reward them for their loyalty, they'll be even more likely to spread the word about your product. In other words, you can get more customer testimonials from satisfied buyers.
Here are some proven ways to reward Instagrammers for their loyalty.
6. Host a giveaway.
Using Instagram giveaways to grow a business isn't a new concept. One Tailwindapp study shows that Instagram giveaways get triple the number of likes and 64 times more comments than regular posts. Simply put, it's a fun way to interact with your followers, reward them for their loyalty, and ask them to share feedback for a chance to win something valuable.
If you want to get more customer testimonials with an Instagram giveaway, all you have to do is ask followers to upload photos of themselves with your products or show your products in action in your "how to enter" section. Just like how Ipsy did it in the example below.
Since you can decide the participation requirements, you can ask your followers to write some words about your products to get more reviews. With a variety of social media management tools available, it doesn't require much time or effort to collect these customer testimonials on Instagram.
7. Promote customer loyalty programs.
Having a customer loyalty program isn't solely about keeping existing customers and rewarding their loyalty. It's also about acquiring new customers who want to take part in an exclusive community.
What's more, 70% of customers are more likely to recommend a brand that has a good loyalty program. In other words, it's a proven way to create buzz around your brand without having to spend money on advertising.
Here's how Loft uses Instagram to announce its new loyalty program.
It's a closed circle: clients become more loyal when you share loyalty programs, and there's no better way to thank your customers than rewarding them with special offers.
Now that you've gathered your testimonials, learn how to use them to generate leads.