Customer needs power marketplaces and drive demand for products and services. So, it's no wonder that businesses spend countless hours trying to figure out what their customers want. Understanding your customers' needs is the key to keeping them happy and loyal to your business.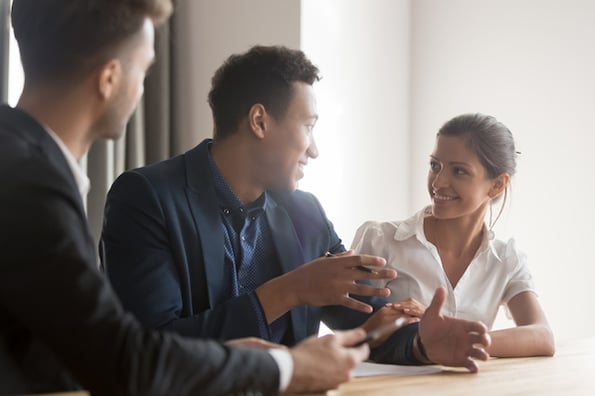 There are many types of customer needs (see the full list here), and your audience will prioritize them differently depending on the industry you're in and the products that you sell. This can make it tricky to narrow down the exact needs of your customer base. And, it's easy to make assumptions and think customers care about one thing when their core values lie elsewhere.
If you're having trouble identifying needs at your business, this post highlights some methods that HubSpot customers use to understand their customers' needs.
Understanding Customer Needs
In this section, we've laid out some tips from real HubSpot customers who've found effective ways to understand their customers' needs.
1. Record customer interactions. - Kettlebell Kings
Kettlebell Kings is a fitness brand that primarily sells -- you guessed it -- kettlebells, which is a new type of free weight that's commonly used in gyms around the world.
One step this company took was to record its customer interactions in its CRM. This helped the customer service and sales team work together on accounts and create ongoing relationships with their customers.
One service manager noted how he used this data to build rapport and identify individual customer needs. He would look at phone calls, chats, and email conversations, then follow up on any issues that didn't seem resolved. Customers really appreciated his proactive customer service and how he was able to recall specific details from past interactions.
Below were his comments on this approach.
"Having a tool like we discussed today is incredibly important because it allowed you to quickly assess interactions with a customer, know more about them, and maintain the same experience that person would have if they had one person they were dealing with like in the old days of sales reps."
Santa Cruz Bicycles is a company that's dedicated itself to customer service. It created a culture where reps want to interact with customers and solve their problems. Regardless of where you purchased a Santa Cruz bike, its support team is committed to helping you fix it.
This approached worked great when the company was first starting out. But, as it accumulated more customers, the support team's case volume rose, and soon, Santa Cruz was struggling to meet the demand.
Rider Support Lead, Kyle Harder, explains this problem in the graphic below.
This is where Service Hub came to the rescue. With Service Hub, Santa Cruz's support team set up a "contact us" email alias alongside a support form that customers could fill out and describe their issue. Whenever a submission was made, a contact was added or updated in the CRM, along with the form's submission details.
This not only made it easier for them to respond to inquiries, but it also created a database of customer problems. Management could use the help desk and ticketing system to review common malfunctions and report them to the product development team.
Christie Pearson, Santa Cruz's CRM Admin Manager, explains this benefit below.
"Now, when a customer issue is resolved but someone else would benefit from knowing what happened and how it was solved, we can easily share the entire thread with context and details. I've seen a lot more collaboration happening. Having that single system of record across sales, marketing, and service is helping us identify those things." — Christie Pearson
Yoga International is a subscription-based yoga studio that provides its classes online. And, since it doesn't have brick-and-mortar locations, it uses digital interactions to understand its customers' needs.
For example, it uses a customer feedback tool to gather feedback throughout the customer journey. Customers are routinely asked to provide their opinions on how the company can improve their experience. Then, the product development team analyzes this data and uses it to make customer-driven updates.
But, that's not all. The customer success team also reviews this feedback to identify customers who may be at risk of churn. They can then reach out to customers and solve problems before a cancellation occurs. These efforts have helped the company reduce churn by 20%.
The company's VP of Marketing, James Bake explains how this process works in the quote below.
"15 days after you join the site we send you an NPS survey asking how likely you are to refer a friend. From there, we try and respond to every single [response], positive and negative. And if there is an issue we try and solve it. Same with positive feedback, we listen to what people like, and pass that onto our creators to help improve the content they produce." - James Bake
4. Think about post-purchase needs. - WashCard Systems
Unless you're in the carwash business, WashCard Systems may not be a company you're familiar with. That's because this organization provides payment software for people who own and operate a carwash.
While WashCard's product is unique, it's roadblocks aren't. Even with its niche market, it still needs to account for customer needs, specifically after a purchase is made.
For example, WashCard's software is easy to set up and takes about a day or two to onboard. But, the owner of the carwash has to do it manually and familiarize themselves with the interface. This becomes a major point of friction in the customer's journey because the typical carwash operator is someone who has a "day job" and runs the carwash as a side gig. So, they can't afford to spend a full day setting up software.
This is where WashCard Systems has to automate the process. Instead of relying on the customer to start the setup, the company uses a workflow to notify different teams that a deal was closed. This workflow launches a personalized welcome letter, creates a meeting link, and alerts various support teams that an onboarding session was scheduled. Oh, and not to mention candy; WashCard Systems always sends out candy, too.
By thinking about its customers' post-purchase needs, WashCard Systems not only prevents churn but also ensures customer success through a delightful onboarding process.
5. Invest in your customer service strategy. - Faire
Understanding your customers' needs is great, but it's only half the battle. The next step is taking action once you know what your customers want from your brand.
Faire is a great example of a company that invested in its customer journey based on its customers' needs. It connects artisan craft makers with retail shops so they can buy and sell products more efficiently. But, Faire differentiates itself by removing risk for both buyer and seller.
For example, most retail shops can return items to the artisan, where they must repay the shop for the goods that aren't sold. But, on Faire, the retail shop returns the item to Faire's warehouse, where it's listed on its online store at a discounted price. The retail shop receives the return value and the artisan doesn't have to pay for the unsold items.
This approach was viewed as a major risk and some experts believed it could backfire on the company. However, the investment proved to be profitable as Faire increased its sell-through rates by 75% in 2019.
6. Identify the most common points of customer friction. - Iron Planet
Understanding customer needs doesn't necessarily mean you have to revolutionize your entire business. Instead, sometimes you just need to enhance small details throughout the customer experience.
Iron Planet is a great example of this. It's considered to be the "eBay of heavy machinery" as the website manages auctions and direct purchases of new and used construction vehicles and equipment.
Rather than changing its entire business plan, Iron Planet wanted to tweak the points of friction within the online construction vehicle buying experience. So, it paired up with Ritchie Bros. in 2017 and created an auction website that's easy to navigate, user-friendly, and has reliable product reviews.
One notable feature that the site has is a shipping estimator. When you're buying a $200,000 dump truck online, you might be shocked to find there's a $30,000 shipping cost attached to it. So, Iron Planet provides an estimator that lets customers know how much they can expect to pay for shipping in addition to the price listed on the site. While this may seem like a small feature, it plays a major role in closing a deal.
7. Simulate your customer experience. - Checkr
Checkr helps businesses find talent that's ideal for their workplace. But, what sets this company apart is that it uses background checks to connect employers with applicants who have a criminal history. The idea behind this approach is that people who have made small mistakes in life shouldn't be screened out of a job where they're the best candidate. And, giving people that second chance not only benefits the applicant but the business as well.
However, this approach means that Checkr has to be aware of both the applicant's and the employer's needs. So, it uses simulations to see how the customer experience appears from both ends of the spectrum.
The company hosts workshops where employers can see what it's like to apply for a job with a criminal history. This not only educates the employers who use Checkr, but it also provides the marketing team with useful qualitative data for what a new applicant may experience when using competitor sites.
On the opposite side, Checkr doesn't believe it's fair that employers have access to a background check and applicants don't. So, applicants can request to see their background check for free, using a service called "Better Future." That way, applicants can make sure their data is accurate and aren't left in the dark wondering why they were rejected for a job.
By simulating the customer experience on both ends, Checkr can observe common customer needs and create solutions that delight both applicants and employers.
For more ways to relate to customers, learn how to improve your customer service skills.