Plenty of studies have been conducted to determine why people buy certain products. For the most part, it revolves around wants, needs, and social status. The primary reason for each customer depends on your company's product and the customer's situation, and the most successful companies can position themselves as a proven solution for short and long-term needs.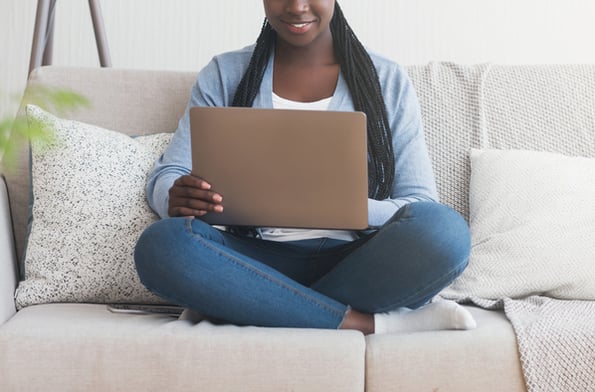 To prove your brand's trustworthiness, marketers create campaigns that feature images of your target audience and place them in situations where the product is the star. For everything from paper towels to corporate jets, visual demonstrations of people moving from problem to solution is what marketers do best.
If the customer's need is social status, you'll see brands using celebrities as spokespeople or models in their advertisements. Want to live like a rock star? Well, you can if wear this shirt, vacation in this spot, or drive this car.
While exciting as these ads can be, advertisers mostly use them to capture the attention of buyers. They don't generate trust, they only create interest in the brand.
Now, the real work is converting this interest into profitable sales. It's going to be hard for customers to trust solely in a paid spokesperson, which is why brands need to pay attention to their digital reputation. Having a great reputation online can go a lot further in building customer trust than a celebrity endorsement.
In this post, we'll explain the importance of digital reputation and how you can improve your brand's reputation online.
Why Your Digital Reputation Is Important
When it comes to converting leads into customers, the key element is trust. Customer interest may be rooted in your marketing campaigns, but trust is something completely different. If buyers don't trust your product or brand, they won't be interested in buying from your business.
No matter the product, customers ask themselves the following questions when deciding if they trust a business:
Does the product really meet my particular needs?
Is the product as good as they say it is? Will it do what the copy (or salesperson) says it will?
What concerns should I have in choosing this product or brand?
With just a few clicks, potential buyers can find the answers to these questions by reading reviews from your current and past customers. They can learn about the experience others have had with your products, your company, and even with your team.
In fact, do a quick Google search of your company's reputation and see what pops up. How good is your digital reputation right now? Would you trust your product based on what you found?
When your digital reputation is sound, it will go a long way toward fostering trust with your target audience — helping them feel good about making purchases with your company.
If your online reputation is less than stellar, it will contribute to buyer hesitation and generate fear about doing business with your company. When you have a negative reputation, it's more difficult to build trustworthy relationships with buyers. This is the main reason why your digital reputation is the key to sales conversion.
If you want to improve your brand's digital reputation, read on for a few helpful tips.
How to Improve Your Digital Reputation
Building trust can be as simple as saying what your company will do, then delivering it as promised. In the case of a product, it's a matter of presenting what the product will do, then proving that it does it.
The best proof comes from the positive experiences of existing customers. Hearing their stories can reduce the fear of buyer remorse because potential customers can see other people succeeding with your products. Here's an example of a customer testimonial from HubSpot.
Let's take buying clothes online as an example. Most people want to touch fabrics, try items on, and see how everything looks before buying clothes. For those reasons, they may hesitate to buy clothes online because they can't trust the website. There's a certain fear of what they stand to lose if the items aren't delivered as expected.
Those fears, however, are eased when buyers look at reviews from other customers regarding quality, sizing, overall fit, and service experience. Since reviews are a huge contributor to your online reputation, these testimonials go a long way in assuring satisfaction when customers can't physically see or feel your products.
If you want to provide an excellent online experience, you should be managing your business's digital reputation consistently. After all, a poor reputation is a hindrance to sales conversion, and one bad review can be enough to deter leads from doing business with your company. Focusing on what customers are saying about your business and sharing their positive experiences is a highly effective way to attract new customers and build long-lasting, trustworthy relationships.
For more conversion tips, read how to get sales and customer service teams to work together.