No matter if your organization has 1,000 employees or 10 employees, it can be difficult to coordinate everyone's schedules. What with all the other responsibilities you have, the last thing you want to do is waste hours trying to plan each person's individual work schedule.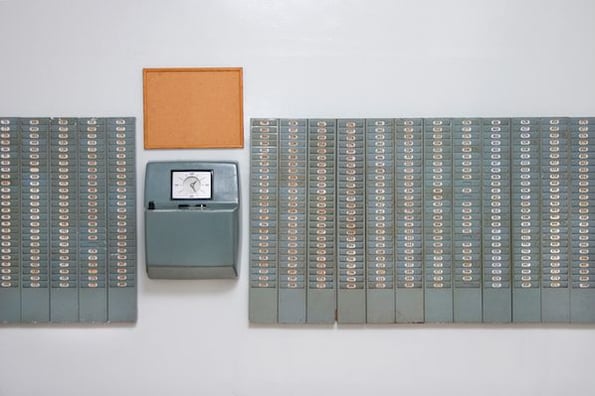 Luckily, we live in the modern world where there are many options other than the traditional pen-to-paper method. Any of the following scheduling software tools will help take a load off your back, while also ensuring a more organized and efficient scheduling system for your team.
Top Employee/Work Schedule Apps
ScheduleAnywhere
Ximble
Humanity
WorkSchedule.Net
TSHeets
Deputy
Planday
Workforce.com
Price:
Starts at $2/user/month (free trials and discounts available for annual and multi-year agreements.)
ScheduleAnywhere is an easy-to-use employee scheduling software that streamlines everything about scheduling, saving you time and money while improving efficiency and team communication. It's simple: ScheduleAnywhere makes your life easier, your daily operations smoother and your employees happier.
The software ensures proper shift coverage, eliminates scheduling conflicts, estimates payroll costs, tracks certifications and training, and manages shift rotations, staff availability, overtime, and time-off requests. You can also access and manage staff schedules and employee requests from any mobile device with our free ScheduleAnywhere app or mobile site. See who's scheduled, or not scheduled, and make last-minute changes.
Price: Starts at $1/user/month
Ximple is an excellent employee scheduling app that covers all your needs. It has an easy scheduling feature and allows you to easily repeat schedule templates. Along with a time-tracking tool, it has an efficient staff management feature that helps you track time-off requests and employee availability.
In addition, Ximble offers AI to help you use historical data to assign the right staff to each shift. The software helps you produce the most efficient and high-quality schedules and maintain control over your financial spending. Ximble comes in three different plans: the Core plan -- $1 per user per month -- the Advanced plan -- $2 per user per month -- and the Enterprise plan, which is at a custom cost.
Price: Starts at $2/user/month
Humanity is set apart from competitors because of how simple it is to use. The interface is incredibly user-friendly and easy to grasp, and its apps make it even easier to edit and check schedules on your phone.
Humanity also has a very strong customer support team -- perhaps that's why it's called Humanity. Humanity has a Starter plan, which is $2 per user per month, as well as a Classic plan, which is $3 per user per month, both with a $60 minimum.
Price: Starts at $24/month
WorkSchedule.Net is the perfect employee scheduling software for keeping all your employees on the same page. It's easily accessible by all employees, and employees can track changes in real time. The app's special time block editor is incomparable in its ability to schedule three levels deep and multiple schedules at once.
In addition, the app has special on-the-go options. You can access WorkSchedule.Net on a mobile app. The app also has a special feature in which you can call a phone number that will alert your app to read you your schedule aloud when you're driving and unable to read the schedule. WorkSchedule.Net has several plans at different price points for monthly, one-year, two-year payment plans. They range from the cheapest two-year payment plan -- $24 per month for up to 20 employees -- to the most expensive monthly payment plan -- $140 per month for up to 100 employees.
Price: Starts at $4/user/month
TSheets, another great option for employee scheduling, offers similar scheduling and time-tracking software to competitor apps. Its mobile app sends employees updates about upcoming shifts and shift changes and sends you notifications if an employees is late or forgets to clock in.
The app has two special features. One is a GPS Time Tracker which maps employee locations from clock-in to clock-out. The other is the ability to attach photos to timesheets; that way, you can keep track of completed projects without requiring lengthy, written recaps. TSheets offers two paid plans: Both are $4 per user per month, plus an additional base fee depending on the number of users.
Price: Starts at $2/user/month
Deputy is well-known for being a powerful, workforce management tool. Its scheduling and time management software are well-rounded and time-efficient. In addition, Deputy is a great option for integrating to other business systems; it integrates to over 35 payroll, POS, and accounting programs.
You can also use your Deputy app to forecast sales traffic and schedule shifts automatically and accordingly so that you never over or under-staff you business. Deputy has multiple affordable plans: $2 per user per month for the Scheduling Only plan and either $3 or $4 per user per month for the Premium plan, depending on if you pay in monthly or annual increments.
Price: Starts at $2/user/month
Planday is an advanced employee scheduling app that is incredibly simple to master. It has an effortless scheduling system that makes it easy for a company with anywhere from 5 to 500 employees. You can use the schedules to track financial reports and your overall business metrics when it comes to salaries paid versus profits made.
What puts Planday apart is its underwhelming number of features. It has less -- but more in-depth -- features, which makes it easy for any employee to transition into. You can purchase a Starter plan for $2 per user per month or a Plus plan for $4 per user per month.
Price: Available Upon Request
Workforce.com has plenty of useful features that make it a powerful employee scheduling software. For example, its round-the-clock scheduling tool lets you create templates that you can apply every time you're creating your team's work schedule. This can save management tons of time from having to recreate the same work schedule every week or month.
Workforce.com also provides insights into your labor costs, so you can see how your budget is doing in real-time. You can see your labor costs per staff, per team, or per location in a daily or weekly format.
Free Employee Scheduling Software
Google Sheets
Google Calendar
Homebase
Sling
When I Work
ZoomShift
Price: Free
Google's free cloud spreadsheet software is a great tool for employee scheduling. The pre-fixed rows and columns give you organized options for scheduling. You can set up each individual employee in their own column within one spreadsheet, or dedicate one spreadsheet per employee and divide up their columns by days of the week. Whatever your method may be, you can ensure that Google Sheets will keep things neat and easy to read.
In addition, the special sharing feature allows you to quickly share the spreadsheets with your employees via email. Not to mention, its automatic-saving, cloud feature can leave you assured that the program won't crash and delete all the data.
Price: Free
Similarly to Google Sheets, Google Calendar is another cloud creation of Google. However, Google Calendar is even better formatted to fit your employee scheduling needs. Designed to be a calendar, you can view the program in a day, four-day, week, month, year, or schedule format. You can easily input events and reminders into a calendar and add notifications so that your employees never miss a work shift.
In addition, you can create employee shift calendars for each employee and share it with them. That way, they can view the shared work schedule calendar on their personal calendar and integrate it into their daily lives. Rather than forcing them onto a new platform, you can reach them on a platform they might already be using for personal events and reminders.
Price: Free with paid options
Homebase is a top app because of its large variety of features. Not only does it have stellar scheduling, timesheets, efficient time clocks, and easy messaging, but it also has a special recruiting software that helps you post to online job boards.
Homebase can sync data from several payroll and POS companies, so you can effortlessly make the transition to Homebase from other platforms. This feature-rich, thorough app does offers a free Basic plan for unlimited employees. However, it also has other plans that offer more features for monthly or annual costs.
Price: Free with paid options
Sling is a great scheduling app that keeps you up-to-date on employee news. That means, you can avoid double-booking or last-minute scrambling by having updated employee availability and time-off requests on-hand. The program will send you a notification if you've accidentally over-booked a shift or overlapped shifts.
Not only can you schedule shifts, but you can assign tasks through Sling Tasks. You can create to-do lists for employees and follow their progress to ensure that they're on schedule to complete tasks before deadlines. You can also message employees individually or in groups, right on the app. While Sling does have an unlimited, free plan, you can also purchase a premium or enterprise plan for additional costs.
Price: Free with paid options
When I Work is an efficient tool that can save an average of eight hours per week that were originally spent on tracking employee schedules and attendance. By being able to send employees instant updates, you can also reduce the number of missed shifts. The program is mobile-friendly, easy-to-use, and flexible, perfect to fit the busy lives of your employees and yourself. When I Work's simple interface, featuring tons of shortcuts, gives employees the power to handle their own scheduling.
When I Work is free to use for up to 75 users, but you can create a custom plan if your company has more than 75 employees. In addition, there are paid plans with more features: the Scheduling Basic plan and the Scheduling Pro plan.
Price: Free with paid options
ZoomShift makes it a lot easier for your employees to access their shifts in real-time. This makes it much simpler and faster to find shift replacements and ensure shifts are always covered. You can drag and drop shifts onto the calendar within minutes and share that schedule with your employees via email notifications. The app is very functional on mobile, creating a seamless transition from web to mobile.
ZoomShift has a powerful free plan, perfect for small teams getting started with a scheduling software. It also offers two paid plans with more features: a Scheduling plan and a Scheduling & Attendance plan.
Next, read this post about how to improve if you're a bad boss.