If you read our post on free help desk software, you've probably selected one of the best options for your customer service team. However, as your business continues to grow and develop, a free help desk provider may not be able to meet your increasing customer demand. Instead, it's common for customer service teams to adopt enterprise-level tools to help them manage incoming customer requests.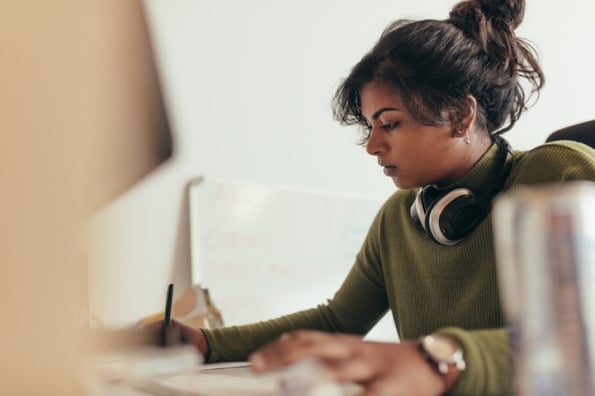 Enterprise help desk software includes features that most free or basic packages do not. This includes workflow automation, calculated contact properties, and self-service options that empower customers to find their own solutions. By utilizing these features, you can boost your customer service team to the next level and significantly improve customer experience.
There are plenty of great help desk providers, but with so many options to choose from, finding the right one for your team can be confusing and frustrating. After all, you're purchasing a premium tool that your employees will use every day. You need to ensure you're spending money on software that will become an asset to your customer service team.
To help, we put together a list of the best enterprise help desk solutions available for your team this year. Let's take a look at the next section to see which option is best for your business.
Best Enterprise Help Desk Software
HubSpot
SolarWinds
NICE inContact
TOPdesk
InvGate
Dixa
Supportbench
Issuetrak
1. HubSpot
HubSpot's ServiceHub offers an enterprise package in addition to its free and professional plans. With HubSpot, you have access to a variety of self-service options that can help your customers help themselves. This includes features like a knowledge base, video hosting, and forms for ticket submission. With these tools, you can expand the bandwidth of your service team and meet higher volumes of customer demand.
You can also collect customer feedback using HubSpot's NPS® and customer experience surveys. These tools can be integrated into your company's Slack app, sending your team internal notifications every time a survey is completed. This will make it easier to analyze and respond to notable pieces of feedback the moment they're submitted.
Price: $1,200/month
2. SolarWinds
SolarWinds offers an enterprise help desk that's designed to scale with your company's growth. It includes automation tools that efficiently process and distribute incoming requests to your entire service team. Once the ticket is assigned, reps can use the "multi-level escalation" feature to accurately categorize the priority of the request. This process ensures your team is working on the most critical cases, first.
Another useful feature is its remote customer support integration. If you have reps who work outside your office, they can use this option to access their cases on the go. This gives your reps more flexibility in their day-to-day work, resulting in both happier employees and customer experiences.
Price: $700
3. NICE inContact
NICE inContact is a cloud-based help desk solution that's built for customer success. It features omni-channel ticket routing and chatbot automation that makes your customer service team more accessible to customers. Your customers can submit tickets through their preferred channel, creating a more convenient service experience.
Since NICE inContact's help desk is cloud-based, it includes an auto-update feature. Anytime NICE inContact rolls out a new feature or update, your help desk will automatically adopt those changes. This is important because your support team won't experience any downtime while the software updates.
Price: $100/month as reported by SMBGuide
4. TOPdesk
TOPdesk's software comes with an asset management feature that provides an overview of your company's internal resources. SaaS companies can use this tool to visualize complex software models like coding templates and product specs. This feature can also display real-time updates, so you can monitor the status of a project from a centralized location. If a roadblock occurs, you can easily spot what caused it and dispatch resources to resolve it.
Price: Variable
5. InvGate
InvGate has proactive customer service features that spot potential problems before they become roadblocks. Whenever a glitch occurs, the system sends your team an alert and logs the cause of the issue into your database. So, if the problem does end up becoming significant, you'll know exactly what caused it.
Another neat feature that InvGate offers is its global ticket update option. This lets your reps update the status of multiple tickets at once, rather than individually. If your business experiences a company-wide error, your team can collectively update the status of all related tickets. This will save your reps time from having to resend the same email over and over again.
Price: Variable
6. Dixa
Dixa can display customer data alongside your reps' active customer service cases. Having this readily available helps your team understand your customers' previous interactions with your business. This will help them create personalized customer experiences based on the user's relationship with your company.
Dixa also includes an intelligent email routing feature that can organize and distribute email service requests. Your team can set custom prioritization rules and track cases based on their content or topic. With this feature, customer emails will never be misplaced or lost to an external inbox.
Price: $129/month
7. Supportbench
Supportbench's help desk software includes an array of real-time analytics and reports. You can customize graphs and set up personalized dashboards based on your team's goals. With its advanced reporting, Supportbench makes it easier for you to analyze customer behavior and measure your long-term success.
Price: $30/month
8. Issuetrak
Issuetrak has some unique features that differentiate it from the rest of the options on this list. First, Issuetrak's ticketing system allows you to include attachments on its tickets. So, your agents can attach screenshots, videos, and walkthroughs that can guide customers through troubleshooting steps.
The other interesting feature that Issuetrak offers is its forms tool. You can create forms with customized fields that automatically generate tickets upon submission. Rather than your reps manually creating the ticket, customers describe the problem and the ticket is automatically assigned to a support rep. This not only increases efficiency but also creates a more consistent customer experience.
Price: $408/year
If none of these help desk options caught your eye, check out this guide to web-based help desks.