If you're tasked with managing a help desk, you probably have several key metrics swirling around in your mind at any given moment. There's always a new trend or value being brought up that has something to do with your business.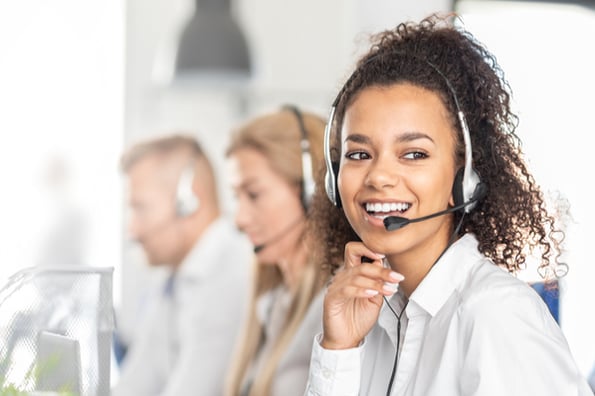 But at a certain point, you may stop to wonder, "What do these metrics mean?" And, more importantly, "How do they relate to how well your help desk is actually doing?"
The problem with help desk performance metrics is that they can be so complicated, some members of your team may not even understand what they're analyzing.
And, this confusion with metrics can lead to miscommunication with help desk practices. How can your team know how to move forward when you're unsure of what you're reading? It's difficult to be a confident decision maker when you don't have the data to back up your claim.
Having trouble gauging the performance of your help desk? Take a look at this list of top metrics and best practices to ensure your help desk is performing at maximum impact.
9 Help Desk Performance Metrics
1. Ticket Volume
One major metric you should be tracking is ticket volume. Ticket volume is the number of support requests coming into your business. This metric shows how well your business is doing and how many customers are happy or unsatisfied. Additionally, knowing how many tickets your team can handle helps you with hiring and recruiting over time.
2. Volume Via Channel
Ticket volume also shows you which channels requests are coming from (e.g.,phone, email, social media or chat). Knowing which channels are most popular helps you allocate resources to meet customer demand. Also, you can focus on training agents to efficiently handle tickets on these channels to be more efficient.
3. Completion of Tickets
Another key metric is the number of tickets being resolved. It's essential to know if your organization can meet customer expectations and efficiently solve each request. If not, you can hire more employees, develop better training, and adopt customer service tools to help you meet customer demand.
4. Agent Use
Companies want to achieve maximum service quality at the lowest possible cost. Agent use measures this by analyzing how much time an agent spends on calls or service-related work.
If it's too low, you're wasting funds on inefficient agents who aren't completing enough tasks. If it's too high, you end up overworking your agents leading to a higher employee turnover rate and -- you guessed it -- more wasted funds. The perfect balance for agent utilization is about 48%.
5. Response Time
The time between receiving a ticket and responding to that ticket should be as short as possible. According to HubSpot Research, 90% of customers rate an "immediate" response as important or very important when they have a customer service question; 60% of customers define an "immediate" response as being within 10 minutes. It's good to know if your agents are making customers wait around, twiddling their thumbs for an answer, or if they're communicating with them right away.
6. First Contact Resolution Rate
First Contact Resolution (FCR) is when a customer's request is resolved in one service interaction. FCR rate measures how frequently an organization can solve tickets within one session, so the customer doesn't have contact the help desk again. It's important to understand this metric because it determines how effective your agents' problem-solving abilities are and whether they've received enough training.
7. Backlog
A backlog occurs when your team receives more tickets than they can handle in a given period. Once a backlog builds, it can be difficult to catch up with tickets and shorten your response time. You should analyze this metric to find ways to decrease the size of your backlog, such as by building an internal knowledge base or providing self-service solutions.
8. Customer Satisfaction
Customer satisfaction is one key help desk metric your team should be constantly monitoring. This metric is tied to many other metrics, such as completion of tickets, resolution time, and FCR rate. Additionally, releasing customer satisfaction surveys on a quarterly or bi-annually basis helps you determine where your organization stands and how you can improve this metric.
9. Agent Satisfaction
Last, but not least, agent satisfaction is just as important as customer satisfaction. After all, happy employees create happy clients. If your agents are overworked or underappreciated, they won't be able to perform at their highest level, which will affect all the above metrics. Measure agent satisfaction with internal surveys and one-on-one manager meetings.
9 Help Desk Best Practices
Offer a Self-Service Portal
Implement a 24-Hour Customer Service Portal
Perform Customer Satisfaction Surveys
Increase Customer Communication
Use Real-Time Reporting
Ensure a Single Point of Contact
Build a Knowledge Base
Automate Processes
Set Up Integrations
1. Offer a Self-Service Portal
Customers love processes that save them time and keep them on track with their daily workflow. By offering a self-service portal, you can empower users by letting them create their own service tickets, which is much faster. This also ensures your agents can focus on more pressing tasks, rather than constantly creating tickets.
2. Implement a 24-Hour Customer Service Portal
For some help desks, customers may need access to support at any time of the day. Building a 24-hour customer service portal ensures your customers can submit tickets at any time and won't have to wait hours for a response. You can accomplish this by hiring overnight agents or using automation tools like chatbots.
3. Perform Customer Satisfaction Surveys
As mentioned earlier, customer satisfaction surveys determine if your business is helping customers accomplish their goals. After all, if customers are unsatisfied or unhappy, that will directly correlate to a higher customer churn rate. Understanding customers' pain points through feedback collection consistently strengthens your help desk.
4. Increase Customer Communication
Make the most of your help desk by using it as an additional channel for communicating with customers. Alert customers about important business happenings -- such as upcoming events, product launches, and more -- all from your help desk software.
5. Use Real-Time Reporting
Reporting tools are key to understanding how your business is performing. Analyze metrics in real-time to ensure you have up-to-date information about your company. Real-time reporting helps you make high-level decisions that will strengthen your organization over time.
6. Ensure a Single Point of Contact
Every call, email, chat, and social media message should pass through your help desk software. If different forms of communication go to different sources, your centralized help desk becomes useless. Help desks streamline all forms of customer communication into a single point of contact for better organization and faster response times.
7. Build a Knowledge Base
A knowledge base can be exponentially helpful for both agents and customers. For agents, it provides a resource guide to use when problem-solving. Steps can be copied and sent to customers to save time. For customers, knowledge bases can function as a self-service tool that provides them with instructions for solving common problems.
8. Automate Processes
If something can be automated, it should be. That's because automated workflows provide invaluable benefits to your organization. For instance, you can ensure quicker responses times by using chatbots to categorize and distribute incoming service requests. Not only will customers find a faster solution, but you'll save money since manual labor is no longer required for those tasks.
9. Set Up Integrations
You want your help desk to be an all-in-one, one-stop product. So, having a help desk that can support integrations for apps like social networking and productivity will ensure a more efficient experience for both your team and your customers. If your current help desk doesn't support integrations, take a look at this list of help desks that do.
For more information about help desks, read our guide to selecting a cloud help desk.