When you hear the term, "hypercare" you might think it was a phrase used in an old Star Wars movie. However, if you work in software development, hypercare is a fairly common term used to describe the onboarding process for a new customer.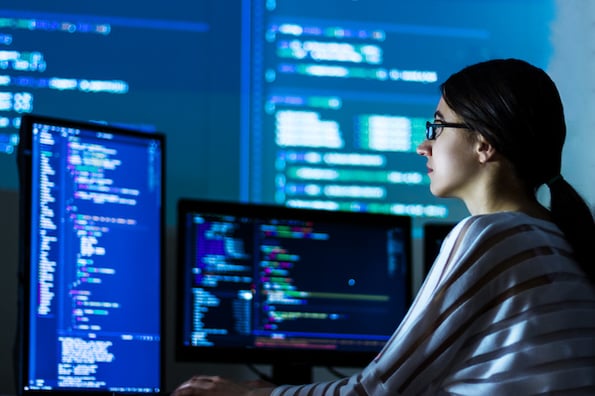 Hypercare is an important function for these industries because their customers are typically at a higher risk of churn earlier on in the customer's journey. For instance, if you were to invest in a new CRM, you would want to make sure you have the best one available before you start uploading all of your contacts into it. In this case, you might test out a few CRMs before settling on one that you like. As a result, most CRM providers need to provide dedicated support after a purchase is made so that they reduce churn and increase customer retention.
In this post, we'll explain how to provide this type of support and help you make the jump to hypercare at your business.
What Is Hypercare?
After a software launch, software providers go into hypercare by providing extra support to their users. This additional support helps new and existing customers understand how to use the new product, service, feature, or program.
Software providers do this so that new customers understand how to use their products, and so that existing customers are still satisfied with any changes that were made. While software can always be updated and improved, sometimes it takes time to get things right and you don't want to lose customers along the way because you didn't seek out their feedback. If you want your business to be successful, you need to consider the feedback from your existing customers as well as your new ones.
New customers offer more of a blank slate. The benefit of this is that you can teach them how to properly use your products and services. The challenge, however, is that these customers usually expect more immediate results. If they struggle to use your product or service at first, they're more likely to turn to your competitors for a simpler solution. Hypercare ensures that all of the effort, money, and time you put into acquiring these customers isn't lost because they can't figure out how to use your new program.
While these are some of the most notable advantages, read on for a few more benefits of providing hypercare in customer support.
The Benefits of Hypercare in Customer Support
Not many people like change. It's unfortunate but true.
Even when we know that a new product or program can help us, sometimes we still resist doing something differently. Humans like routines and sometimes it takes time to move past the "Why do I have to use this now?" phase of a new addition.
During this period, most people are looking for any reason to reject this unwelcome change. Hypercare shows customers that you understand their stress which helps you provide a smooth transition into utilizing your program — even if someone is hesitant to move away from their normal routine.
When you implement a hypercare period as part of your software launch, you:
Ensure your program fits seamlessly into their processes and doesn't create a disaster during implementation
Train your end users properly so their job becomes easier with this new tool
Take a proactive approach to perfect your program rather than sitting back and waiting for complaints to roll in
Iron out any hiccups in the program that you didn't find during beta testing
Identify any room for improvement that can be made during the next upgrade
Build trust with your customers and foster long-term relationships
If you're ready to add hypercare to your next software launch, read on for a few tips that help you get started.
How to Provide Hypercare Support
1. Dedicate a team to field communications.
Working in a technical support department the day before a product rollout is like preparing for a blizzard when you live in New England. Yes, you know something big is coming, but other than stocking up on resources — and making sure there's plenty of pizza for your team — there's not much else you can do to stop it. Once the product launches, there's going to be a significant increase in support calls coming into your business.
This is why when it's time to launch a program, you should create a special team that handles nothing but the new program. These individuals must be well-trained in customer service as well as program implementation and have a working knowledge of the product. The latter allows them to quickly identify glitches in the product and escalate issues to programmers for immediate review.
2. Prepare your customers for changes.
No matter how much your customers disliked your old product, or how many issues they encountered, there will always be a handful of individuals that will reminisce about the "good old days" the moment your new software hits their workstations. Since they weren't involved in the sales presentation or the final decision to adopt this new program, all they see is a major inconvenience to their workflow.
For these customers, be sure to speak with them before the launch and explain why this change is being made and what the benefit will be to them. If they can understand that this change is for their long-term benefit, they'll more likely to accept your new program and be more patient despite their growing pains.
3. Create digestible training content.
Like anything in business, difficulty with implementation often comes down to a lack of training. While some customers will refuse to search for answers on their own, research shows that most are happy to educate themselves. In fact, one study found that 67% of customers prefer self-service support options over speaking with a representative.
When you're creating training materials, it's important that they're accessible and easy to digest. If they're dull or drawn-out, customers will lose interest and start testing features on their own. While that's usually a good thing, in this case, it will add friction to the customer experience because the customer is looking for specific information.
Providing Hypercare at Your Business
It would be lovely if every product that went to market was perfect as is. Of course, it would also be lovely if your family pet vacuumed the living room before your houseguests arrived — lovely, but unlikely.
The fact is, no matter how well you design, plan, build, and test your product, there will always be an adjustment period as your customers learn to navigate their new terrain. So, rather than hoping for the impossible and expecting the best, why not hope for the best and prepare for the worst? This is the time to provide the highest level of support you can muster. Help them seamlessly adopt your product and make it a part of their daily lives.
It's never too early to develop your hypercare strategy and ideally, it should be done while you are planning the different phases of your product development and launch. Hypercare support may extend the time needed for your product launch, but it will also extend the relationship with your customer base.
Expand your customer support offer by learning how to provide multilingual customer service.